Bharti Airtel Ltd is Headquartered in India, Bharti Airtel is a global telecommunications company with operations in 18 countries across South Asia and Africa. The company ranks amongst the top three mobile operators globally and its mobile network covers a population of over two billion people.
Profile of Bharti Airtel Ltd
Bharti Airtel is one of the world's leading providers of telecommunication services with operations in 18 countries across Asia and Africa. The Company's diversified service range includes mobile, voice and data solutions, using 2G, 3G and 4G technologies.
The company provide telecom services under wireless and fixed line technology, national and international long distance connectivity, broadband services, Digital TV; and complete integrated telecom solutions to enterprise customers.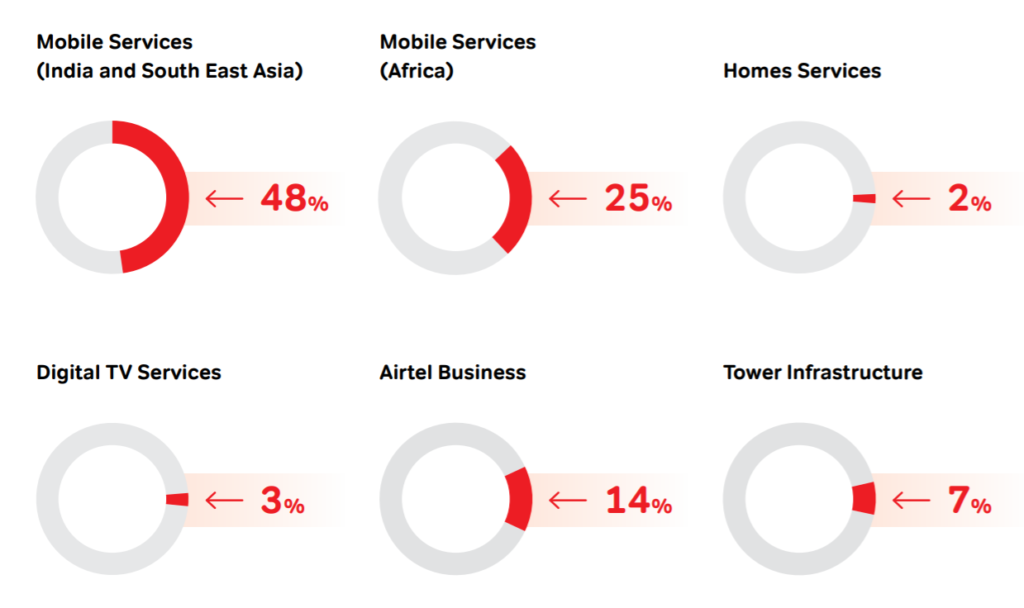 Airtel is India's largest integrated telecom provider and the second largest mobile operator in Africa. At the end of September 2020, Airtel had approx. 440 mn customers across its operations.
Airtel's portfolio includes high speed 4G/4.5G mobile broadband, Airtel Xstream Fiber that promises speeds upto 1Gbps, converged digital TV solutions through the Airtel Xstream 4K Hybrid Box, digital payments through Airtel Payments Bank as well as an integrated suite of services across connectivity, collaboration, cloud and security that serves over one million businesses.
India: 283.7 million Mobile Services; 2.4 million Homes and 16.6 million Digital TV Services (status as on 2020)
Africa: 110.6 million Mobile Services; South Asia: 2.9 million Mobile Services customers (status as on 2020)
Airtel's OTT services include Airtel Thanks app for self-care, Airtel Xstream app for video, Wynk Music for entertainment and Airtel BlueJeans for video conferencing. In addition, Airtel has forged strategic partnerships with hundreds of companies across the world to enable the Airtel platform to deliver an array of consumer and enterprise services.
Bharti Airtel Limited also deploys and manages passive infrastructure pertaining to telecom operations through its subsidiary, Bharti Infratel Limited, which also owns 42% of Indus Towers Limited.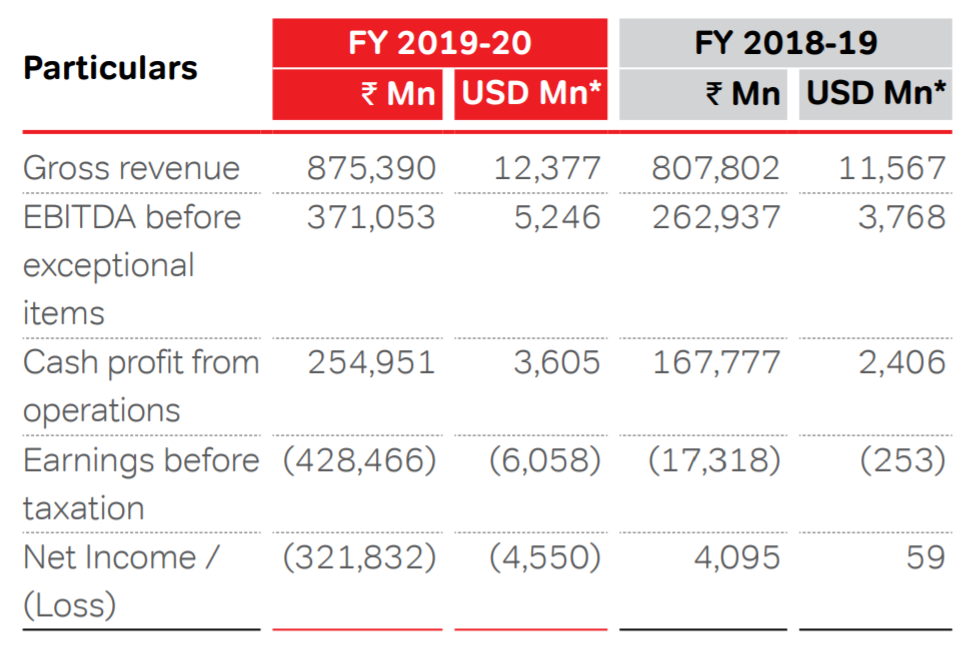 Together, Bharti Infratel Limited ('Infratel') and Indus Towers Limited ('Indus') are the largest passive infrastructure service providers in India. The Hon'ble National Company Law Tribunal, Chandigarh Bench, vide its order dated May 31, 2019 had sanctioned the Scheme of Amalgamation of Indus with and into Infratel.
Read More about Top Telecom Companies In India
Wynk Music
Wynk Music continues to be #1 music app in the industry with highest active user base*. The launch of Hello Tunes in collaboration with Wynk Music app has improved user experiences.
Airtel Xstream
Airtel TV was transformed into Airtel Xstream in FY 2019-20, offering enriched content and entertainment. The introduction of large screen hardware intervention Airtel Xstream Box, Smart Stick and its desktop/ mobile versions powered by Airtel Xstream Fiber broadband has helped to engage a larger user base.
Airtel Thanks App
AirtelThanks app is a one-stop source to claim rewards, get recharges, make payments and manage Airtel connections from anywhere, anytime, at the click of a button. It is a unique loyalty platform, that feeds on real-time events in a customer's lifecycle.
Bharti Airtel Limited has built this platform on two fundamental innovations – customer 360° view and partnerships to provide value added services. It enables real-time mapping of customer profiles, backed by an Open API that is tied to third party service providers. The platform is integrated with a scalable model of own subscription engine and provisional billing engine for prompt activation of any service.
Bharti Airtel VoWiFi
In an industry first initiative, Airtel Voice over Wi-Fi was successfully launched and adopted during the FY 2019-20. The company also collaborated with multiple brands over the last year, providing Wi-Fi Calling capability to over 200+ handsets, covering over 37.89 Mn user base. Initial results have shown an increase of 73% of Average Call Duration for VoWiFi Customers and a reduction of call attempts by 42% (both indicative of improved indoor experience).
Airtel X Labs
Airtel X Labs is the team transforming Airtel into an industry-leading digital force. The company relentlessly rallied to break communication barriers and deliver products that go beyond telecom.
Today, The products are informative, contemporary and with a high quotient of entertainment, while enabling secure connectivity. During FY 2019-20, Airtel X Labs,
pioneered intuitive digital products to drive customer experiences and bring efficiency in operations.
The team has made significant progress in the areas of Machine Learning
including Vernacular Voice AI, Optical Character Recognition (OCR), Imaging Solution for Automated Network Planning, Complex AI algorithms for recommendation engines, customer personalization, acquisition and churn models among others.
The team comprises of scientists, mathematicians, engineers and AI experts from globally renowned institutes like NASA, Indian Institute of Science, Indian Statistical Institute, Massachusetts Institute of Technology, Facebook, Microsoft etc.
Read More about Telecom Industry in India.