India is the second-most populous country in the world and has a sizeable chunk of middle and low income population. The penetration of motorcycles and scooters in India remains low at ~110 per 1000 people vs. an average of ~240 in Southeast Asian countries, hence the untapped potential in the country is huge. Commuting continues to be a challenge due to congestion in urban areas and the need to travel long distances in rural areas
for day-to-day activities.
Indian Motorcycle and scooter Industry
With more than 150 lakh domestic sales in FY 2020-21, India's motorcycles and scooters market declined by 13% in comparison to the previous year. After a wash-out quarter, sales started recovering from the second half of the year.
Two-wheelers, ranging from motorcycles and scooters to mopeds, have emerged as dependable mobility solutions that make commuting faster and easier. With an aim to encourage eco-friendly operations, the government introduced Bharat Stage IV (BS IV) emission standards for vehicles in 2017.
It later became mandatory for all automotive companies to sell and register only BS VI compliant vehicles, starting April 1, 2020 ahead of any other country in the world. India led the adoption of low emission motorcycles and scooters across the world.
Due to supply chain disruptions, reverse migration of labour and subdued demand after the Covid-19 outbreak, the motorcycles and scooters industry was adversely impacted at the beginning of FY 2020-21. However, demand started recovering after lockdowns were lifted in July 2020, backed by a buoyant festive season and increasing demand for personal modes of transport that ensured social distancing and therefore safety.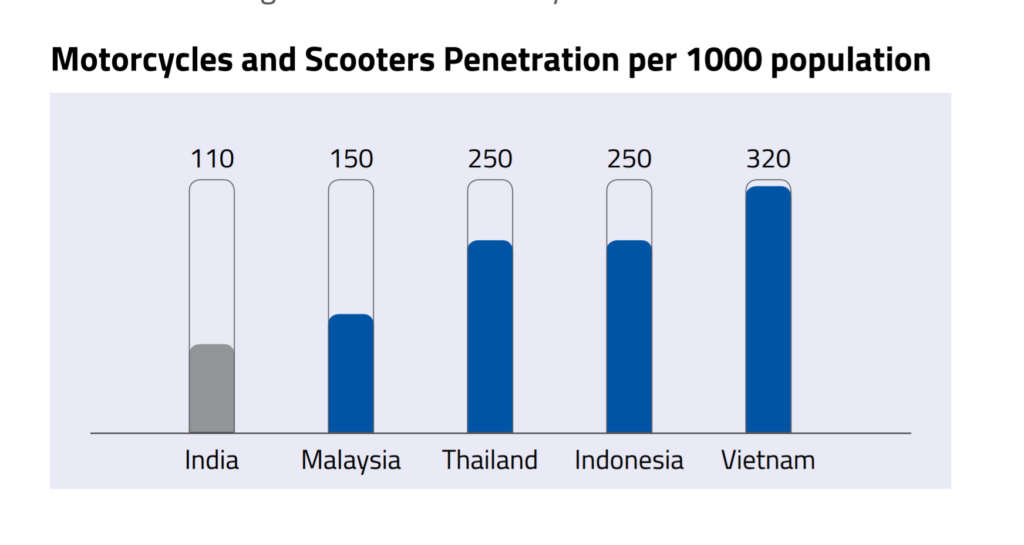 Outlook: Motorcycle and scooter Industry in India
The motorcycles and scooters remains the most cost-effective and fastest mode of last mile connectivity, and is an income enabler for many. A preference for personal mobility induced by the pandemic could aid near-term motorcycles and scooters demand, which has been impacted by repeated waves of Covid-19.
However, with income levels and livelihood opportunities expected to be further augmented in the near term, the economic growth is likely to gather pace, driving demand for ownership of motorcycles and scooters.
The progressive policies and reforms are estimated to stimulate growth, with positive growth expected across core sectors of the economy. A quick recovery in industrial production, rise in exports and increased consumer spending will provide a shot in the arm for the economy to clock double digit growth in the near to medium term.
Growth in e-commerce and emergence of unicorns from the Indian ecosystem will play a critical role in driving digitisation in the economy. The increasing acceptance of food delivery, grocery, retail, pharmacy and transportation will usher sustained growth in the long-term. These enterprises not only bring comfort and convenience to the doorstep of the end-user, but also provide employment opportunities to many.