Matrimony.com ltd, is the market leader in the Indian online matchmaking space. With a humble beginning, the company has transformed itself into a trusted brand keeping the purpose at its core.
The purpose of the company is to help its customers to find their life partners. In doing so, its growth is pivoted around its purpose, aided by constant innovation. The flagship brand BharatMatrimony has become a preferred choice over the last 21 years. It has evolved many strategies towards "Purpose led Growth".
Profile of Matrimony.com Ltd
Founded by Mr. Murugavel Janakiraman in the year 2000 as a community portal for Indians living and working abroad, and since then become the largest Indian matchmaking service.
Being a pioneer in evolving a micro-market strategy, the company offers a range of targeted products and services that are tailored to meet the requirements of customers based on their linguistic, religious, and community preferences for which it has 17 regional portals and 300+community websites.
Matrimony. com also caters to the NRI community through its operations in USA and Dubai where it has a strong active user base.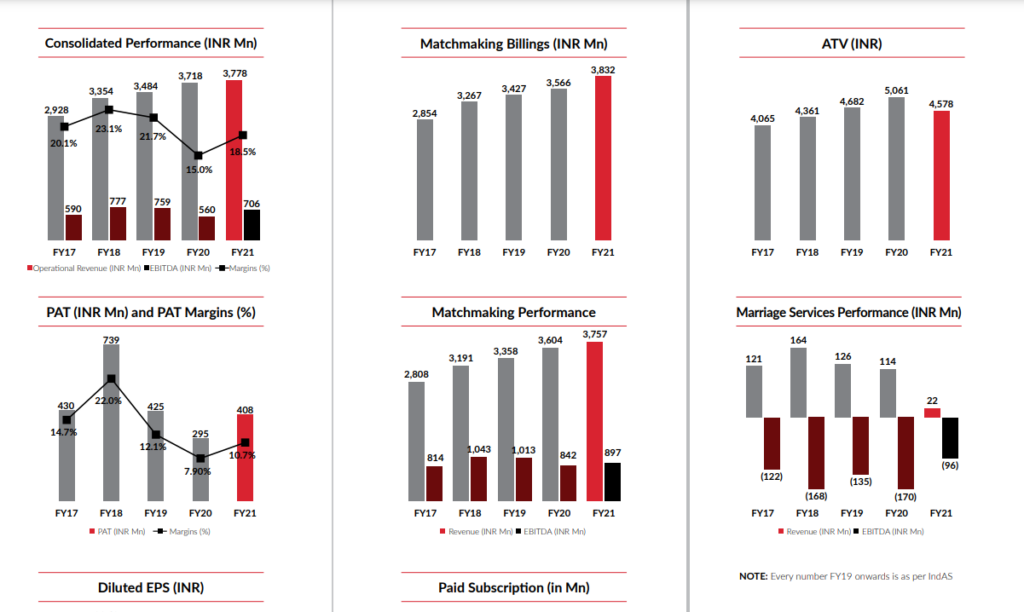 Matrimony.com has established a considerable retail presence with 130+ self-owned retail outlets across India to enable and enhance the customer experience where customers can walk in and discuss the process of matchmaking.
The company also launched AssistedMatrimony in 2010 as a new value-added matchmaking service crafted for the individuals who have busy schedules and require assistance in finding the right partner. The company also offers offline matchmaking services with presence at more than 130 locations across several cities in the country for better customer reach and user accessibility
About Matrimony.com
In the late 90s, Mr. Murugavel Janakiraman, started a website for the Tamil community in the US, which included features like the Tamil daily calendar, festival reminders, and matrimonial services, amongst others. The matrimony section gained immense traction and this idea set the path for what Matrimony.com is today.
Matrimony.com Ltd pioneered the online matchmaking space through its flagship brand BharatMatrimony.com. After which, it gradually developed other matchmaking services like Elite Matrimony in 2008 which was the first premium matchmaking service, and Community Matrimony in 2009, and over the years has launched more than 300 portals for these communities.
No 1 Online matchmaking company in India
5 Mn+ Active user base
3500+ Team Strength
130+ Retail stores strong offline presence
~ Highest market share 60% pan India
In 2015, the company ventured into marriage services with Mandap.com which offers one of the largest wedding venues booking platform with over 10,000 wedding venues and Wedding Bazaar, which is India's largest wedding planning marketplace offering over 10,000 wedding services providers.
Today, Matrimony.com is the market leader in the Indian online matchmaking space with over 100,000 successful matches in FY21. With a constant endeavor in innovation and technology upgradation to provide seamless user experience, Matrimony.com has been able to create a quality database of profiles.
As of 31 March 2021, the paid profiles were 0.84 million, which was higher by 18.86% from the last year, mainly due to an increase in the number of free profiles and improved operational efficiencies. The company has around 60% Market share in the online match-making space in India.
Murugavel Janakiraman – Chairman and Managing Director
Graduated in statistics from Presidency college, MCA from University of Madras. Worked as a software engineer and consultant in USA before starting Tamil Matrimony.
Received an award of top 5 Asian Indian businessmen in USA by Asian Indian Chamber of Commerce, Business Icon of the year award by India Today, Nominated twice for the 'Entrepreneur of the year' award by Economic Times.
Murugavel Janakiraman Profile.