Tech Mahindra Ltd is a part of the eminent Mahindra Group. An enabler of digital transformation, consulting and business re-engineering services and solutions, the company work with some of the world's leading clients and help them achieve tangible results. The company has capabilities to deliver seamless and integrated experiences across digital, physical, and convergent dimensions.
Profile of Tech Mahindra Ltd
Tech Mahindra offers innovative and customer centric digital experiences, enabling enterprises, associates, and the society to Rise. The company is a USD 6 billion organization with over 150,000 professionals helping 1,247 global customers, including Fortune 500 companies.
Sales: ₹ 49,404 Cr.
Operating profit: ₹ 7,972 Cr.
Net profit: ₹ 5,370 Cr.
Sales last year: ₹ 44,646 Cr.
EBIDT last year: ₹ 9,129 Cr.
Sales growth 3Years: 8.72 %
The company is focused on leveraging next generation technologies including 5G, Blockchain, Quantum Computing, Cybersecurity, Artificial Intelligence, and more, to enable end-to-end digital transformation for global customers. Tech Mahindra is the only Indian company in the world to receive the HRH The Prince of Wales' Terra Carta Seal for its commitment to creating a sustainable future.
151,173 Employees
90+ Countries
1,224 Clients
The company is the fastest growing brand in 'brand strength' and amongst the top 7 IT brands globally. With the NXT.
NOWTM framework, Tech Mahindra aims to enhance 'Human Centric Experience' for our ecosystem and drive collaborative disruption with synergies arising from a robust portfolio of companies. Tech Mahindra aims at delivering tomorrow's experiences today and believes that the 'Future is Now'.
Total Assets: ₹ 45,659 Cr.
Debt: ₹ 2,830 Cr.
Equity capital: ₹ 440 Cr.
Current assets: ₹ 24,805 Cr.
Current liabilities: ₹ 13,993 Cr.
Debt to equity: 0.11
Dividend yield: 1.41 %
Face value: ₹ 5.00
ROE 5Yr: 20.2 %
ROCE: 26.6 %
ROCE 3Yr: 24.0 %
Return on equity: 21.5 %
Tech Mahindra is part of the Mahindra Group
Tech Mahindra is part of the Mahindra Group, founded in 1945, one of the largest and most admired multinational federation
of companies with 260,000 employees in over 100 countries. It enjoys a leadership position in farm equipment, utility vehicles, information technology and financial services in India and is the world's largest tractor company by volume. It has a strong presence in renewable energy, agriculture, logistics, hospitality and real estate.
The Mahindra Group has a clear focus on leading ESG globally, enabling rural prosperity and enhancing urban living, with a goal to drive positive change in the lives of communities and stakeholders to enable them to Rise. In India, the Group is credited for uplifting the rural economy and enhancing urban living through unique solutions across agribusiness, aerospace, components, consulting Services, defence, energy, industrial equipment, logistics, real estate, retail, steel, commercial vehicles and two-wheelers.
Tech Mahindra Network Services
Tech Mahindra Serving the world's top carriers for the last 25 years, the company offer end-to-end managed services to enable networks of the future for carriers and enterprises.
The company wider plethora of service portfolios demonstrates transformative leadership into 5G enablement, automation and managing the Network lifecycles including its planning, design and management to yield business outcomes.
Network services portfolios are broadly classified into Access, Core, Enterprise, Intelligent Operation and Managed Services to achieve strategic business objectives at affordable costs. Key services provided under these categories include:
Access: Automated Radio Network planning, designand deployment; and providing disaggregated virtualised and open RAN
Core: Deploying disruptive Cloud Native 5G Core platforms and transitioning to hybrid/edge cloud networks
Enterprise: Powering enterprises with private 5G and enabling digitalisation and SD WAN modernisation
Intelligent Operations & Managed Services: Assisted network operation & maintenance, Intelligent & adaptive autonomous network operations.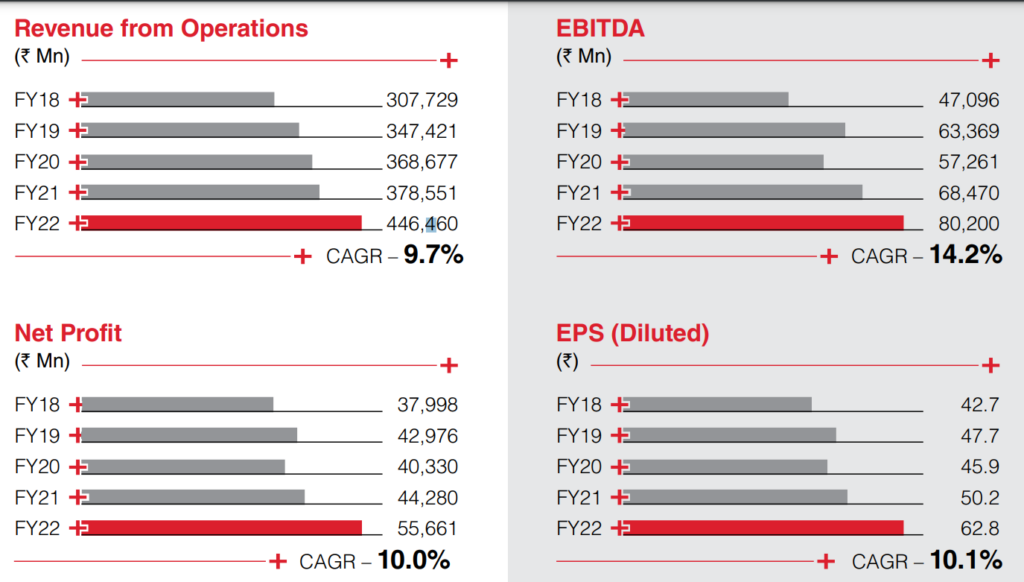 Engineering Services
The company deliver solutions enabling 'Digital Engineering Enterprise' across aerospace and defence, automotive, industrial, telecom, healthcare, energy & utilities, and ISVs. With 50+ exclusive global engineering centres supporting new program launches and 350+ active global customers, Tech Mahindra delivers exponential value to engineering enterprises by collaborating with them across three
key tenets: Robust products, Ubiquitous platforms and Cyber factories. The company vision for engineering is founded on the new digital economy considering emerging market trends like digital engineering, intelligent workplaces, adoption of tele-everything, end-to-end connected and immersive approach covering smart manufacturing and the need for an overall resilient business framework.
Tech Mahindra Ltd call this approach of Accelerating outcomes, inventing better products and transforming businesses into Digital as – Engineer Your NXT.NOW! Experience Design Services (XDS) power human connection through digital experiences, meeting customers at every touchpoint they have with a brand. By leveraging the latest technologies, and emerging platforms, data-driven approach helps to empower businesses, streamline processes, increase revenue opportunities and enhance the overall customer experience.
The company evaluate the entirety of a customer's interactions and consider each channel, both digital and physical, to create a seamless experience. By connecting creative, content and commerce together, we forge transformative, user-centric digital experiences that inspire.
The company offerings connect brand experience, track transactional behaviour and then distil the essential data into a book of record, laying the foundation for a scalable and unified strategy. We blend human-centred design, motivational psychology, behavioural science, and data science, helping our clients to realise their experience innovation goals. The company solutions unlock paths to meaningful, lasting impressions on customers.
Platforms
Tech Mahindra Ltd offer best-in-class platforms that enable innovation, efficiency and business transformation. The company platforms approach includes build, buy and cocreate (with partners and clients) models. These are offered in SaaS, PaaS, BPaaS mode, offering choice of deployment / consumption model to clients.
The company focus has been to address both horizontal (cross industry) areas as well as niche digital areas specific
to key industry verticals.
Comviva: From maximising customer lifetime value to enabling large-scale digital transformation, Comviva partners with Telcos globally with set of platforms to solve their existing problems fast and transform them for tomorrows.
BlueMarble: A future-ready, business outcome driven digital platform to simplify business complexity, drive agility and expedite monetisation for organisation. mPAC: An integrated, secure, and comprehensive platform for enabling digitalisation, IoT and multi-cloud integration with single pane view across all cloud providers.
iCOPS: An Integrated solution for cloud operation, covering people, process and technology
AI: Some of AI Platforms include Sayint, Datamine, AftEAZE, GAiA, SeeR, MobiLytix, L'AILA
Security
The company provide comprehensive Cyber Security & Risk Management services covering all security domains. The company have a robust track record of successfully delivering 900+ large security outsourcing projects across 50+ countries. We leverage our delivery capabilities of certified Security SMEs on best of the breed and niche Security Alliance partners solutions.
The company services include end-to-end advisory, consulting, implementation, integration, compliance and Managed Security Services Provider (MSSP) in the following key areas: Holistic security transformation capabilities Cloud, Network, Perimeter and OT/IoT Security Governance, risk and compliance management services
BPS
The company deliver digitised, hyper-personalised, contextualised, and be-spoke customer experience (CX) and specialised BPO services across multiple verticals (CME, Retail & CPG, Healthcare, Manufacturing, BFSI among others).
The company ensure customer and outcome-focused, in-house and partner-driven solutions based on human-inspired intelligence (AI), smart analytics, intelligent automation and technologies that add value, improve and enhance customer business.
Delivering world-class Contact Centre and multiple horizontal- and vertical-specific services by amalgamated and unified digital capabilities. These are based on smart and relevant deployment of trending and composable technologies like AI/ML, NLP, smart automation, and analytics Working on Global Unified Delivery Model through 57k human-digital workforce
and several thousand bots in 40 plus languages across 15 countries and 50 plus delivery centres
IT
The company provide consulting services to enable customers develop and implement strategies for digital transformation and accelerate this journey with a suite of services covering entire IT stack. Tech Mahindra Ltd has a track record of delivering innovative solutions to integrate technology with business for several Fortune 100 and 500 companies across 30+ years.
Some of key focus areas include: CloudNXT.Now: Cloud initiatives with engineering capabilities that enhance client EXPERIENCES, with an array of services, solutions and frameworks which ensures business agility at scale. With focused
hybrid cloud advisory services combined with SRE and DevOps platforms, we improve reliability and productivity while controlling costs.
Data Analytics: As Data takes the centrestage globally, we are helping customers across the entire data journey from source to value. Some of the key services include developing new frameworks, architectures and solutions to help manage the ever increasing volume of data, modernising data platforms on Cloud, and enabling monetisation of data via development of Data Marketplaces among others.
Artificial Intelligence: Tech Mahindra Ltd help identify the right AI strategy and roadmap for client organisation, through Discovery, AI Maturity Assessment, Enterprise AI Architecture and Platform Evaluations. Tech Mahindra Ltd AI enablement programs help clients leverage their data and AI assets across the organisation to scale up their AI journey, etc.
Blockchain: The company work on a holistic framework called 'Block Ecosystem' that comprises various levers: Block Studio, Block Engage, Block Talks, Block Geeks, Block Accelerate, Block Access and Block Value. This enables creating industry-leading applications that are architected on innovation and human excellence to unlock significant value for all stakeholders.
Communications, Media & Entertainment
The company communications vertical offers a wide range of solutions for Communications Service Providers (CSPs), Telecommunications Equipment Manufacturers (TEMs), Independent Software Vendor (ISV) and Media & Entertainment sector.
The core of this vertical has three major components: Network & Operations: Tech Mahindra Ltd offer network operations solution including managing large scale network deployments and upgrades (such as 5G) as well as enterprise network-as-a-service, virtual and open RAN, cloud transformation and 5G lab services; The company also offer IT and Cloud Transformation services.
Engineering: Tech Mahindra Ltd offer Digital Engineering solutions which include developing and launching next-gen products and services and providing solutions around Digital Product Quality. We also offer Digital Platforms as an end-to-end solution to catalyse digital and business transformation.
Experience: The company offer solutions around customer and employee experiences. Tech Mahindra Ltd help manage customer experiences within and across Call Centre, Retail, Web and In-home Channels alongside solutions around interaction design services, social media integration and loyalty management. The company employee experience solutions are focused on improving efficiency across backoffice functions and managing talent/employee productivity by digital automation.
Manufacturing
The manufacturing vertical uses its deep knowledge in product engineering combined with domain expertise and digital technologies to deliver differentiated services to its customers. The company offer solutions for automotive, aerospace and defence, discrete, process (chemical, cement, paper pulp) and metal & mining companies.
The Oil & Gas sub vertical team leverages its deep domain knowledge and expertise in upstream, midstream and downstream to address complex business challenges. The Energy and Utility sub vertical leverages its domain and technological expertise to provide value-added services to business across power, water & wastewater, renewable, electric vehicle, microgrid, and natural resources sectors across the globes.
BFSI
Tech Mahindra Ltd is bringing together leading platforms, key technology capabilities and a large ecosystem of niche fin-techs to enable global banks, financial service providers, wealth management institutions and large insurance organisations lead the digital transformation wave and build a core foundation that is strong, adaptable and scalable. To support and leverage this transformation, we also offer consulting, enterprise architecture, enterprise business solutions, mobility, networks, security and BPS services.
Some of our key focus areas: Wealth Management Core Banking Payments Digital Lending Insurance
Technology
With digital engineering at the core, Technology & Hi-Tech vertical delivers solutions across four sub verticals: Hyperscalers, Platforms & ISVs, Semiconductor & Storage, and Infrastructure Technology. The services addressing these subverticals include:
Digital Engineering – Platform Engineering, VLSI and Storage Engineering Enterprise IT Transformation – Service solutions for
a NextGen enterprise cloud operations and data transformation on cloud
Digital operation
Data services and content operations – NextGen service deck and digitised supply chain Healthcare, Life Science (HLS),
Government and Others
The company bring deep domain knowledge and technology expertise to partner with biopharmas, medtechs, payers and providers to build future-forward solutions. These solutions are designed to address the industry's most complex challenges, integrate digital transformation into our clients' business strategy and deliver extraordinary patient experiences and highimpact outcomes.
The company offer IT services and solutions to the public sector (companies and government) to enable them implement ERP, digital and business transformation, and harness the power of technology to improve citizens' lives. Retail, Consumer Goods, Transport & Logistics
The Company is working with Retail and Consumer Packaged Goods (CPG) customers to help them deliver sustainable customer experiences by augmenting customer journeys across the value chain.
The company is partnering with leading global players in the transport and logistics industry to help them succeed
in a world that has changed significantly because of supply chain disruptions. Our investments in AI, blockchain and other new-age technologies provides these customers a competitive edge.