India's largest and only backward integrated PVC pipes and fittings manufacturer. Finolex Industries is India's most trusted brand in pipes and fittings with a production capacity of 3,70,000 MT per annum and a leading producer of PVC resin with production capacity of 2,72,000 MT per annum. The Company offer a wide range of PVC pipes and fittings suitable for applications in agriculture and plumbing and sanitation.
Finolex Industries Ltd Profile
Finolex Industries Limited (FIL) is the largest producer of PVC Pipes & Fittings in India and is leading manufacturer of PVC Resin. The Company offers the latest range of superior quality and durable PVC-U pipes and fittings used in agriculture, construction and industrial operations.
Its product portfolio consists of two major divisions:
PVC Pipes and Fittings
PVC Resin
With three state-of-the-art manufacturing facilities in Maharashtra and Gujarat, the company leverage wide distribution network supported by dealers and sub dealers to cater to our growing customer base.
Revenue: ₹3,463 crore
2,25,035 MT – Total production of PVC Resin
1,377 – Employees
3 – Manufacturing facilities (Pune, Ratnagiri and Masar)
2,12,706 MT – Total production of PVC Pipes and Fittings
The Indian PVC pipes market is segmented into chlorinated, plasticized and un-plasticized. The global PVC pipes market reached a volume of 24.51 million tons in 2020. The market is expected to grow at a Compound Annual Growth Rate (CAGR) of around 4.3% during the period 2021-2026, to reach a volume of 30.25 million tons by 2026 as per Expert
Market Research.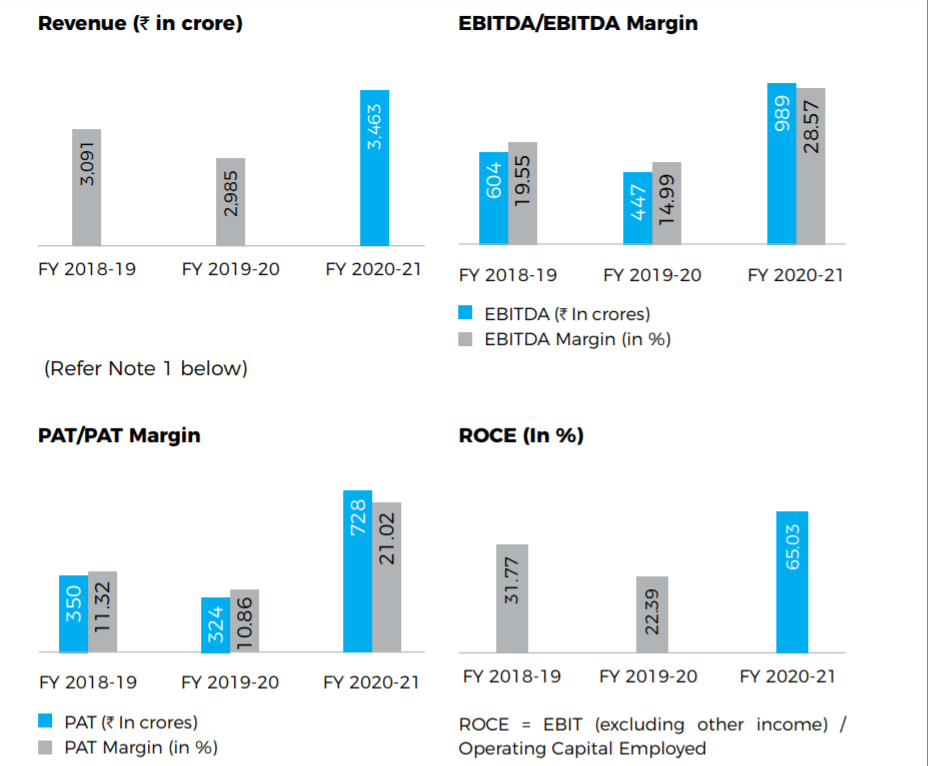 The market is currently being driven by growing urbanisation, a demand for larger and cost effective sewage lines, rising construction activities and infrastructure developments.
Also Read Top 10 PVC Pipe Manufacturers in India
Products and Brands of Finolex Industries Ltd
So here is the list of Products and Brands of Finolex Industries Limited
PVC Pipes & Fittings
PVC pipes are amongst the most widely used plastic pipes all over the world. PVC pipes are durable, cost-effective, light weight, hard to damage, easy to install and long lasting. They are commonly used for plumbing, sewerage, irrigation and water supply.
ASTM pipes and fittings
Finolex ASTM pipes are manufactured using the latest technology and high-grade raw material. These pipes are ideal for transportation and distribution of water in households including potable water, industrial process lines, saltwater lines, swimming pools, pipes
used for hand pumps and in downtake lines in plumbing systems.
Manufactured with added strength and crafting precision, Finolex PVC-U pipes have a prolonged life advantage over conventional pipes, surpassing most traditional metal and other plastic pipes.
This lightweight product's abrasion resistance, mechanical strength, toughness and durability are the key reasons why 'Finolex Pipes' is a leader of housing and potable water
applications in the plumbing industry. These pipes are manufactured using a lead-free compound and are environmentally -friendly.
CPVC pipes and fittings
Finolex CPVC pipes are manufactured using high-grade raw material and the latest technology, making these ideal for hot and cold-water applications. These pipes can withstand higher temperatures as compared to many other plastic piping systems.
Finolex CPVC pipes are better than conventional metal pipes because they are lightweight, they do not corrode and are long-lasting. These pipes are manufactured using a
lead-free compound and hence are environmentally -friendly.
CPVC pipes are suitable for hot water up to 82°C
These pipes are manufactured using lead free and environmentally friendly CPVC compound
UV stabilised
Leak proof joints
Low thermal expansion
Safe for potable water
They are extensively used in individual homes, residential apartments, hotels, resorts, hospitals, high and low rise buildings, corporate and commercial houses, swimming pools, academic institutes etc. Some of the main features of CPVC pipes include the following:
SWR pipes and fittings
Finolex SWR pipes are specially designed and manufactured using high-grade raw materials and are an ideal solution for efficient removal of waste without leakage in drainage systems.
SWR pipes and fittings are used for non-pressure plumbing applications such as transportation of soil, waste and rainwater, non-pressure industrial drainage applications, and waste discharge systems in residential and commercial complexes, resorts, and hospitals.
The Finolex SWR system is an ideal replacement for CI and GI piping systems because it is lightweight, economical, non-corrosive and UV stabilised making it very durable. It offers extreme climate resistance and a smooth inner surface to facilitate anticlogging. These pipes are manufactured as per IS 13592 and are offered with Integrated Ringfit and Selfit socket systems.
Sewerage pipes
Finolex underground drainage and sewerage pipes are intended to carry soil and waste from building to sewers or drains and then to treatment plants or disposal points.
Finolex underground drainage and sewerage pipes are recommended for buildings where hygiene is a prerequisite like hospitals, hotels, schools, etc. They can also be used for rainwater collection and disposal. Finolex sewerage pipes are specially designed for underground non-pressure applications like gravity drainage, sewer flow and transportation of soil and waste discharge.
Finolex underground drainage and sewerage pipes are an ideal replacement of CI and GI piping systems because they are lightweight, corrosion free and long-lasting. These pipes are watertight and leak-proof, which makes them free from ingress and seepage of water, thus ensuring hygiene.
PVC-U Selfit Pipes – One end of this pipe is self-socketed and the other is plain. This allows for a snug fit, without the use of any couplers. The strong solvent cement joint is
permanent and trouble-free and eliminates the inconvenience of loose couplers and thereby saves both time and cost.
PVC-U Ringfit Pipes – This unique range of PVC-U pipes was introduced by Finolex in India. They are specially designed for higher diameter requirements and eliminate the need for solvent cement.
Casing Pipes – Finolex offers a wide range of Casing & Ribbed Screen Pipes which are manufactured using a special PVC-U compound. This makes them ideal for the transportation of hard, salty, sandy, or chemically-aggressive water. These pipes are also anti-corrosive, which prevents the chemicals in the Soil from affecting them.
This range of PVC-U plain casing and ribbed screen pipes are specially designed to protect water lines from soil conditions. Finolex casing and ribbed screen pipes are far superior to conventional metal pipes as they are lightweight, corrosion free and long-lasting. These pipes do not alter the water quality and are recyclable.
Casing pipes are easy to install as the threaded ends make sure that the pipes can be interlocked without the use of cements or adhesives.
Column Pipes – Finolex PVC-U column pipes are uniquely designed for water extraction from bore wells and are manufactured using leadfree compounds, on advanced state-of-the-art CNC machines.
The company column pipes can withstand system loads including the weight of the pump, water, and pipes with an adequate factor of safety. Column pipes are lightweight, having a high tensile load capacity, leak proof joints, long- life, and are extremely economical. Its square threaded coupling joint ensures ease of joining as well as an optimum load-holding capacity.
A high torque-resistant locking system and specially designed rubber "O" ring ensure trouble-free operations.
Solvent Cement – Finolex solvent cement facilitates a strong and consistent joint between pipeto-pipe, fitting-to-fitting, or pipeto-fitting combinations. It can be dependably used in agriculture, sanitation, PVC-U and CPVC plumbing.
Finolex offers the high-quality solvent cement that is easy to apply and is environmentally friendly and beneficial to the applicator. Also Read Supreme Industries Ltd | Products