Brokerage Industry in India, Stock Broking sector in India. In January 2021 alone, 1.7 million new demat accounts were added marking it to be the highest monthly increase.
As of January 2021, India's total demat accounts stood at 53 million, compared to 41 million at the end of FY 2019-20. There was a surge in retail participation in the stock market after people were forced to stay home since the outbreak of the coronavirus pandemic.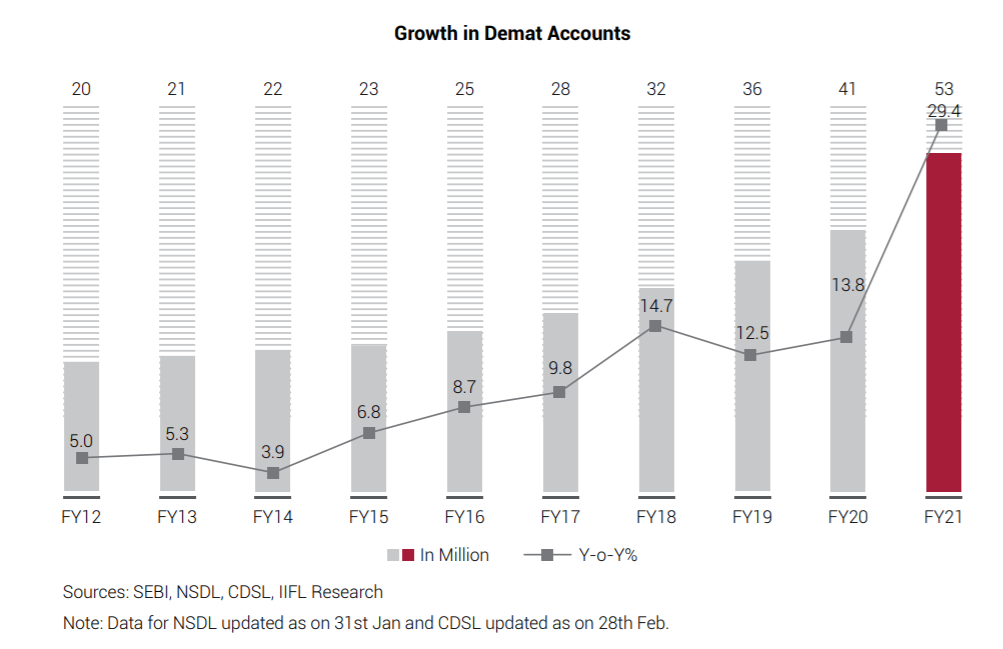 Brokerage Industry in India
The functions of the financial market, including stock broking has witnessed a radical change after digitisation and has paved the way for new clients.
Unlike traditional brokers, the role of discount brokers is mainly limited to providing an
online trading platform to customers.
Discount brokerage industry
The growing surge in smartphone users along with increasing internet penetration has made it convenient for discount brokers to capitalise on the market opportunities and enable customers trade online at almost zero cost.
This number is expected to rise by 820 million by 2022 according to the Economic Times Study.
Another key factor driving the growth of the discount brokerage industry is India's demographic profile. India has the largest working-age population with millennials (those
with a median age of 18 to 35) accounting for 36% of the population and projected to be 50% of its workforce by 2025.
Millennials, who are more tech savvy and price conscious, have favoured discount brokers over traditional brokers because of the former's simplicity and fast-paced nature of services.
Discount brokerage charges are usually close to nil which has attracted investors. Besides low brokerage, independent advisory services, offering informative content free of cost further gives an edge to the discount brokers.
Discount brokers provide unrestricted access to information on their website and applications, which attracts large customers. Moreover, discount brokerages have no vested interest in buying or selling a stock; that gives customers more confidence on their unbiased services.
First-time investors are also more inclined towards the discount broker services at it provides customisation.
Going Forward and Future
The nature of interaction of stockbrokers with potential investors has undergone a massive change over the years.
While traditional or full-service brokers have always enjoyed a dominant presence and preference among investors, a demographic shift towards technology has given rise to a new breed of stockbrokers, known as discount brokers.
Unlike a traditional broker, a discount broker's services are limited and restricted primarily to providing a trading platform. A tectonic shift in investor patterns with respect to participation in the market, has given a boost to discount brokerage services in India.
However, internet penetration coupled with smartphones has made it easier for investors
to cash in on a market opportunity by placing trade orders on platforms offered by discount brokers.
Indian investors have always been price conscious. The emergence of discount brokers offering low brokerage on a per-order basis has led to a shift in the market share of active customers.
The integration of technology has brought in much-needed efficiency into a discount broker's day-to-day operation. Right from seamless account opening process to automated integration of processes has made life easier for an investor. The demographic shift towards technology augurs well for discount brokers in India.
List of Top 10 Stock Brokers in India