Fishing Sector in India, with about 7.7% of the global fish production, is the third largest fish producing country and the second largest aquaculture fish producer in the world.
Fishing Sector In India
The country is also home to more than 10% of the global fish biodiversity and is one
of the 17-mega biodiversity rich countries. Fisheries and aquaculture witnessed manifold rise in its production during past decades, from 7.5 lakh tons in 1950-51 to 137 lakh tons in
2018-19.
The sector provides livelihood to about 16 million fishers and fish farmers at the primary level and almost twice the number along the value chain, and has enough potential to
generate income, employment, growth in subsidiary industries, and earn foreign exchange for the nation.
share of fisheries sector in the total GDP
The share of fisheries sector in the total GDP (at current prices) increased from 0.40% in 1950-51 to 1.03% in 2017-18. The sector contributed ₹1,75,573 crore to the GDP (at current prices) during FY 2017–18 (Ministry of Statistics and Programme Implementation, 2020). The sector has been showing a steady growth in the total Gross Value Added and accounts for about 6.6% share of agricultural GDP.
The sector has been one of the major contributors of foreign exchange earnings with India being one of the leading seafood exporting nations in the world. The marine exports account for about 5% of total exports of India and constituted 19.23% of agri-exports (2017-18).
Export of marine products
During 2018-19, export of marine products stood at ₹13.92 lakh metric tons and were valued at ₹46,589 crore (US$ 6.73 billion). Shrimp constitutes 68.5% of total seafood export in value terms. In past 25 years, marine exports have achieved CAGR of 7.8% in volume and 12.4% in value terms.
As a major allied activity, the sector has potential to grow in terms of increasing area under fisheries and augmentation of yield per unit area ensuring livelihood and income to the fish farmers.
Fisheries sector bears significance in terms of its inherent livelihood opportunity, income generation, food and nutritional security. Keeping this in view, the Government of India has introduced the "Blue Revolution" with a target to augment fish production to 150 lakh ton by 2020, and raise it thereafter to 200 lakh tons by 2022-23. In order to have a close monitoring and pursuance of the progress of the sector, Government of India created a separate Department of Fisheries in February 2019.
Fisheries Resources in India
India has rich and diverse fisheries resources ranging from deep seas to lakes, ponds, rivers and more than 10% of the global biodiversity in terms of fish and shellfish species. The marine fisheries resources are spread along the country's vast coastline and 20.2 lakh sq km 2 Exclusive Economic Zone (EEZ) and 5.3 lakh km continental shelf area.
The inland resources are in the form of rivers and canals (1.95 lakh km), floodplain lakes (8.12 lakh hectares), ponds and tanks (24.1 lakh hectares), reservoirs (31.5 lakh hectares), brackish water (12.4 lakh hectares), saline/alkaline affected areas (12
lakh hectares), etc. Rivers, canals, lakes, etc. cater to capture inland fisheries whereas ponds and tanks mainly support aquaculture in the country. Over 2.4 lakh fishing crafts, 7 major fishing harbours, 75 minor fishing harbours and 1,537 landing centres are catering to the needs of over 4.0 million fisherfolk.
For promoting aquaculture, 429 Fish Farmers Development Agencies (FFDAs) and 39 Brackishwater Fish Farmers' Development Agencies (BFDAs) were established in the
country. The annual carp seed production is to the tune of 40 billion fry and that of shrimp is about 54 billion PostLarvae (PL), with increasing species diversification in the recent past.
Besides large-scale freshwater food fish culture, ornamental fish culture and high value marine fish farming are gaining importance in the recent past. Commercial aquaculture in India is mainly land based; the intensive fish farming under cage culture is yet to take
off in the country.
Production of Fisheries in India
Fishing in India has remained a traditional livelihood for many rural poor households and initially it was mainly a capture based activity. During 1950-51, total fish production in the country was about 7.5 lakh tons and marine fisheries accounted for 71%. By the turn of the
century, fish production reached 56 lakh tons with an equal share of marine and inland fisheries.
After that, fish production increased rapidly mainly on account of the growth of inland fisheries. Fish production in India during 2018-19 was about 134 lakh tons (Figure 2.1) and
the share of marine fisheries was only 28% and inland fisheries accounted for 72% of total national fish production
In India, fish production has increased at a faster rate than that at the global level. Between 1950-51 and 2018-19, global total fish production increased 9.26 times, whereas,
total fish production in India during the same period increased at a rate double than that at the global scale.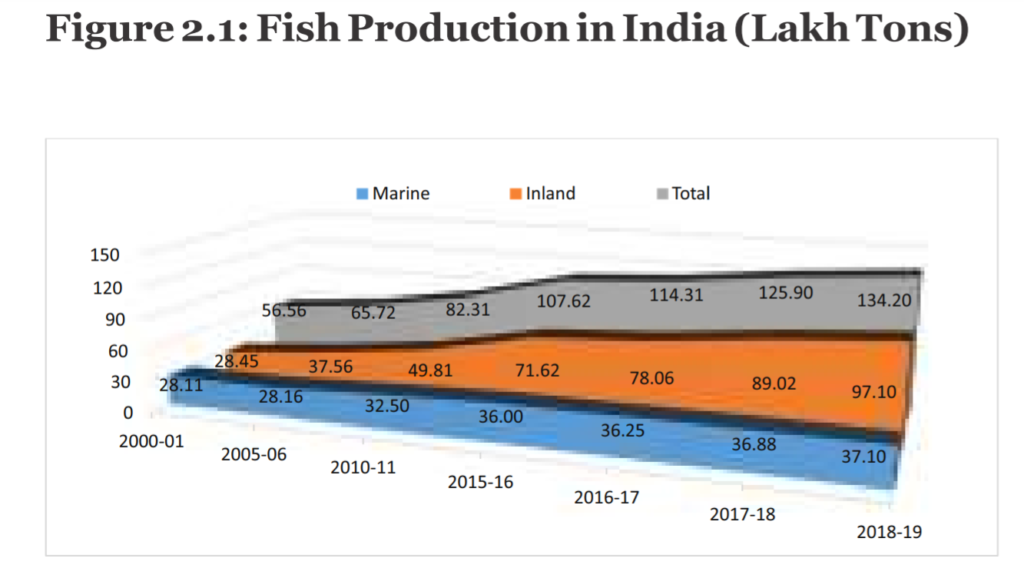 Though there was not much difference in the rate of rise in global and Indian marine fish production, the rate of rise in inland fish production was faster in India than the global scale. The faster growth in inland fisheries was mainly due to promotional and developmental initiatives like infrastructure development, promotion and subsidy support programmes introduced for fish farming, marketing, price realization and extension
services, etc. Still, fish farming in India has ample scope for improving production and productivity.
It was estimated that by 2018-19, about 71% of marine fisheries potential and 58% of the inland fisheries potential have been harnessed.
Regional Distribution of Fish
Fish Production has remained uneven across the States depending on the available coastline, infrastructure and entrepreneurship. Southern Region accounted for almost
half of the fish production, followed by Eastern Region with one fourth of the total national fish production.

largest fish producing state in India
Among the States, Andhra Pradesh (27.4%) and West Bengal (13.8%) together produce about 41% of the country's total fish production
Marine fish production has remained limited to nine States and four UTs with coastlines. The West Coast produces 59% and the East Coast produces 41% of total marine fish. Gujarat, with 19% of the total marine fish production, is the leading marine fish producing State followed by Andhra Pradesh (16.4%) and Tamil Nadu (13.5%).
Which state is the largest producer of fish in India?
Andhra Pradesh State is the Largest producer of fish in India with Market share of 27.4% followed by West Bengal with 13.8%.
Almost every State in India produces inland fish to a certain extent whereas top six States account for about three fourth of the country's total inland fish production.
Andhra Pradesh, West Bengal and Uttar Pradesh together account for half of the fresh water
production in the country.
Coastline in India
The four Maritime Union Territories are Daman & Diu, Puducherry, Lakshadweep Islands and
the Andaman & Nicobar Islands. The country also has a
5.3 lakh km continental shelf and
20.2 lakh km of Exclusive Economic Zone (EEZ) with 1,537 fish landing centers,
3,432 fishing villages,
8.75 lakh fisher families and
40.56 lakh fisher-folk population.
India has an 8,118 km long coastline stretching along nine Maritime States and four Union Territories. The nine Maritime States are Gujarat, Tamil Nadu, Kerala, West Bengal, Maharashtra, Odisha, Andhra Pradesh, Karnataka and Goa.