With a rich industry experience of more than a century, KRBL Limited today has created its place as the top player in the Indian rice industry and also as India's first integrated rice company. Operating primarily in the realm of manufacturing and marketing of rice products, the Company's success has been derived by operating responsibly, executing adeptly, manufacturing innovatively and capturing new opportunities proactively.
Over the years, KRBL has evolved and widened its product offerings that have delighted customers across geographies. The company presence in an extremely consumer driven market generates a demand for healthy and balanced dietary products. With a well-established presence in India, the company aim to further enhance our penetration along with expanding reach to new international markets.
Profile of KRBL Limited
With a 120 year heritage and an existence since 1889, KRBL Ltd. is India's first integrated rice company with a comprehensive product chain.
Pioneering the concept of having an integrated rice manufacturing facility, KRBL Limited is a globally renowned manufacturer and seller of basmati and non-basmati rice products under its flagship brand India Gate and other celebrated brands such as Unity, Doon, Nur Jahan and Bemisal among others.
Further, the Company evolved in a multi-segment rice player with its foray into the health food segment and introduced a wide range of health food products such as India Gate Basmati Brown Rice, India Gate Non-Basmati Brown Rice, Chia seeds, Flax seeds and Quinoa.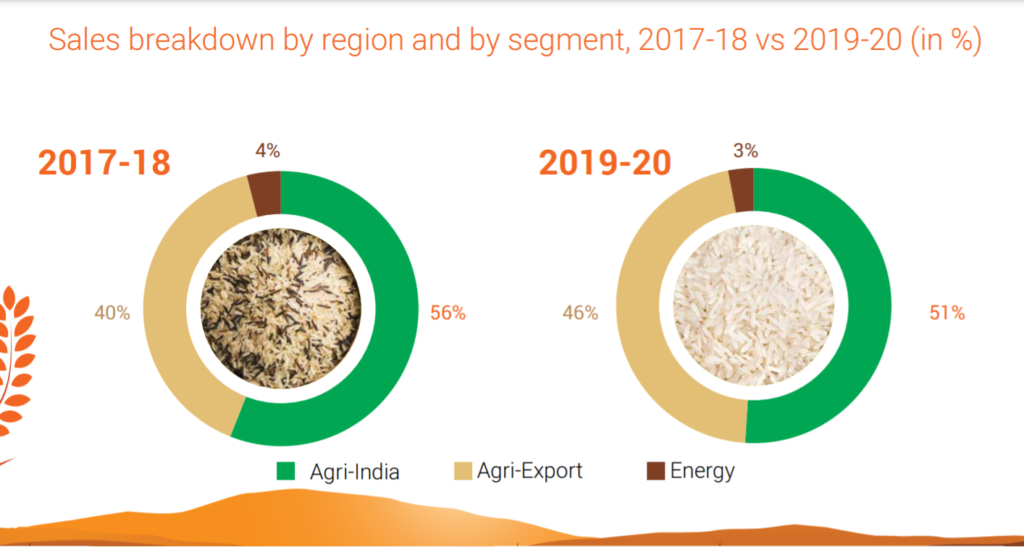 KRBL has its two manufacturing facilities spread across the states of Uttar Pradesh (Gautam Budh Nagar) and Punjab (Dhuri). The four state-of-the-art grading, sorting, and packaging facilities of KRBL are located at Sonipat, Gautam Budh Nagar, Dhuri, and Alipur.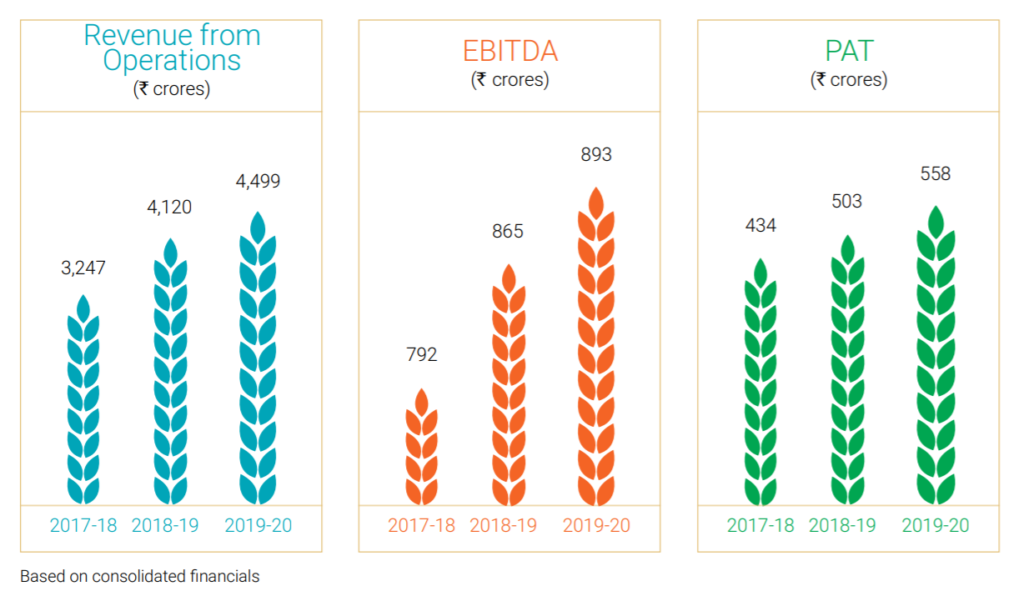 With its corporate office in Noida, UP and registered office in Delhi, KRBL has its product presence not only in India but also across the globe. KRBL exports basmati rice products to 82 countries and leads the basmati rice consuming market in the branded segment. KRBL is world's largest exporter of branded basmati rice.
Guided by its experience, KRBL is a market leader in the Indian rice industry and one of the fastest growing FMCG company.
Agriculture Industry in India.
KRBL Ltd History
The journey of world's most favoured Basmati brand was embarked upon by two enterprising brothers Khushi Ram & Behari Lal who founded KRBL (formerly known as Khushi Ram Behari Lal) in 1889 at Lyallpur, known now as Faisalabad in Pakistan.
Over the years, from agricultural commodities such as wheat, cotton and oil as our main business, we shifted our core focus to rice. Since the year 1947 until today, we have time and again relocated and restructured our business.
So, whether it was shifting base to Naya Bazaar, Lahori Gate, Delhi in 1947 or restructuring business to focus sharply on rice in the early 70s or in 1985 when we started exporting rice directly and capturing international markets, KRBL has always strived to evolve in its rice business.
Stewarded by three of the doyens of the Indian agri-product industry, Mr. Anil Kumar Mittal (Chairman & Managing Director) and Mr. Arun Kumar Gupta and Mr. Anoop Kumar Gupta (both Joint Managing Directors) and ably assisted by a team of qualified professionals, KRBL has managed to make its presence felt in every aspect of the entire value chain, from seed development and multiplication, contact farming, production to marketing.
The Company constantly explores ways and means to enhance offtake, widen reach and deploy technologies that bolster cost-competitiveness.
KRBL Limited Products and Brands
KRBL is an innovative consumer-centric Company, offering value and variety to its
customers through superior and wide range product portfolio in India and across key
export geographies. KRBL's product presence is in 82 countries across the world.
The company has wide range of health food products such as
India Gate Basmati Brown Rice,
India Gate Non-Basmati Brown Rice,
Chia seeds,
Flax seeds and
Quinoa.
KRBL Limited, the largest integrated rice miller of the country, is one of the major producers of rice products (both basmati and non-basmati rice), further the Company is engaged in the production of milling by-products like bran oil, furfural, rice bran, and de-oiled cakes.

Besides rice and agri products, it is also engaged in the business of power generation. The
Company's energy division comprises power generation from wind turbines, solar power plants and rice husk-based (biomass) power plants. This strategy helps the Company meet its power requirement from captive sources and reduce dependency on external sources while maximising returns from the non-core operations.
Brands of KRBL Ltd
The following are the brands of KRBL Limited.
Doon Basmati rice can be uniquely identified by its fragrance and length of grains. Since it is one of KRBL's prestigious Basmati rice brands, it comes in diverse brands and packages. They are – Basmati rice Premium, Basmati rice dubar, Basmati rice Tibar, mini dubar, Mogra, mini Mogra. They are available in 1, 5, 10 and 25 kg packs.
Nur Jahan is one of KRBL's prized brands and keeps the flavor, aroma and the looks of Basmati rice intact. It is marketed and packaged for both domestic and international purposes.
The domestic market enjoys all three variants namely, Basmati rice, Sella golden and Sella white available in 1kg, 5kg and 25kg packs. Its Basmati rice variant is exported to Canada, Kuwait, UAE, Singapore and Australia.
Indian Farm Just like Basmati rice is noted for its fragrance and delicate flavour, Badshah Basmati rice maintains the reputation and also lives up to its name. It is one of the leading Basmati rice brands in India in terms of consumption and sale. It is available exclusively in 25kg packs.
Bemisal rice grains are longer and characteristically free flowing rather than being sticky when cooked. This exceptional quality Basmati rice is marketed, sold and packaged solely for Indian market. Sold in 1, 5 and 25 kg packs, it comes in two variants – Bemisal Basmati Rice and Sella Golden.
Aarati is a premium quality rice brand that is used commonly in the domestic and international circle. Since it is a staple food, it is very popular for its distinctive taste. Available in 1 kg, 5kg and 25kg packs, this brand takes up the chief section of everyday eaten rice.
Unity, one of several premium quality rice offerings from KRBL, puts on your plate that no other Basmati rice in the country does – distinct and delicious rice grains. This Basmati rice is available easily in the domestic market in 25kg packs.
Lotus is the only domestic Basmati rice brand with parboiled grains. As premium as its quality and nutrient content, it serves for a multitude of eating tastes and needs. Its variants are – Basmati rice, Sella Golden and Sella White. It comes in 25kg packs.
Taj Mahal Tilla As the name suggests the brand of rice has a legacy that is simply unbeatable. This is for those who care for the finer things in life. Available in 25 kg packs the Taj Mahal Tilla has a splendid aromatic fragrance and length, in short this one is a true champion.
Shubh Mangal Basmati rice as the name suggests, is a symbol of life, fertility, tradition and delicacy. It is meant exclusively for the Indian market and its cultural richness. It is packaged only in 25kg packs, hence maintaining its niche in the market.
Necklace parboiled rice is an excellent source of nutrients just like brown rice. It is more starchy and glassier than any other rice.
Available in three variants namely, Premium rice, Sella Golden Premium rice and Sella White Premium rice for domestic purposes, it comes in 25kg packs only. Necklace's Basmati rice is exported to countries like Saudi Arabia and Egypt under the name Quilada.