Centum Electronics Limited was founded in 1994 in Bangalore India. Since then, the Company has rapidly grown into a diversified electronics Company with operations in North America, EMEA and Asia.
With extensive design & development expertise and leading edge technologies, Centum is now a strategic supplier to many Fortune 500 companies. The strategy over the years has been consistent and is based on innovation, advancing technology as the path to differentiating value for customers, ensuring culture of quality, while embracing the responsibility for the wellbeing of our associates and communities.
Centum Electronics Limited Profile
Centum Electronics is a leading Electronics System Design & Manufacturing Company that provides mission critical services and solutions to customers engaged in the Defence, Aerospace, Space, Medical, Transportation and Industrial segments that demand high reliability products and services.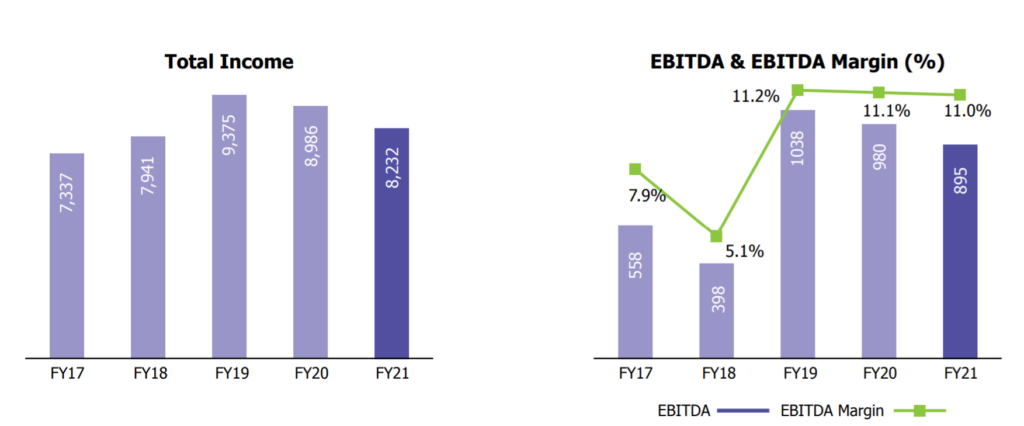 With deep domain expertise in design, development, and manufacturing of complex products, Centum is a strategic supplier and partner to large global OEMs and public entities such as Indian DPSUs, Ordinance Factories, DRDO and ISRO. Your Company
has an established global footprint with multiple design & manufacturing locations in Europe, North America, and India.
More than 75% of the Company revenue is generated from international customers and markets.
Corporate Identity Number (CIN) of the Company: L85110KA1993PLC013869
Name of the Company: Centum Electronics Limited
Registered address: No.44, KHB Industrial Area, Yelahanka New Town, Bangalore – 560 106
Website: www.centumelectronics.com
E-mail id: investors@centumelectronics.com
The Company offers a broad range of products and services across different industry segments. It has continuously invested in strengthening its design & product development capabilities while developing deep domain knowledge in the segments it operates in.
Centum has also established truly world-class manufacturing facilities with cutting edge infrastructure as well as a global supply chain capable of delivering products with
high quality and reliability.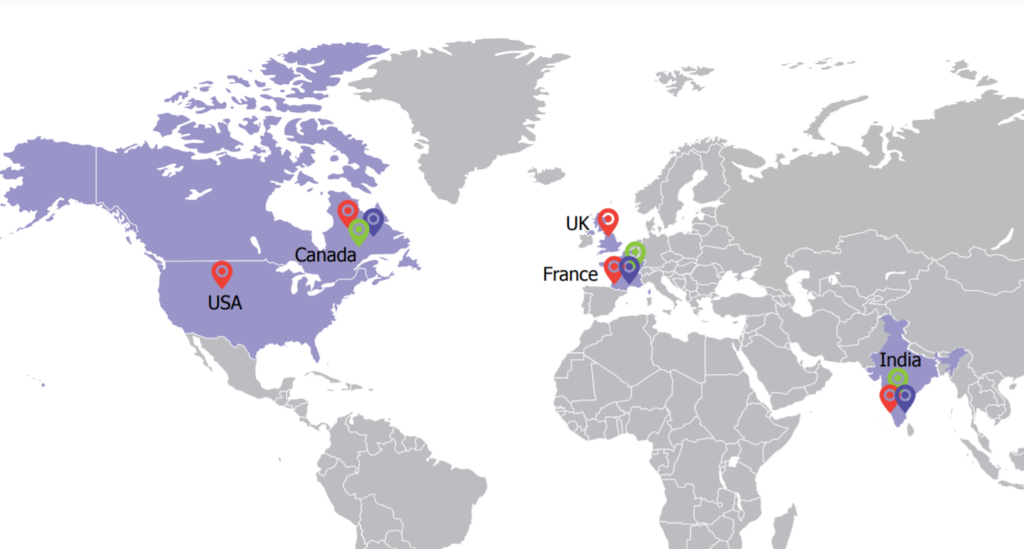 A key contributor to Centum Group's growth has been the strong relationships forged with international customers and partners. This customer-focused approach coupled with Centum's culture hinged on the core-values of Technology-Teamwork-Trust has resulted in a track-record of high quality products & services and excellent execution ability.
Centum currently has a team of 1800 employees including 650 design engineers. With a 27 years of domain expertise in Electronics Design and Manufacturing Solutions Centum has provided its customers with Hi-Tech and Hi-reliability products with flexible engagement models and in the process developed a strong relationship with all the marquee global clients.
Engineering R&D Services (ER&D)
Engineering Services involve conceptualizing, designing and certifying of Electronic Hardware, Embedded Software, FPGA, Analog, Radio Frequency products, Power Electronics, etc. Centum Group has a global design strength of over 650 design engineers and for the last 25 years, the Company has been helping customers turn their ideas into products.
Centum's engineers work together in multidisciplinary teams to realize customized products for mission-critical applications in high technology segments.
The Company's design centers are located in Europe, North America and India, which enable the Company to work closely with international customers while bringing together the best talent from around the world to work on complex problems and provide a competitive solution by managing the optimal onshore/offshore mix for the projects.
Centum also provides flexible engagement models depending on the specific project requirements. Customers can choose between Consulting Engagements and Fixed Price Contracts.
Electronic Manufacturing Services (EMS)
The Company's EMS Services include manufacturing solutions focused on a High reliability, High Complexity products in the high technology segment. Centum offers a wide range of manufacturing solutions from Printed Circuit Board assemblies to Complex box builds, Line Replaceable Units (LRU) and full system integration.
The Company helps its customers realize challenging products by having customer-focused teams that leverage their streamlined processes and systems and adapt them to the specific requirements of the customer and product where necessary.
By providing scalable manufacturing solutions and a flexible, proactive approach to managing the supply chain and lifecycle related challenges, Centum helps customers achieve their goals of lower Total Cost of Ownership and reduced time-to-market among others.
Build to Specification (BTS)
The Built to Specification services include taking a project from conceptualization to mass production quickly and efficiently. Centum's unique positioning with a full range of integrated capabilities makes it the ideal product realization partner.
Customers choose turn-key build to spec offering due to the convenience of a Single Point of contact for Design/Engineering, Industrialization and Manufacturing which reduces the need for multiple interfaces at each stage of the project and also fastens the products time-to-market and facilitating a Design-To-Cost approach and reducing the Total Cost of Ownership.
This engagement model involves higher IP and value creation opportunities for both the customer and for Centum. The Company is also able to better the Product Lifecycle
Management by proactively and effectively managing issues such as obsolescence, performance upgrades, market-specific localization and cost reduction.
Aerospace
The Aerospace industry has several ongoing technological initiatives to make aircrafts
more fuel-efficient, environmentally friendly and safer, which involves incorporating more
electronics on board, making avionics platforms more configurable, and of course factoring in environmental issues and reducing human error to improve safety.
Centum plays a key role in the global aerospace supply chain delivering critical electronics for cockpit computers, Air Traffic Management and also works closely with OEMs to design next-generation flight controls, Power solutions among various other technologies.
Centum started its defence business in 2010 and it is today the largest industry vertical for the Company. Over the years the Company has been successful in developing and manufacturing critical systems for major Defense programs that span across the land, air and naval systems with applications in Missiles, Electronic Warfare, Radar, Military Communications, and fire control amongst many.
Space
Space technology is progressing at a rapid pace driven by commercial applications such as
satellite broadcasting, communication, Earth observation, geo-location, and global navigation equipment and services.
Centum has established a credible track record since 2002 in this segment delivering complex products that address applications in launch vehicles, satellite payloads, satellite bus systems as well as ground equipment.
Centum has made significant investments to ensure that they can deliver products with the right quality, technology and in required quantities to be a trusted partner. It has delivered mission-critical electronics on almost all satellite programs of ISRO including the ambitious Chandrayaan and Mangalyaan projects, and also delivered 300 to 500 components for almost every Indian space mission.
Transportation
Centum is at the forefront of the Transportation sector working very closely with the leading global OEMs and rail operators on developing the next-generation technologies for rolling stock and signaling applications. Centum has also developed proprietary technologies for Passenger
Information Systems. The company products have been deployed on board trains in North America, Europe, Asia and Australia.
Automotive
The automotive industry is going through a dynamic transformation with new players entering the market introducing disruptive technologies incorporating electronics for applications such as autonomous driving, electric powertrain architecture, connectivity among others.
Centum's strong knowledge and experience of developing products to the required safety standards as well as past references in developing similar products for the aerospace and rail transport domains has positioned us well to support our customers as they develop new products and technologies to stay ahead.
Healthcare
The field of healthcare is rapidly adopting new technologies to augment the quality of treatment and create efficiencies for healthcare providers. Centum has engineered a variety of medical devices and equipment for the Healthcare industry applications that include digital radiography, infusion pumps, ultrasound equipment, patient monitoring devices, customized room controls for operation theaters among others.
Industrial and Energy
The digital transformation in utilities, infrastructure and manufacturing among other industrial segments is driving new products that are smart, collaborative and result in efficiencies for end-users.
Centum enables its customer to realize such products for applications in PowerGrid Infrastructure, Oil and Gas, automation, control and measurement among others. Centum's expertise in energy conversion and storage technology has helped customers develop customized Microgrid solutions.
Subsidiaries of Centum Electronics Ltd
The Company has the following subsidiary companies:
Centum Adeneo India Private Limited, a wholly owned Indian Subsidiary company.
Centum Electronics UK Limited, UK based company.
Centum Adetel Group S.A., French based company.