Visaka Industries Limited manufacture solar roofing products and solutions that are being described as tomorrow's
solutions. The company manufacture textile yarns from recycled fibre that empower fabric and apparel makers to make
responsible products.
The Company was incorporated in 1981 by Dr. G. Vivekanand. It is presently stewarded by Mr. G. Vamsi Krishna, son
of Dr. G. Vivekanand and Mrs. Saroja Vivekanand. Over the last four decades, the Company has established itself as
one of the leading building construction material providers and a dependable synthetic yarns manufacturer in India.
The Company's equity shares are listed and actively traded on the BSE and NSE. The promoters owned a 48.36% stake in the Company's equity capital.
Visaka Industries Limited Profile
The Company is headquartered in Hyderabad (India). Visaka has 13 manufacturing locations across India. The company Building products facility possesses an annual production capacity of 8,02,000 tonnes of cement roofing sheets and
2,39,750 tonnes of fibre cement flat board products.
Yarn spinning plant possesses an annual production capacity of 2,752 twin air-jet spinning positions equivalent to 82,560 ring spindles. Manufacturing units are supported by 13 marketing offices across India.
20 %, Revenue generated from fibre cement boards and panels business
60 %, Revenue generated from cement roofing sheets business
1,971 Employees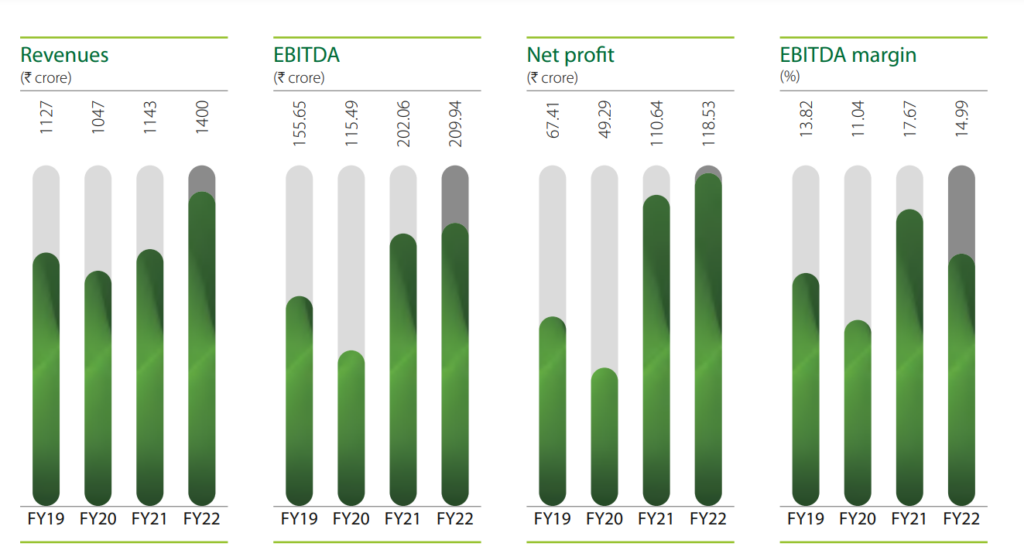 The Company commenced the manufacture of corrugated cement fibre sheets in 1985. The Company diversified into the manufacture of synthetic yarns in 1992. The Company widened its business by manufacturing V Next fibre cement boards from 2008. This was followed by the launch of a one-of-its kind solar roofing product called ATUM in 2018. The Company's non-asbestos roofing business accounted for 40% of its revenues in 2021-22.
Visaka's product portfolio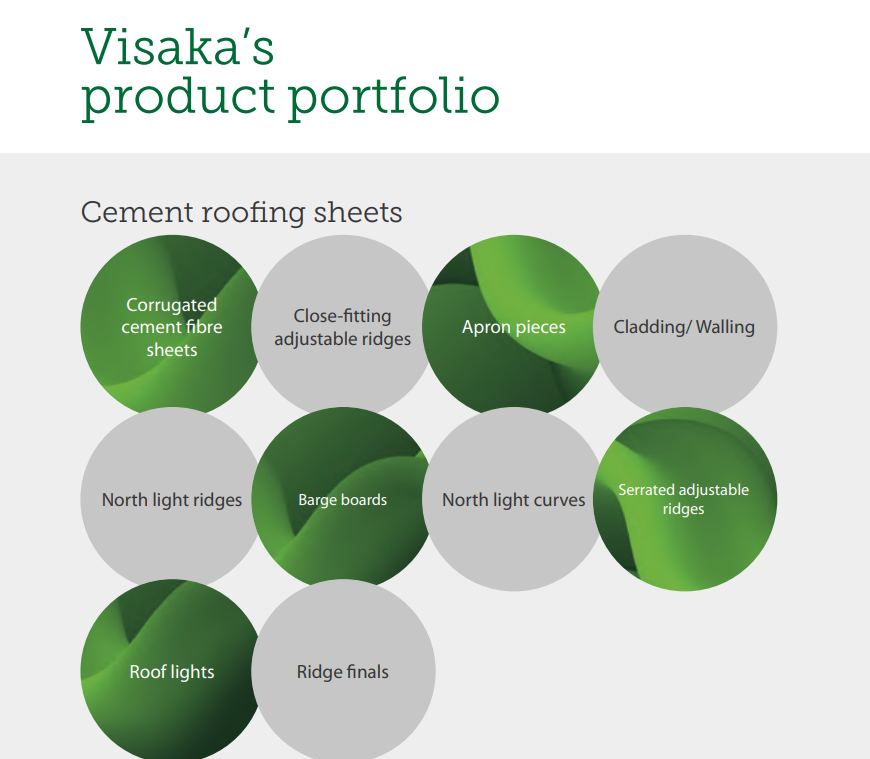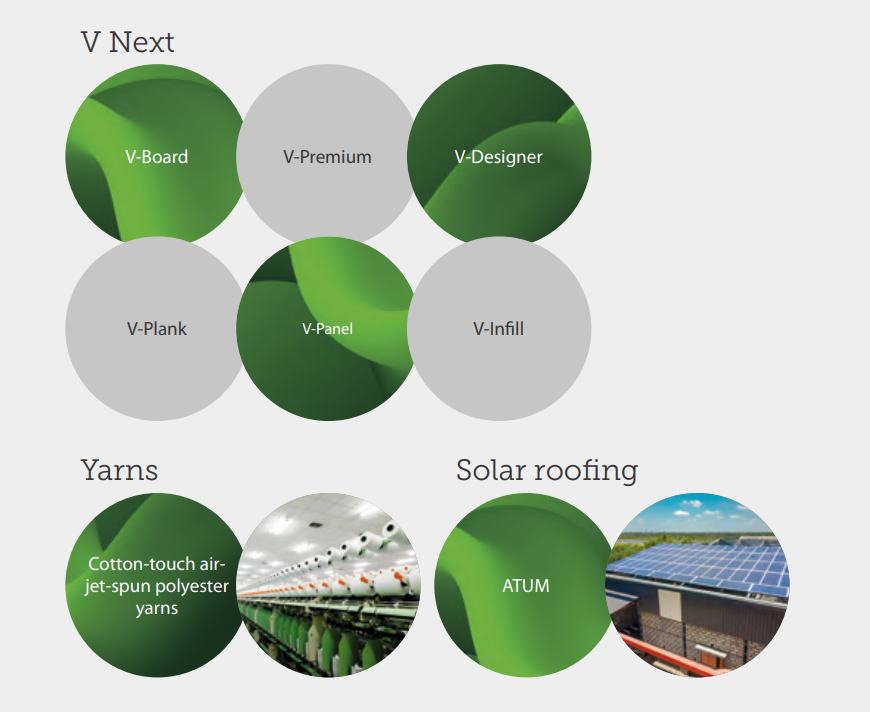 Visaka Industries Limited products are marketed directly to retailers as opposed to the conventional distributor-retailer approach. The Company's distribution network comprises more than 7,000 dealers in urban, rural and suburban India.
Cement roofing sheets
Yarns Solar
roofing
Corrugated cement fibre sheets
Close-fitting adjustable ridges
Apron pieces
Cladding/ Walling
North light ridges
Roof lights
Ridge finals
North light curves
Barge boards
Serrated adjustable
ridges
Cement roofing sheets
The Company commenced the manufacture of cement roofing sheets in 1985 with an annual capacity of 36,000 metric tonnes. It possessed the capacity to manufacture 8,02,000 metric tonnes across eight plants by the close of the year under review, accounting for 60% of the Company's revenues.
The Company embarked on the exercise to add 100,000 metric tonnes per annum to its installed capacity – the first such instance after 10 years – which is expected to become operational in the first quarter of 2022-23.
V Next products, fibre cement boards and panels
Visaka commenced the manufacture of fibre cement boards and panels in 2009. The user-friendly substitute for conventional walls and dry wall solutions (V Next panel) is manufactured with technical inputs from Australia and accepted by builders and practicing professionals in India and overseas.
These panels are manufactured in an asbestos-free manufacturing units at Miryalaguda, Telangana and Jhajjar, Haryana. V Next panel is energy-efficient with superior thermal and acoustic properties. The product is offered in three thickness variants – 50mm, 75mm and 100mm – with a standard width of 600mm and lengths of 2,400mm, 2,700mm, 3,000mm and 3,300mm. The product is widely used as ready-toinstall walls for sturdy structures like site camps, offices, villas, resorts, farmhouses, partitions in malls, hotels and hospitals.
The Company manufactures V Next Board, non-asbestos autoclaved fibre cement board using the Hatchek process with high pressure steam curing technology. Visaka's capacity is 2,20,000 metric tonnes per annum for boards and 19,750 metric tonnes per annum for panels. The Company is the leading player in terms of market share, accounting for 32% of sectoral capacity. It is also the exclusive producer of the premium product -Type A.
Visaka is expanding its distribution network and spreading product awareness by engaging with opinion influencers (carpenters, architects and contractors). Based on diverse options to explore creative applications, V Next has developed a growing clientele in India, Middle East and Africa.
The Company's focus is to increase value added products from this business. The manufacture of grading designer boards
will generate superior pricing with the objective to enhance the proportion of value-added products from the present
10%. The business has developed a committed clientele in the Middle East, Europe, Nepal, Sri Lanka and Thailand,
among other countries, for around 30% of its capacity.
ATUM
The pioneering ATUM solar roof was launched in 2018, a breakthrough in the field of sustainable energy. Visaka secured
patents for this product in USA, South Africa and India. ATUM is an integrated solar roofing system that addresses all functions of a traditional roof while generating renewable energy.
The Company manufactures integrated solar panels with a cement base, providing superior heat insulation over a traditional roof without compromising aesthetics. In the last few years, ATUM established itself as a trusted product deployed across segments and geographies.
The Company is optimistic of prospects based on the Indian government's renewable energy commitment and a resolution to moderate carbon footprint. The Company developed applications for data center players and the railways, generating repeat orders. The Company also commenced exports to Africa and the Middle East, broadbasing its geographic coverage.
Synthetic yarns
Visaka extended into the manufacture of synthetic yarn in 1992 when it commissioned a factory in Nagpur. The
plant was designed to produce 2,000 tonnes of man-made yarns per annum using the cutting-edge air-jet spinning
technology.
Over the years, the Company manufactured specialised products (mélange, high twist and specialty yarns) in different blends utilised by quality-conscious fabric manufacturers, resulting in realisations among the highest in the country's yarn sector.
The Company's quality emphasis is validated by prominent downstream brands like Donear, Siyaram Silks, Raymonds, GBTL,
RSWM, BSL Suitings and Arvind Mills, among others. The Company scaled its spinning capacity in 2016-17 to produce 12,000 tonnes per annum.
Visaka Subsidiary companies
The Company has two subsidiaries as on March 31, 2022
VNEXT Solutions Private Limited and
Atum Life Private Limited,
Vnext Solutions Pvt Ltd is setup to capitalise on the expertise gained in the various applications of its products. Viz., EPC contracts, Turnkey solutions, construction of Infil houses with Atum Solar panels, V-Boards, V-Panels and Infil material.
Atum Life Private Limited is formed to deal with the sustainable and eco-friendly products.
The Company is proposed to open studios to deal with various range of sustainable products including holding company's sustainable products. The Company has put up Atum charging stations which provides clean energy to consumers. ATUM Charge is India's First Green EV charging stations and it is powered by our own ATUM Solar roofing. The Company aims for Zero emissions, net zero facilities and sustainable network.