Alok Industries ltd is an integrated textile Company with a product range comprising of cotton and polyester goods. Alok's main plants are in Vapi, Gujarat and Silvassa and the Company has a wide customer base across the world that includes global retail brands, importers, private labels, and domestic clientele.
Alok Industries ltd was engaged in manufacturing of following main products;
a) Apparel Fabrics
b) Home Textiles
c) Polyester Yarn.
The registered office of the Company is located at 17/5/1, 521/1, Village Rakholi/ Saily, Silvassa, The Union Territory of Dadra and Nagar Haveli-396230.
Alok Industries Ltd Profile
Alok Industries Limited is a Public Limited Company, domiciled in India and incorporated under the provisions of the Companies Act, 1956. The equity shares of the Company is listed on the Bombay Stock Exchange (BSE) and National Stock Exchange (NSE). It is primarily engaged in the business of textile manufacturing including mending and packing activities.
Sales₹ 7,811 Cr.
Operating profit₹ 386 Cr.
Net profit₹ -360 Cr.
Sales last year₹ 7,310 Cr.
EBIDT last year₹ 608 Cr.
Sales growth 3Years29.7 %
Alok is one of the largest vertically integrated textile manufacturers in India. The company has a dominant presence in the cotton and polyester value chain with operations spanning from yarn to finished products. The company operates under the following four divisions:
Spinning Division
Polyester Division
Home Textiles Division
Apparel & Fabric Division
Alok Industries ltd has integrated business operations for both of its verticals: cotton and polyester as shown below. Its key competitive advantage is presence across the entire textiles & apparel value chain right from sourcing the fibre to yarn production, fabric production through knitting and weaving to garmenting, sheeting and terry towels. The integration allows the Company to optimise decisions of in-house and external sales and purchase at every stage to improve business returns depending on market conditions.
Total Assets₹ 7,719 Cr.
Reserves₹ -18,856 Cr.
Debt₹ 24,414 Cr.
Current assets₹ 1,882 Cr.
Current liabilities₹ 3,912 Cr.
Alok Industries Limited procures key raw material like raw cotton from Maharashtra, Gujarat and Madhya Pradesh, Cotton Yarn from Tamil Nadu, Maharashtra, PTA, MEG and Furnace Oil from Gujarat and Chemicals and Dyes from Maharashtra and Gujarat. The sourcing of raw materials like cotton, cotton yarn, PTA, MEG were made through rail wagons and road transport.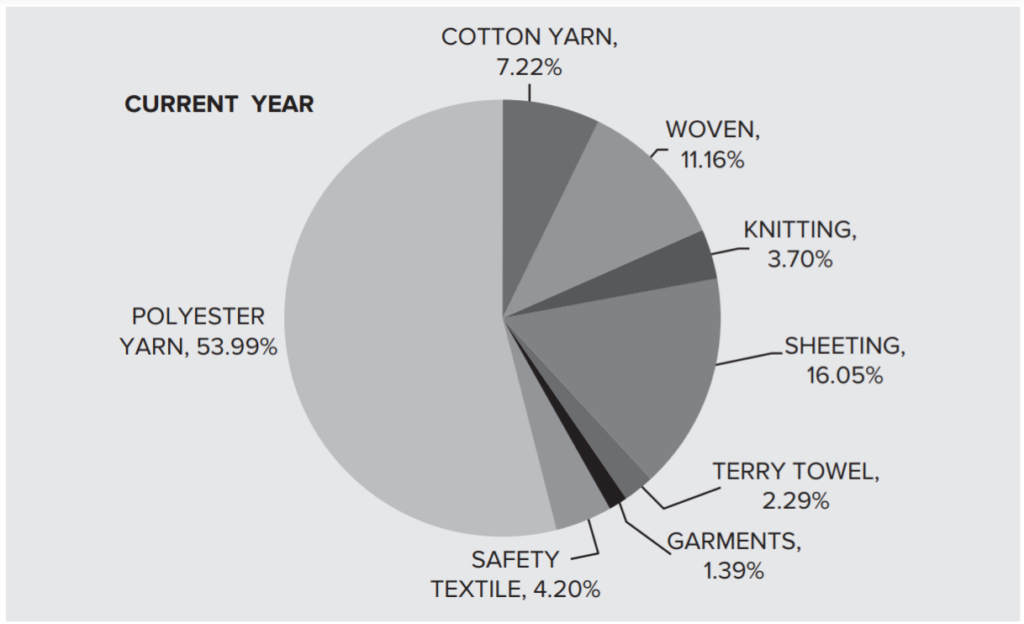 Alok started manufacturing Personal Protective equipment (PPE) suits and N 95 Masks in a newly started division Safety Textiles from May 2020 and soon became one of the largest producers of PPE suits in the country.
However, post June 2020, with increase in suppliers of PPE suits including competition from unorganised market, the PPE suits and Mask business is not as lucrative as it was in the initial period May- June 2020.
Textiles Business of Alok Industries
Alok Industries ltd is into single business segment i.e. Textiles. Within Textiles, Alok's business comprises of Cotton Yarn, Apparel Fabric (Wovens, Knits & Garments), Home Textiles (Sheeting & Terry Towel), and Polyester Yarn.
Manufacturing & Business Excellence
Alok Industries Limited is an integrated textile manufacturer with operations in both cotton & polyester value chain. The Company has created global sized capacities and has market presence in domestic as well export markets. It has global retailers, brands, reputed
garment manufacturer and traders in its portfolio of customers.
Company has received certification of Integrated Management System comprising of ISO
9001:2015 (QMS), ISO 14001:2015 (EMS) and OHSAS 18001:2007 indicating the strong systems and processes being followed by the Company.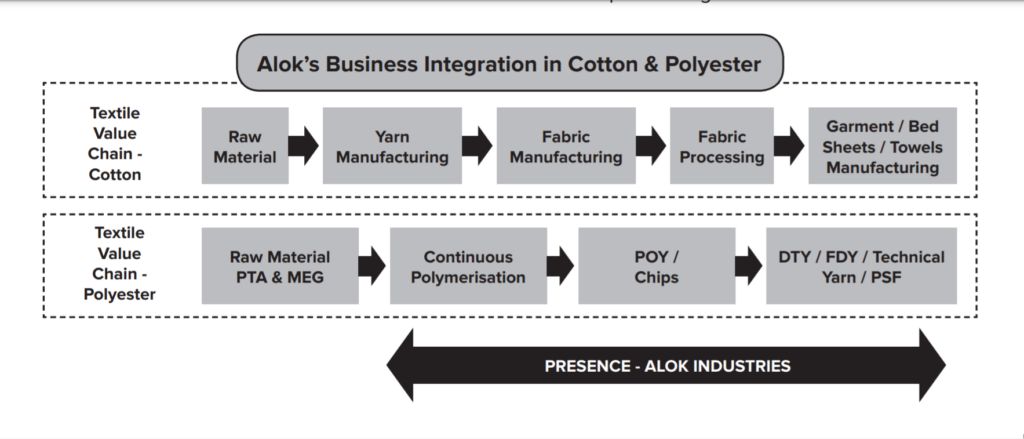 Alok Industries ltd is also compliant of the health, safety, and environment norms and various eco certification for its products, as required in export markets. Details of these certifications are covered under the section "Quality, Safety, Health and Environment".
Alok's business excellence is driven by the following strategic advantages:
Established relationship with leading Global brands and retailers
State-of-the-art manufacturing facilities and supporting infrastructure
Strong emphasis on Quality, Cost and Delivery (QCD)
Economies of Scale that provides competitive advantages
Forward and Backward integration leading to assured quality parameters across the chain
Wide range of products across different product segments
In-house product development and designing
strength.
Subsidiaries of Alok Industries
Textiles: Mileta – Through its step-down subsidiary, Alok Industries International Limited, Alok has a 100% stake in Mileta, a Czech-based fabric manufacturing company. Mileta's facilities are located in Horice (Weaving and Administration) and Cerny Dul (Processing) in the Czech Republic.
Mileta has high end technological skill in yarn-dyed fabrics and hemming that results in higher per unit realisations. The Mileta range of products includes high quality shirting, batistes and voiles, complete line of functional table linen, bed linen and handkerchiefs.
For the year ended 31st March 2021, Mileta has achieved sales of 115.42 crore and made a loss of (18.42) crore as compared to sales of 162.25 crore and loss of(5.47) crore in 31st March 2020.
Step-down subsidiaries
Alok Industries International Limited
Grabal Alok International Limited
Grabal Alok (UK) Limited
(under liquidation effective 10th July 2017)
Mileta, a.s.
Kesham Developers & Infotech Private Limited (Under a voluntary winding up process effective
20th February 2012)
Springdale Information & Technologies Private Limited (Under a voluntary winding up process effective 20th February 2012)
UK Retail: Store Twenty One Alok held a 99.87% equity in Grabal Alok (UK) Ltd, a Company that used to operate the 'Store Twenty One' chain of value-format stores in UK, through its step down subsidiary Alok Industries International Limited and Grabal Alok International Limited.
Joint Ventures
New City of Bombay Manufacturing Mills Limited
Aurangabad Textiles and Apparel Parks Limited
Triumphant Victory Holdings Limited
Grabal Alok UK was taken under liquidation on 10th July 2017. The Company has provisioned for the entire investment.
Investment: Alok Infrastructure Limited
The Company had made some investments in the realty sector through its 100% subsidiary Alok Infrastructure Limited. The plan was to create value and monetise
the same at the right opportunity. However, depressed market conditions in the real estate space resulted in the Company having to dispose off some of its assets at losses. The Company has also provided for the loans / advances to the extent not recoverable from its
subsidiaries.
Alok Infrastructure Limited (Alok Infra) was admitted under the Corporate Insolvency Resolution Process (CIRP) in terms of the Insolvency and bankruptcy Code, 2016 vide an order dated 24th October 2018 of the Hon'ble National Company Law Tribunal, Mumbai.