ITC Limited was Established in 1910, ITC Limited is a diversified conglomerate with ( ITC Products ) businesses spanning Fast Moving Consumer Goods comprising Foods, Personal Care, Cigarettes and Cigars, Branded Apparel, Education & Stationery Products, Incense Sticks and Safety Matches; Hotels, Paperboards, and Packaging, Agri-Business and Information Technology.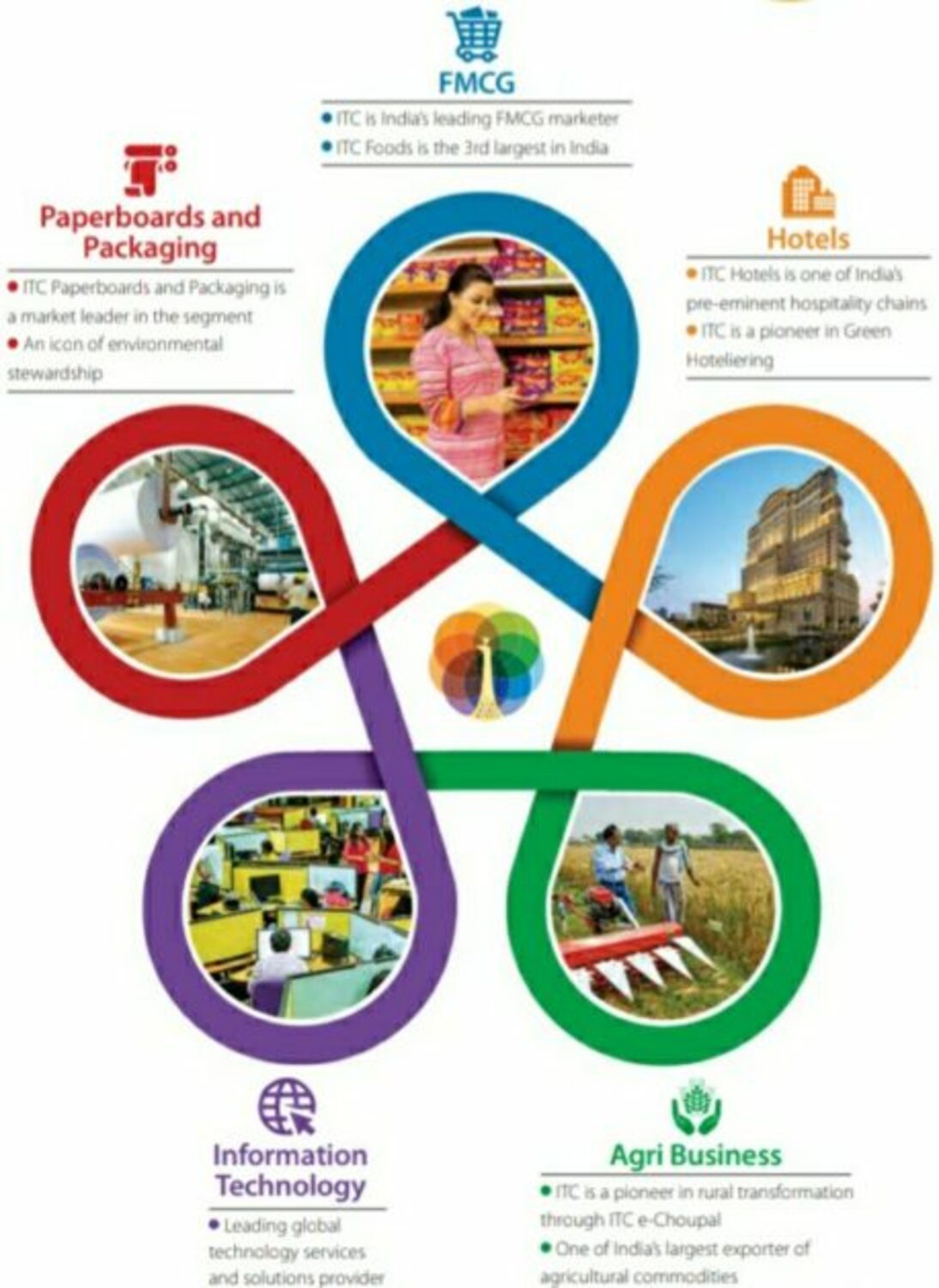 ITC Full Form
what is the Full Form of ITC ?
Imperial Tobacco Company – ITC Full Form. ITC Limited was incorporated on August 24, 1910, under the name Imperial Tobacco Company of India Limited. As the Company's ownership progressively Indianised, the name of the Company was changed to India Tobacco Company Limited in 1970 and then to I.T.C. Limited in 1974.
In recognition of the ITC's multi-business portfolio encompassing a wide range of businesses, the full stops in the Company's name were removed effective September 18, 2001.
Revenue: Rs 51,321 Cr
Market Cap: 320,094 Cr.
ROE: 22.69 %
Sales Growth (3Yrs): 7.25 %
Promoter holding: 0.00 %
Debt to equity: 0.00
Price to book value: 5.47
ITC Chairman
Sanjiv Puri (56) is the Chairman & Managing Director of ITC Limited effective May 13, 2019. He was appointed as a Director on the Board of ITC Limited with effect from December 6, 2015 and Chief Executive Officer from February 5, 2017.
Prior to this, he was the Chief Operating Officer of ITC since July 22, 2016. He was re-designated as the Managing Director of ITC effective May 16, 2018. Puri is an alumnus of the Indian Institute of Technology, Kanpur, and Wharton School of Business.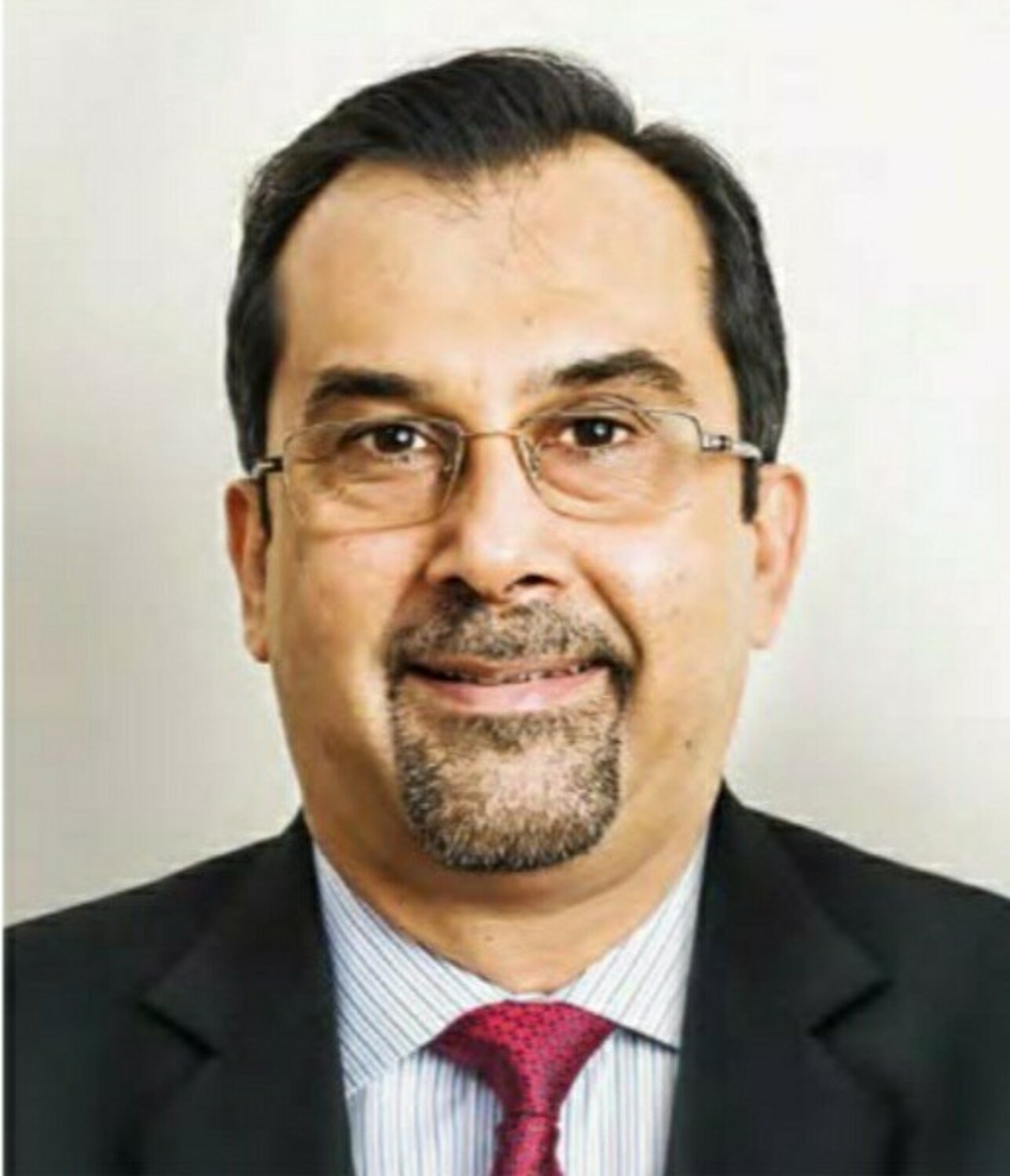 He joined ITC Limited in 1986. Prior to his appointment as a Director on the Board of ITC Limited, Puri was President, FMCG Businesses since December 2014. Puri became Divisional Chief Executive of the Tobacco Division in 2009, with additional responsibility for the Company's Trade Marketing & Distribution Vertical.
He has led ITC Infotech India Limited, as its Managing Director from May 2006 to August 2009. Puri served between 2001 and 2006 as the Managing Director of Surya Nepal Private Limited, a joint venture subsidiary company of ITC Limited in Nepal. He has also been a Director on the Board of The Tobacco Institute of India and a past member of the Board of Governors of the Media Research Users Council.
He has served as Chairman of FICCI's FMCG Committee, Chairman of the Agri & Food Processing Task Force of the CII Eastern Region and as a Council Member of the CII Eastern Region. He was also on the Executive Council of The Indian Society of Advertisers. Presently, Puri serves on the National Executive Committees of CII and FICCI.
He is also a Director on the Board of US-India Strategic Partnership Forum and a Member of the Steering Committee of FICCI. During the year, he was conferred 'Distinguished Alumnus Award of the year 2018' by the Indian Institute of Technology, Kanpur.
ITC Infotech
As a fully owned subsidiary of ITC Limited, ITC Infotech Leading global technology services and solutions provider. ITC Infotech provides business-friendly solutions to help clients succeed and be future-ready, by seamlessly bringing together digital expertise, strong industry-specific alliances and the unique ability to leverage deep domain expertise from ITC Group businesses.
ITC Limited
ITC Limited has sustained its position as one of the fastest-growing FMCG businesses in the country, leveraging a robust portfolio of brands, a slew of first-to-market offers, a range of distinctive, customized products, innovation, premiumization, along with an efficient supply chain and expanding the distribution network.
BUSINESSES
Hotels
Paperboards &
Specialty Papers
Agri-Business
Information Technology
Group Companies
The following Describes ITC products list.
What are the products in ITC?
ITC Limited has over 50 FMCG products, across categories such as Foods,
Personal Care, Education, and Stationery products, Agarbatti and Matches,
Strengthening its diverse and differentiated portfolio of FMCG offerings.
Products List of ITC
So here is the ITC products list. ITC Limited launched over 50 new FMCG products, across categories such as
Foods,
Personal Care,
Education, and
Stationery products,
Agarbatti and Matches,
Strengthening its diverse and differentiated portfolio of FMCG offerings.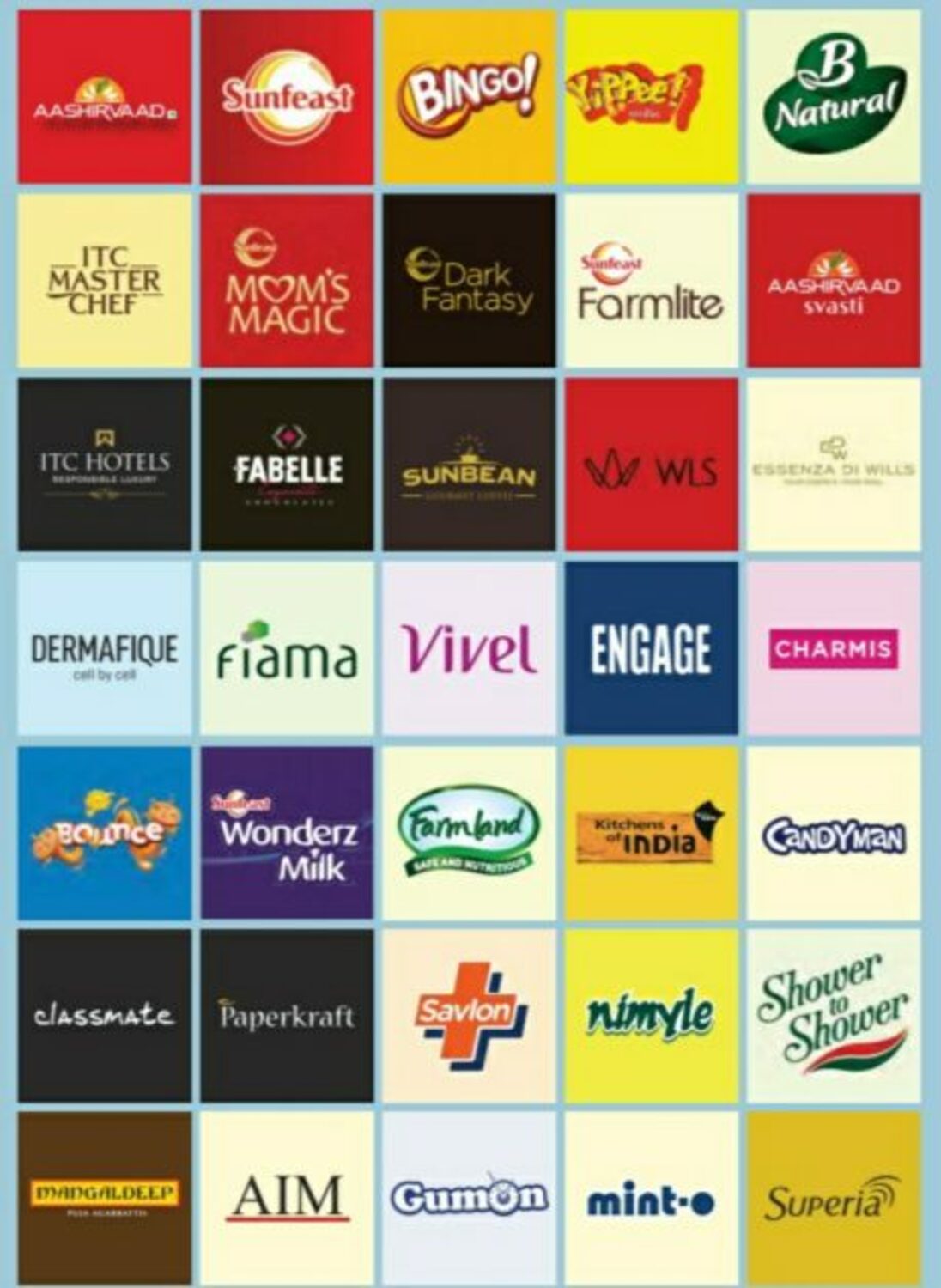 ITC's Paperboards & Packaging Business
ITC's leadership position in the value-added itc products Paperboards segment in India is anchored on the popularity of its array of brands that caters to a wide spectrum of innovative packaging, graphic and communication requirements.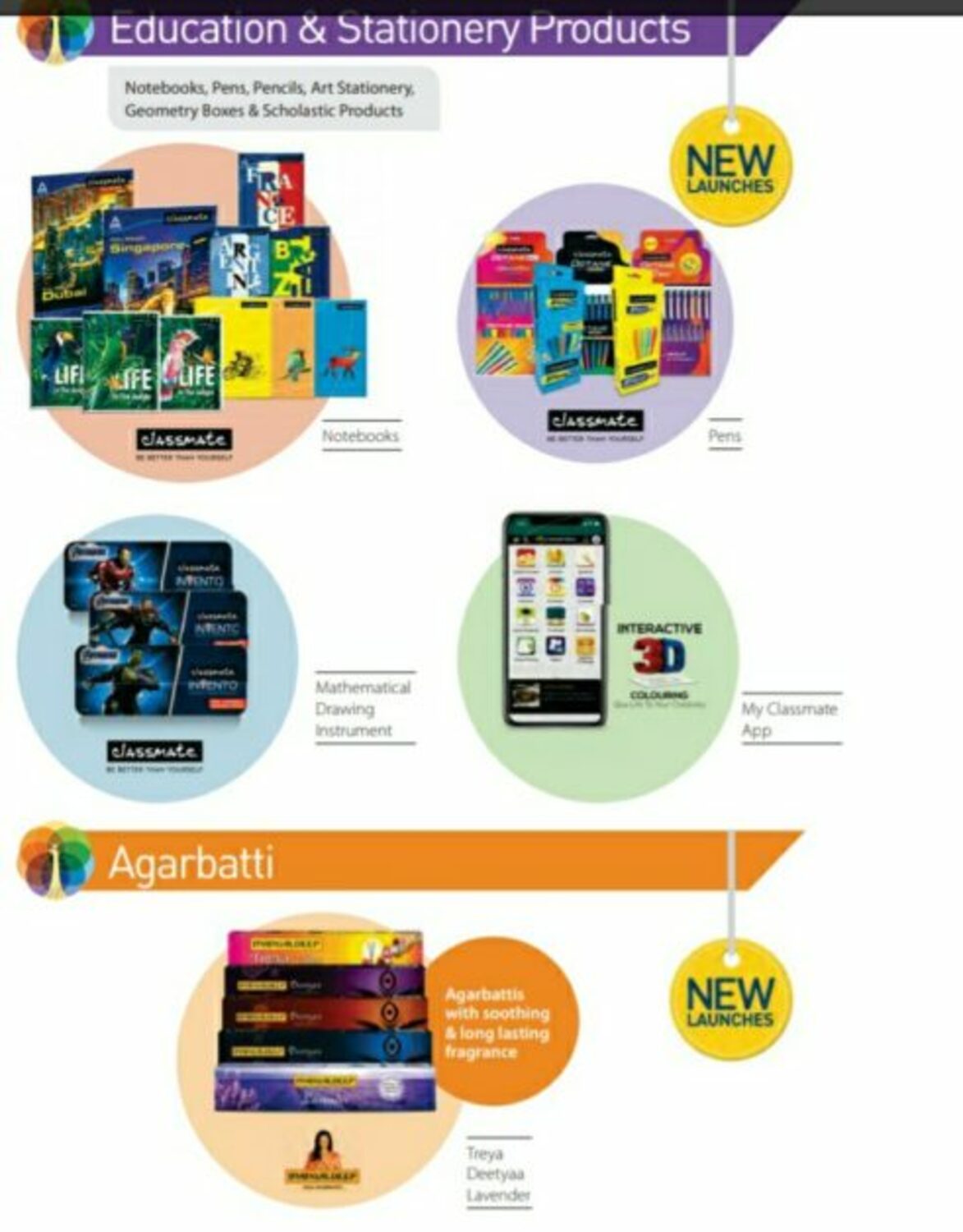 Here is some of ITC products list Brands ITC's B2B brands like Cyber XLPac, Safire Graphik, Carte Lumina, Omega Barr, IndoBev, Neo WhiteBliss, Pharma Print, and Opaque Tissue, among others, are differentiated products meant for specific packaging and graphic usages and today enjoy top of mind recall for their distinct print and performance qualities.
ITC's Packaging & Printing business continued to aggressively pursue new product development across segments as a key driver for growth. Some of its innovations, during the year, included antifungal coated cartons, micro-perforation for specific laminates, braille feature for labels and cold seal laminates for chocolates
ITC Hotels
ITC Hotels is one of India's largest and fastest-growing luxury hotel chains offering comprehensive hospitality solutions through more than 100 iconic hotels in over 70 destinations in the country.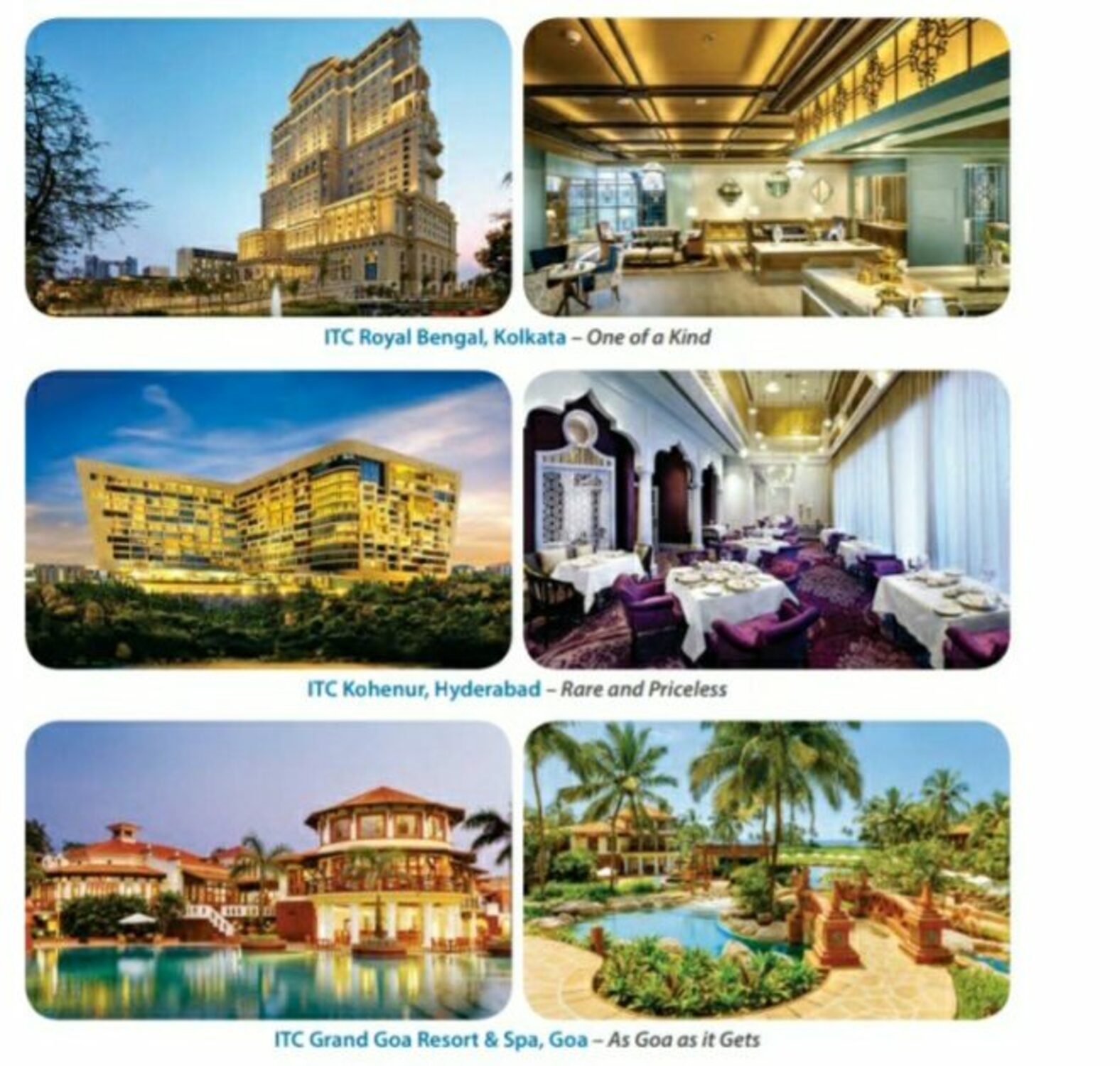 With 'Responsible Luxury' as its guiding premise, ITC's luxury hotels combine grandeur with intimacy to operate according to the highest principles of environmental stewardship. This approach has made ITC Hotels a trailblazer in green hoteliering.
How many brands does ITC have?
ITC has more than 30 Brands than include Aashirvaad, Sunfeast, Bingo! Kitchens of India YiPPee! B Natural mint-o Candyman GumOn Fabelle Sunbean Sunfeast Wonderz Milk ITC Master Chef Farmland Sunrise Essenza Di Wills Dermafique Fiama Vivel Engage Superia Nimyle Nimeasy Nimwash Savlon Shower to Shower Charmis Classmate Paperkraft AIM Mangaldeep Homelites.