Varun beverages Ltd is engaged in Manufacturing, selling and distribution of PepsiCo's beverages in pre-defined territories in India. The company is the world's Second-largest international franchisee (outside United States) of carbonated soft drinks and non-carbonated beverages sold by PepsiCo India.
Varun Beverages Ltd is a Part of RJ Corp group, a diversified business conglomerate with interests in beverages, quick-service restaurants, dairy and healthcare. Varun Beverages Ltd is a key player in the beverage industry. The Company's operations span across 6 countries –
3 in the Indian Subcontinent (India, Sri Lanka, Nepal), which contributed ~81% to total revenue, and
3 in Africa (Morocco, Zambia, Zimbabwe), which contributed ~19% of revenue in CY20.
Varun Beverages Ltd Company Profile
Varun Beverages Limited (VBL) is in the business of providing high quality food products to consumers such as carbonated, non-carbonated sweetened beverages and packaged drinking water with endeavor to make its business and ecosystem sustainable.
In 1995 Incorporated Varun Beverages Limited as a Public Limited Company. The company operations span across 27 states and 7 Union Territories in India, and 5 other countries across the world
~2 Million Retail Outlets
10,000+ People Employed
37 Production Facilities
425 Million Cases Sold
Varun Beverages Ltd has a strong and diversified product portfolio which includes carbonated soft drinks, non-carbonated juice-based drinks, packaged bottled water and value-added dairy beverages.
VBL employed 10,000+ full-time employees collectively around the world as of December 31, 2020 (7,500+ in India and 2,500+ in foreign subsidiaries).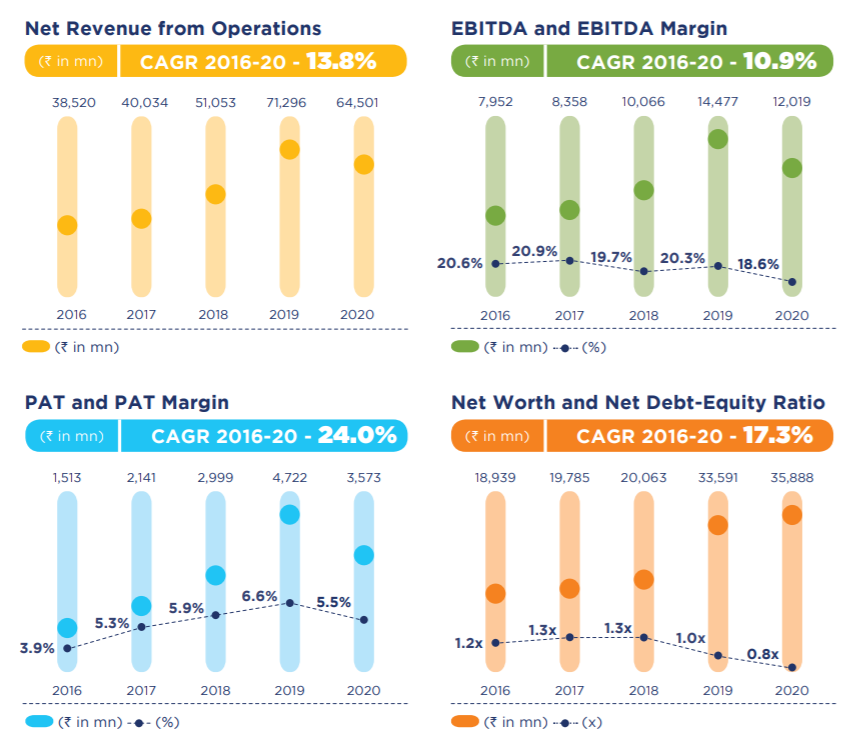 The Company enjoys a strategic, symbiotic and longstanding association with PepsiCo spanning 29 years, since their entry in India, accounting for 85%+ of their sales volumes in India.
| | | | | |
| --- | --- | --- | --- | --- |
| Year (₹ Cr) | Mar-19 | Mar-20 | Mar-21 | Mar-22 |
| Equity | 3,040 | 3,235 | 3,647 | 4,453 |
| Debt | 3,417 | 3,216 | 3,387 | 3,884 |
| Capital | 6,457 | 6,451 | 7,034 | 8,337 |
| Cash from Operation | 1,308 | 1,012 | 1,231 | 1,790 |
| Cash ROCE | 20% | 16% | 18% | 21% |
Varun Beverages Ltd Financials
VBL manufactures, markets and distributes PepsiCo owned products, which include
carbonated soft drinks, carbonated juices, juice-based beverages, energy drinks and packaged bottled water, through its vast manufacturing facilities and well established distribution network.
Products and Brands of Varun Beverages Ltd
The various PepsiCo brands manufactured and distributed by Varun Beverages Ltd VBL include
Pepsi,
Pepsi Black,
Diet Pepsi,
Pepsi Max,
Mirinda Lemon,
Mirinda Orange,
Mountain Dew,
Mountain Dew Ice,
Slice Fizzy,
Seven-Up,
Seven-Up Nimbooz Masala Soda,
Teem, Sting,
Evervess,
Tropicana Slice,
Tropicana Juices (100%, Delight and Essentials),
Seven-Up Nimbooz,
Gatorade, as well as packaged drinking water under the brand Aquafina.
Varun Beverages Ltd has developed strong sales teams that work closely with PepsiCo to develop and implement local advertising and marketing strategies.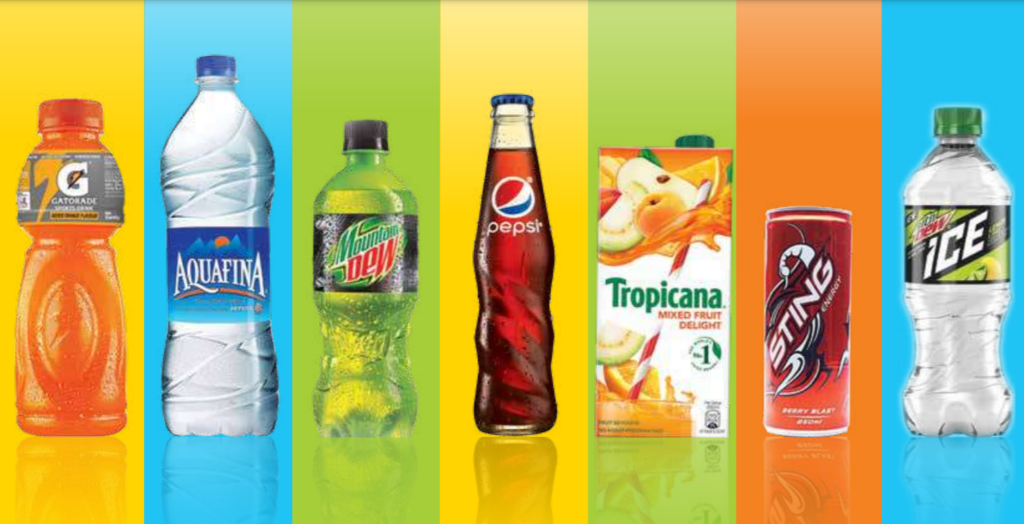 Franchise rights have also been given to the Company for various PepsiCo products across 27 States and 7 Union Territories in India as well as international territories of Nepal, Sri Lanka, Morocco, Zambia, and Zimbabwe.
Company Business Model
Varun Beverages Ltd produces and distributes a wide range of carbonated soft drinks ("CSD"), as well as a large selection of non-carbonated beverages ("NCB"), including packaged drinking water. It has a unique business model with end-toend execution capabilities from manufacturing, distribution and warehousing, customer management and in-market execution, to managing cash flows and future growth.
PepsiCo offers brands, concentrates and marketing support to VBL, which then takes complete control over the manufacturing and supply chain processes, driving
market share gains, enhancing cost efficiencies and managing capital allocation strategies.
VBL has vast experience in managing the distribution of soft drinks, involving complex logistics and packaging of products.
While business operations in each market is similar, each territory and sub-territory presents specific operational challenges, varying from steady electricity supply and refrigeration and cooling equipment, logistics infrastructure as well as the demographic profile and general socio-economic conditions in the relevant market.
Varun Beverages Ltd boasts of a solid and well-entrenched distribution network covering urban, semi-urban and rural markets, addressing demands of a wide range of consumers. The distribution network is strategically located to maximize market penetration across licensed sub-territories in India, with an increased focus on higher growth markets such as semi-urban and rural subterritories.
The Company's solid production capabilities and distribution network enables it to effectively respond to competitive pressures, market demand and evolving consumer preferences across targeted territories.
As of December 31, 2020, the Company has 31 state-of-the-art manufacturing facilities in India and 6 overseas. Further, it has a robust supply chain with 90+ owned depots, 2,500+ owned vehicles, 1,500+ primary distributors. Presently, it has 800,000+ visi-coolers across various markets.
VBL has undertaken a number of strategic initiatives towards improving operational excellence. These include backward integration of its production processes and
centralized sourcing of raw materials. Varun Beverages Ltd has established backward integration facilities for production of preforms, crowns, plastic closures, corrugated boxes,
corrugated pads, plastic crates and shrink-wrap films in certain facilities to ensure operational efficiencies and high-quality standards.
With its committed and knowledgeable sales staff, the organization focuses on driving growth and expanding market share across categories through various customer
push strategies in licensed territories. It undertakes local level promotion, in-store activations, customer relation management, merchandizing, individual account
management and evaluation of high demand region for strategic placement of vending machines and visi-coolers.
Over the years, VBL has expanded its operations in India through the acquisition of additional territories from PepsiCo as well as previously franchised territories.
Subsidiaries of Varun Beverages Limited
The following are the list of Subsidiaries of Varun Beverages Ltd.
Varun Beverages (Nepal) Private Limited
Varun Beverages (Lanka) Private Limited
Varun Beverages Morocco SA
Ole Spring Bottlers (Private) Limited
Varun Beverages (Zambia) Limited
Varun Beverages (Zimbabwe) (Private) Limited
Varun Beverages (Botswana) (Proprietary) Limited (till 12 May 2020)
Angelica Technologies Private Limited (amalgamated with Lunarmech Technologies Private Limited by NCLT order dated 22 May 2020)
Lunarmech Technologies Private Limited
Registered office and Contact Details
Varun Beverages Limited Registered Office address and Contact details.
F-2/7, Okhla Industrial Area, Phase – I,
New Delhi – 110 020;
Tel: +91 11 41706720;
E-mail: complianceofficer@rjcorp.in