Dabur India Limited is the world's largest Ayurvedic and Natural Health Care Company with a portfolio of over 250 Herbal/Ayurvedic products. Dabur Built on a legacy of quality and experience of over 136 years.
Dabur India Known as the 'Custodian of Ayurveda', Dabur has been marrying traditional wisdom with modern-day science to develop products for consumers across generations and geographies.
Profile of Dabur India Limited
The Company has a wide distribution network, covering over 6.7 million retail outlets with a high penetration in both urban and rural markets.
Dabur India Limited products also have a huge presence in the overseas markets and are today available in over 100 countries across the globe. Its brands are highly popular in the Middle East, Africa, SAARC countries, US, Europe and Asia. Dabur's overseas revenues account for 28.2% of the total turnover.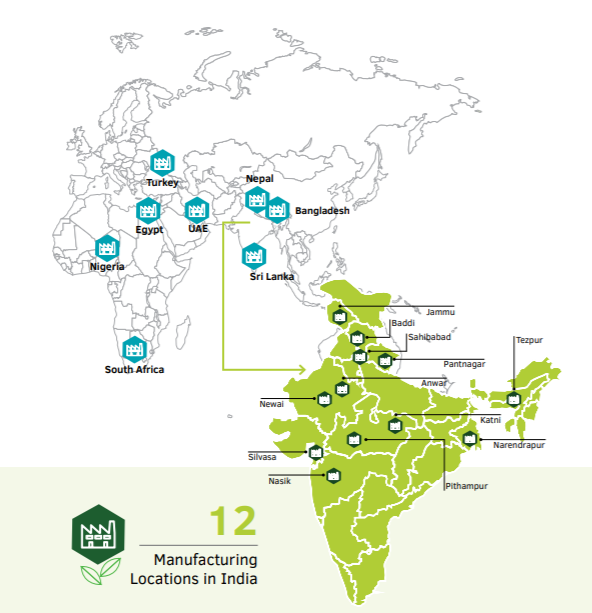 Dabur today operates in key consumer products categories like
Hair Care,
Oral Care,
Health
Care,
Skin Care,
Home Care and Foods.
Over the years, Dabur has transformed itself from a fledgling medicine manufacturer in a small Calcutta house to a transnational Indian enterprise with a manufacturing footprint spanning four continents and its product reaching out to over 100 countries across the globe.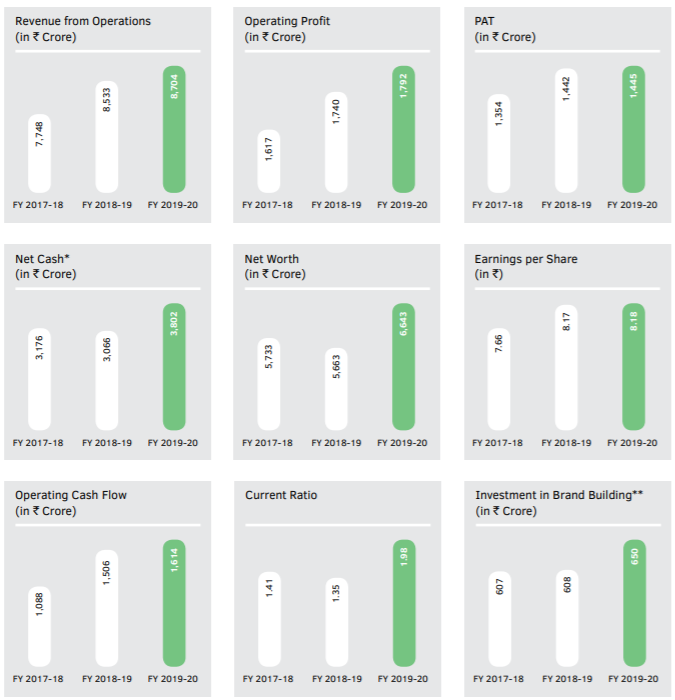 Dabur is home to over 400 trusted products and over 1,000 SKUs. In order to provide adequate focus and investment to key brands, Dabur has put in place a Power Brand strategy.
Dabur has identified 9 Power Brands –
Dabur Chyawanprash,
Dabur Honey,
Dabur Lal Tail,
Dabur Honitus,
Dabur Pudin Hara,
Dabur Red Paste,
Dabur Amla Hair Oil,
Vatika and Réal fruit juice – These brands account for more than 70% of its total Sales of the company.
Products and brand of Dabur India
So here is the List of Products and Brands of Dabur India.
Dabur Chyawanprash
The flagship health supplement brand from the House of Dabur and a leader in the category, Dabur Chyawanprash today commands over 60% share in the branded Chyawanprash market in India. Known as the elixir of life, Dabur Chyawanprash is a timetested Ayurvedic formulation of more than 41 Ayurvedic herbs that aid in boosting the
immune system, thereby protecting the body from everyday infections.
Driving category growth, increasing usage occasions, improving penetration and growing the chemist coverage are the key pillars of Dabur's growth strategy for this brand. The Company is also working on introducing modern formats and communication targeting youth and kids.
Dabur Honey
Another leading brand from its Health Care portfolio, Dabur Honey is the largest player in the branded Honey market and has been synonymous with fitness and a healthy lifestyle.
In addition to highlighting the health benefits of Honey, the Company is stepping up innovation by launching a range of premium variants, besides moving it from the medicine cabinet to the breakfast table by increasing its usage as a food product and immunity booster.
Dabur Lal Tail
Dabur Lal Tail is a leading player in the Baby Massage Oil category. The Company is focussing on gaining market share in this category by communicating its clinically proven benefits and Ayurvedic positioning, besides expanding the distribution footprint for the product.
Dabur also plans to expand its presence in the Baby Care market by creating a bigger portfolio of Baby Care products.
Dabur Honitus
An Ayurvedic medicine for cough relief, Dabur Honitus is clinically proven and provides fast relief against acute cough and throat irritation. Dabur is working towards growing our market share in the cough and cold category in India by reinforcing our Ayurvedic positioning and distribution enhancement, besides launching a host of new formats and variants.
Dabur Pudin Hara
An Ayurvedic medicine for indigestion, Gas and Acidity, Dabur Pudin Hara is known for providing quick relief from stomach ailments. As part of the growth strategy for this Power Brand, Dabur has started connecting with millennials through digital media, besides scaling up its powder fizz format.
Dabur Amla Hair Oil
India's largest selling Hair Oil brand, Dabur Amla Hair Oil has been the most preferred Hair Care brand for generations of Indians. While strengthening the core brand through aggressive spends and enhancing its value proposition of 'Asli Amla, Dabur Amla' on the one hand, the Company is also building greater connect for the brand with millennials through launch of premium variants.
One of the recent initiatives was the launch of Dabur Amla Kids hair care range of hair oil, shampoo and detangler. Alongside, we are also working on creating moats around Dabur Amla through flanker brands like Brahmi Amla and Sarson Amla.
Dabur red paste
The flagship toothpaste brand in the Dabur portfolio, Dabur Red Paste has been among the fastest selling toothpaste brands in the country, steadily gaining market share. While
on the one hand, the Company is extending Dabur Red brand to premium formats, it is also growing the brand's rural franchise through low-priced affordable packs.
Réal Fruit Power
The youngest brand in the Dabur portfolio, Réal has been the fastest brand to grow to Rs 1,000 crore. The company plans to extend the portfolio under Réal in adjacent areas,
offer value-priced drinks in addition to adding premium variants on wellness platform.
vatika
One of the youngest and largest brands in the Dabur portfolio, Vatika has a large presence outside India with overseas sales accounting for a lion's share of the brand's overall turnover. Dabur is now working towards scaling up the Vatika franchise in India with the launch of new variants besides extending its distribution beyond South India.
The Company is also working towards cross-pollinating Vatika's highly successful international portfolio in India.
List of Health Care Products and Brands
Health care Products and Brands of Dabur India
Dabur Tulsi Drops – A natural Immunity Booster, it also helps build respiratory health and provides effective protection from Cough and Cold.
Dabur Haldi Drops – A 100% Ayurvedic Immunity Booster, Dabur Haldi Drops also has anti-inflammatory and anti-microbial properties.
Dabur Amla Juice – A concentrated juice of Indian gooseberry, this is a natural immunity booster.
Dabur Giloy-Neem-Tulsi Juice – A combination of three potent immunity-building herbs.
Dabur Ayush Kwath Kaadha – A concoction of Tulsi, Shunthi, Dalchini and Maricha,
Dabur Ayush Kwath Kaadha is an immunity booster recommended by Ministry of AYUSH for strengthening your body's internal immune system to fight illnesses. It is also useful in managing cough, cold and sore throat.
Dabur Trikatu Churna – An Ayurvedic remedy that relieves throat infection and improves digestion.
Dabur Giloy Ras – A concentrated juice of Giloy, a natural
immunity booster
Dabur Ashwagandha Capsules – An Ayurvedic capsule containing the wonder herb Ashwagandha that builds immunity and helps reduce daily physical and mental stress.
Range of 7 Ayurvedic Churnas – A range of seven single herb Churnas, which includes three Immunity-boosters like Giloy Churna, Amla Churna and Ashwagandha Churna. The other
products in this range are Hareetaki (Harad) Churna, Neem Churna, Arjun Chhal Churna and
Brahmi Churna.
Dabur Immunity Kit – A holistic kit, containing 6 immunity boosting products like Dabur Chyawanprash, Giloy ki Ghanvati (Giloy tablets), Giloy Churna, ImuDab (Immunity building
syrup), Honitus and Stresscom (Ashwagandha) capsules. This kit was launched to offer consumers a holistic package of immunity boosters in the wake of the COVID outbreak.
Dabur NatureCare Kabz Over – An Ayurvedic medicine having ingredients like Haritaki,
Ajwain, Castor Oil, Saunth, Senna and Saunf providing effective relief from constipation, gas and acidity.
List of Personal and Household Products and brands
So here is the List of Personal and Household Products and brands of Dabur India
Dabur Sanitize Hand Sanitisers – A range of alcohol-based hand sanitisers that is highly effective in providing effective protection from disease-causing germs.
Dabur Sanitize Air Sanitisers – An aerosol-based sanitiser that is highly effective in killing airborne germs and sanitising your personal spaces and home.
Dabur Sanitize Multi – Surface Disinfectant Spray – An aerosol-based product that is used to sanitise household items and high-contact areas like doorknobs, staircase railing, lift buttons, computers, car keys etc.
Dazzl Sanitize Disinfectant Floor Cleaner – A floor cleaner product that kills 99.9% germs & viruses.
Dabur Sanitize Antiseptic Liquid – An antiseptic disinfectant and antibacterial that's highly useful for first aid, medical and personal hygiene, for minor cuts, scratches and wounds.
Dabur Sanitize Germ Protection Soap – An antiseptic health soap.
Dabur Veggie Wash – A soap-free, chlorine-free and alcohol-free liquid that's used to wash fruits and vegetables before storing. It removes germs, bacteria and fungus from fruits and vegetables.
Dazzl Floor Cleaner – A disinfectant floor cleaner product that kills 99.9% germs.
Dazzl Multi-Purpose Cleaner – An all-surface cleaner with germ-kill properties.
Dazzl Disinfectant Spray – An all-purpose disinfectant spray.
Dabur Suraksha Kit – A personal safety kit that includes a reusable facemask, face shield, gloves, head cover and a hand sanitiser.
Odonil Air Sanitizer – An aerosol-based sanitiser for your personal spaces and home.
List of Personal care Products and Brands
Personal care Products and Brands of Dabur India Limited.
Vatika Ayurvedic Shampoo – An Ayurveda-based shampoo that offers gentle cleansing
and conditioning.
Dabur Amla Aloe Vera Hair Oil – A light non-sticky hair oil with amla and aloe vera,
which nourishes and moisturises hair, making it thick
and strong.
Dabur Badam Amla Hair Oil – A new flanker brand with key ingredients of Badam
and Amla.
Fem Fruit Bleach – A new facial bleach.
Dabur Amla Kids Hair Care range – A specialised hair care range for kids, comprising Hair Oil,
Shampoo and Detangler.
Dabur India Food brands and Produts
List of Food brands and Products of Dabur India Limited
Réal Masala Mixed Fruit juice
Réal Masala Aam Panna
Réal Masala Pomegranate juice
Réal Pink Guava
Réal Aloe Vera Kiwi juice
Réal Mixed Berries juice
Dabur Amla Plus
Réal Masala Sugarcane juice
Réal Activ 100% Tender
Coconut Water
Réal FruitORS (2 variats)
Réal Milk Shake (4 variants)
Réal Mango Drink in PET
Réal Koolerz Mango Drink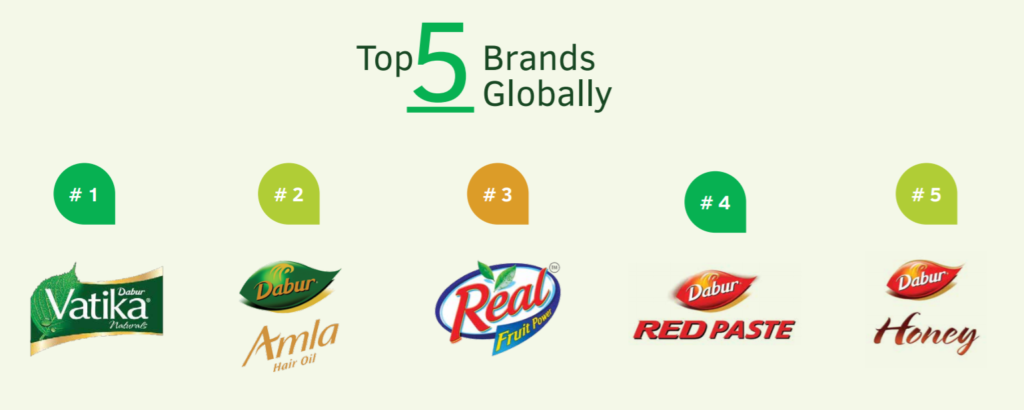 Dabur International Business
List of Dabur International Business
Dabur Honitus Herbal Lozenges (in UAE)
Hobby Sea Salt Spray (in Turkey)
Hobby Kids Hair Gel (in Turkey)
Hobby BB Weightless Hair Mousse (in Turkey)
Dabur Organic Virgin Coconut Oil (in GCC) international business
Dabur Herb'l Toothpaste Alpha Range (in UAE and Oman)
Vatika Sanitizing Body Wash (across GCC markets)
Dermoviva Sanitizing Range of Gels, Soaps, Sprays and Wipes (across overseas markets)
Dabur Amla Hair Repair Solutions (in UAE and Oman)
Garden of Eden Liquid Soap (in Turkey)
Hobby Marshmallow Shower Gels (in Turkey)
Hobby Fresh Care Shower Gels (in Turkey)
ORS Colorblast Range (in USA)