This about the Profile of Reliance Industries and Their CEO. Reliance Industries Limited is India's largest and most profitable private sector company. RIL continued to be a significant global player in the integrated energy value chain while establishing leadership positions in the retail and digital services business in India.
Sales₹ 8,67,612 Cr.
Operating profit₹ 1,42,845 Cr.
Net profit₹ 72,903 Cr.
Sales last year₹ 8,76,396 Cr.
EBIDT last year₹ 1,54,076 Cr.
Reliance Industries Limited is a Fortune 500 company and the largest private-sector corporation in India. It is India no 1 companies Based on the size.
Total Assets₹ 16,05,882 Cr.
Reserves₹ 7,09,106 Cr.
Debt₹ 4,51,664 Cr.
Debt to equity0.63
Dividend yield0.39 %
Face value₹ 10.0
ROE 5Yr8.94 %
ROCE9.14 %
ROCE 3Yr8.29 %
Return on equity8.94 %
Reliance Industries Limited is now focussed on building platforms across its industry-leading businesses that will herald the Fourth Industrial Revolution and will create opportunities for the nation to realize its true potential. Reliance Industries Limited achieved consolidated revenue of Rs 6,22,809 crore (US$90.1 billion), an increase of 44.6%, as compared to Rs 4,30,731 crore in the previous year
Reliance Industries CEO
Mr. Mukesh D. Ambani is a Chemical Engineer from the Institute of Chemical Technology, Mumbai (erstwhile the University Department of Chemical Technology, University of Mumbai). He pursued an MBA from Stanford University in the US. He has been on the Board of Reliance since 1977.
He initiated Reliance's backward integration journey – from textiles to polyester fibers and further into petrochemicals and petroleum refining, and going upstream into oil and gas exploration and production.
He created multiple new world-class manufacturing facilities involving diverse technologies that have raised Reliance's petrochemicals manufacturing capacities from less than a million tonnes to about 21 million tonnes per year.
In the late nineties, Mr. Mukesh Ambani spearheaded the creation of the world's largest grassroots petroleum refinery at Jamnagar in Gujarat, India.
Mr. Mukesh Ambani is a member of The Foundation Board of the World Economic Forum. He is an elected Foreign Member of the prestigious United States National Academy of Engineering. He is a member of the Global Advisory Council of Bank of America. He is also a member of the International Advisory Council of The Brookings Institution.
Reliance Industries Limited Story
Dhirubhai Ambani returns to India in 1957 after a stint with A. Besse & Co., Aden, Yemen. He starts a yarn trading business from a small 500 sq. ft. office in Masjid Bunder, Mumbai, but dreams of establishing India's largest company.
In 1977, Reliance Textile Industries' IPO creates history by introducing the equity cult in India. The issue is oversubscribed seven times, strengthening Reliance's growth ambitions.
Reliance sets up a mill in Naroda, Gujarat, sparking off Reliance's backward integration journey. Mukesh Ambani leads the establishment of Reliance's first mega manufacturing project at Patalganga in a record 18 months.
Reliance's backward integration journey continues. The Hazira plant coming on stream in 1991 laid the foundation for Reliance becoming the world's largest integrated producer of polyester.
In 2000, Reliance commissions the world's largest grassroots refinery in a record 36 months: the Jamnagar petrochemicals and integrated refinery complex. With the development of the associated green belt, the desert surrounding Jamnagar becomes home to another man-made wonder – Asia's largest mango orchard!
In 2002, Reliance enters the Infocomm business and brings about a revolution in mobile telephony in India. In 2005, Reliance makes a strategic decision to reorganize its businesses through a demerger. Power generation and distribution, financial services and telecommunication services are demerged into separate entities
In 2004, Reliance emerges as the first and only private Indian organization to be listed in the Fortune Global 500 list. Reliance is also the first private sector company to be rated by international credit rating agencies – including Moody's, Standard and Poor's.
In 2009, Reliance commences production of hydrocarbons in its KGD6 block – against all odds – in just over two years of its discovery, making it the world's fastest green-field deepwater oil development project. With this development, Reliance completes an unprecedented backward integration journey.
Reliance Retail becomes the largest retailer by revenue in 2014, fulfilling the aspirations of millions across the country and bringing international experiences at affordable prices to every corner of India.India no 1 companies
Reliance Jio Infocomm Ltd., ushers in a pan-India digital revolution through state-of-the-art wireless broadband 4G services, promising to bridge the digital divide.
In 2017, Reliance becomes the first Indian company to cross ₹6 trillion market capitalization. In December of the same year, Reliance celebrates its 40th year. Chairman and Managing Director Mr. Mukesh Ambani says, "In just 4 decades, Reliance has grown from a small startup to one of the largest, most admired companies in the world."
Reliance Refinery
The robust operational performance, superior configuration and consistent high utilization of refineries at Jamnagar complex have helped Reliance Industries Limited outperform the Singapore refining benchmark. Refining and Marketing – Revenue (including inter-segment transfers) increased by 28.7% y-o-y to Rs 3,93,988 crore (US$57 billion)
World's largest refinery at a single location
Jamnagar site has a complexity index of 21.1
Crude Processing Capacity 1.24 mbpd
Jamnagar Reliance
The Jamnagar manufacturing division is the world's largest refining hub. The entire refining complex was built in record time at globally competitive capital costs – in fact, at costs much lower than comparable refineries around the world.
Its scale, design, flexibility, level of automation and degree of integration heralded the way refineries of the future would be built.
The speedy growth of the complex lies at the heart of India's transformation. It has transformed India from being a net importer of petroleum products to a net exporter, thereby ensuring the nation's energy security.
With a crude processing capacity of 1.24 million Barrels Per Stream Day (BPSD), the Jamnagar refinery is a trendsetter and has won several awards, including the prestigious 'International Refiner Of The Year' award.
It also enjoys the distinction of housing some of the world's largest units, such as the Fluidised Catalytic Cracker (FCC), Coker, Alkylation, Paraxylene, Polypropylene, Refinery off-gas (ROG) cracker, and Petcoke gasification plants.
Fuels from Jamnagar refinery are exported to several countries across the world. This complex refinery is future-ready and can produce gasoline and diesel of any grade. Reliance also has another refinery – the sixth-largest in the world – in the Special Economic Zone at Jamnagar. This refinery has a capacity for processing 580,000 BPD of crude.
Reliance Petroleum
Reliance Industries Limited Owns and operates one of the most integrated petrochemical facilities globally, with a portfolio comprising polymers, polyesters, fiber intermediates, aromatics, and elastomers. OIL AND GAS Upstream portfolio in India includes operations in conventional deepwater acreages and the unconventional Coal Bed Methane (CBM) block.
Petroleum Retail Business With a countrywide operational network of 1,372 fuel outlets, RIL is covering all the key highways in the country. Petrochemicals – Revenue (including inter-segment transfers) increased by 37.3% y-o-y to Rs1,72,065 crore (US$24.9 billion) . Oil and Gas – Revenues decreased by 3.8% y-o-y to Rs 5,005 crore.
Among the top 10 producers for key petrochemicals
World's first-ever Refinery Off-Gas Cracker (ROGC) complex of 1.5 MMTA capacity
Reliance Retail Limited – India no 1 companies
India's largest retailer by reach, scale, revenue, and profitability. Established presence across key consumption baskets and holds a leadership position in food, consumer electronics and fashion retailing. Reliance Retail operated 10,415 retail stores in over 6,600+ towns and cities, covering 22 million sq. ft. of area. It is India No 1 Retail Companies based on total stores and Total Sales.
Reliance Retail achieved a record turnover of Rs 1,30,566 crore
First retailer in India to cross the ₹1,00,000 crore turnover milestone
Reliance Retail also crossed the 10,000 store count milestone.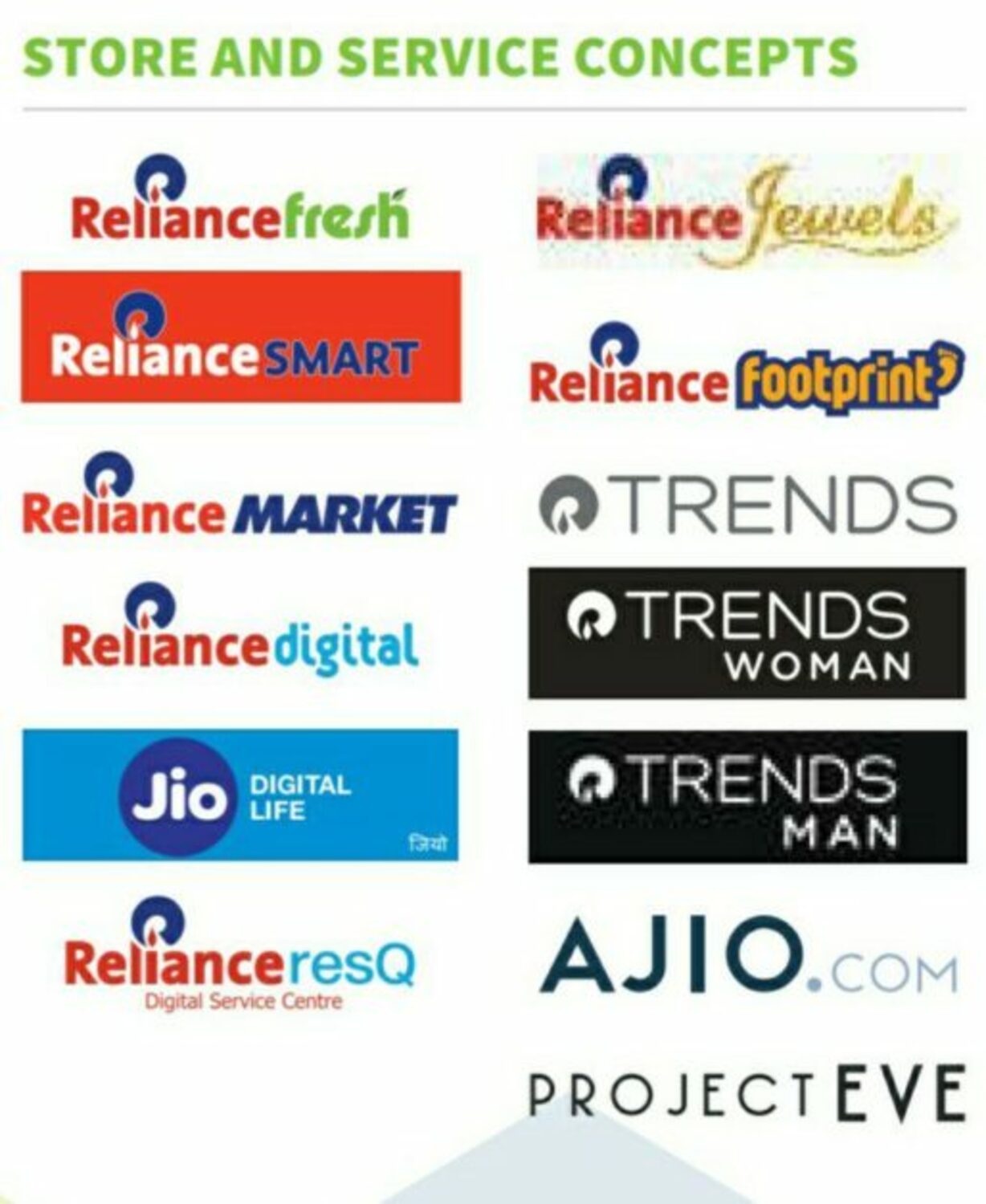 Reliance Retail is engaged in the business of retailing products and services across five key consumption baskets:
a) Fashion and Lifestyle,
b) Consumer Electronics,
c) Grocery,
d) Petro Retail and
e) Connectivity.
Reliance Footprint
Specialty stores dealing in footwear, luggage, handbags, and accessories. Reliance Footprint is a leading multi-brand footwear chain offering over 50 prominent international, domestic and in-store brands.
Reliance Jewels
Reliance Jewels is a leading premium jewellery chain, offering a wide range of fine jewellery. It offers exquisitely crafted gold, diamond, bridal jewellery, ornaments for special occasions as well as daily wear with a profuse mix of traditional and contemporary designs.
Premium jewellery chain offering a wide range of fine jewellery across gold, silver, diamond among others. Reliance Jewels won 'Innovative Marketing Campaign of the Year 2018' award at Gem and Jewellery Trade Council of India (GJTCI) Awards. Reliance Jewels won an award for the TV Campaign of the Year at the 14th FURA Retail Jeweller India Awards 2018
Reliance SMART
Fresh fruits and vegetables, food, clothing, footwear, electronics, and general merchandise. Reliance SMART won 'Rapid Expansion with SMART Hyper Model' award at IMAGES South India Retail Awards 2018
Reliance Market
Reliance Market is the largest chain of cash and carry stores serving thousands of Kirana, hotels, restaurants, and catering (HORECA), small and medium institutional partners and households across fresh foods, FMCG products, staples, non-food and general merchandise items. It operates 46 stores across 42 cities.
Reliance Digi Store
Reliance Digital, the largest consumer electronics specialty retail chain in India with 357 stores across 166 cities. Reliance Digital offers a wide range of technology products and consumer electronics from mobiles, laptops, cameras to large appliances such as UHD TVs, Air Conditioners, Washing Machines and much more.
Reliance Digital awarded 'National Retailer of the Year' by India Retail and e-Retail Awards 2018. Reliance Digital has a wide portfolio of in-store brand products under 'Reconnect', 'JioPhone' and 'LYF' brands.
Reliance Digital received 'Most Admired Consumer Electronics Retailer of the Year' at IMAGES Retail Awards 2018. Reliance Digital received 'Best Use of Social Media in Marketing' at the National Marketing Excellence Awards 2018 (Times Network). Reliance Digital received the following awards for excellence at the ACEF Asian
Reliance Trendz
A wide range of apparel, handbags, footwear, and accessories. It is India's largest apparel destination with over 670 stores across 350 cities. Reliance Retail is the largest fashion retailer in India with 1,769 stores across 350 cities.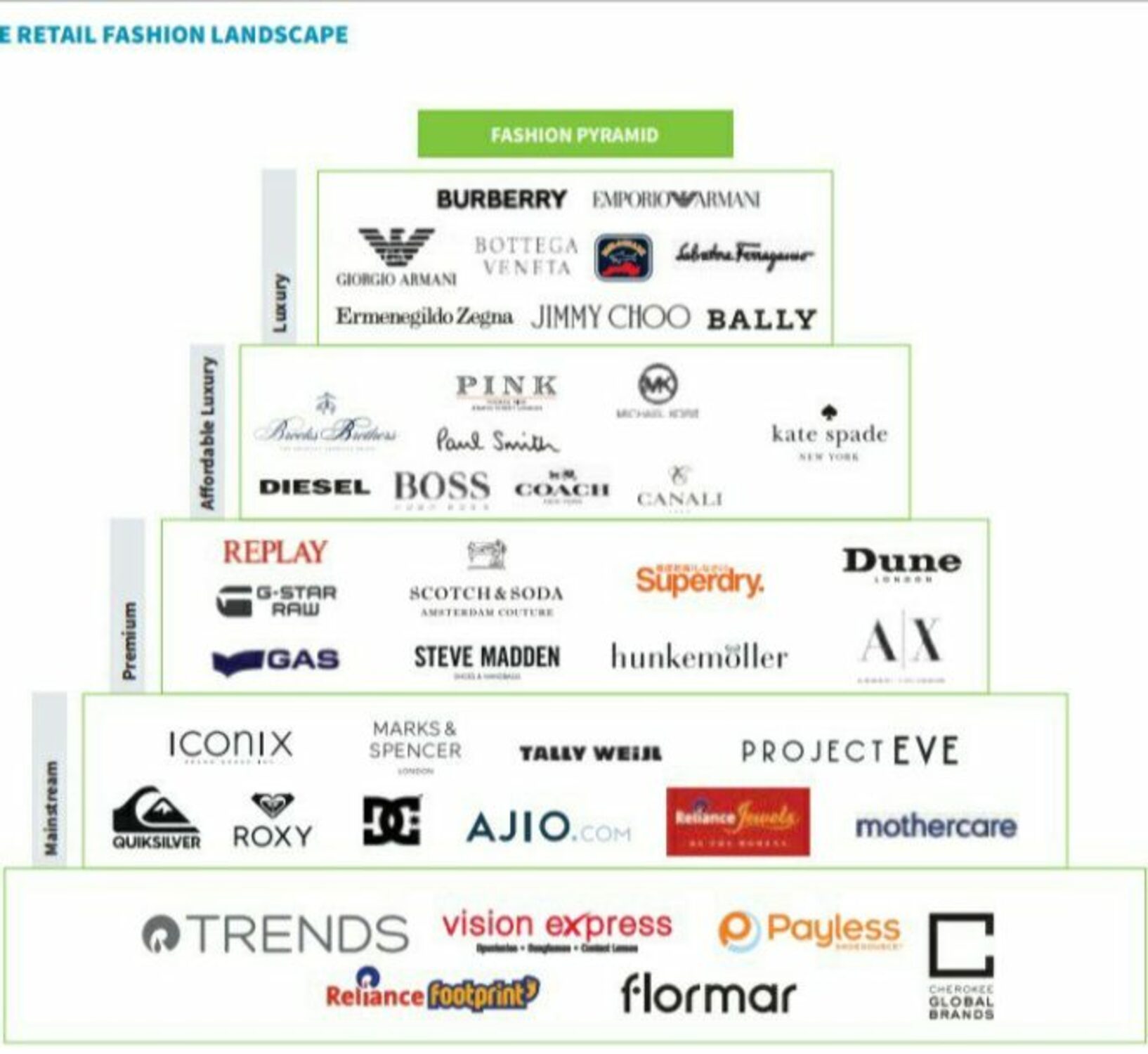 Reliance Fresh
Fresh fruits and vegetables, food, groceries and items of daily use. Reliance Fresh rated as India's 'Most Trusted Grocery Brand' in the Brand Trust Report
Reliance Jio Infocomm Limited
Jio has built a world-class all-IP data, strong future-proof network with the latest 4G LTE technology. It is the only greenfield all-IP network supporting Voice over LTE (VoLTE) technology. Jio added an average of 10 million subscribers a month and crossed the 300 million subscriber milestone this year to become the world's fastest-growing digital services company.

Jio has set up an extensive distribution network of over 7,600 Jio Stores (through Reliance Retail) and over 1 million retail touchpoints to serve its expanding customer base. Digital Services – The business recorded revenues of Rs 46,506 crore, with year-end subscribers base at 306.7 million.
India's largest mobile data network
306.7 million subscribers on Jio network
Every Jio subscriber consumes on an average of 10.9 GB data, 823 minutes of voice calls and 17 hours of video per month. In CY 2018, Jio carried close to 71% of the total 4G traffic of India. It has also entered into a series of content partnerships with Disney and Star India, among others, to provide best-in-class content to its subscribers.
Jio, with its FTTH services, has set a target to connect 50 million homes across the country. To accelerate Jio's commitment to connect 50 million homes with Jio's solutions, RIL has made strategic investments in Hathway Cable and Datacom Limited and DEN Networks Limited.
Media and Entertainment
Network18 is a media and entertainment powerhouse with its foothold in television, filmed entertainment, digital business, magazines, mobile content and allied businesses. Network18 boasts of 55 channels in India spanning news and entertainment, including 16 international channels.
Reliance Foundation
Reliance Industries Limited (RIL) India no 1 companies, through Reliance Foundation, has significantly contributed to and made measurable progress toward its vision of an inclusive India. Moving well beyond its business activities, the RIL Group contributes to a positive societal impact through diverse community engagement initiatives.

Led by Smt. Nita M. Ambani, Reliance Foundation was set up in 2010 to provide impetus to various philanthropic initiatives of RIL. The efforts of the group have already touched the lives of 29 million people across India in more than 18,000 villages and 200 urban locations.

The Foundation has a comprehensive development approach. Its prime objective is to create and support meaningful activities through innovative institutions to address some of India's most pressing developmental challenges.
The Foundation lays significant emphasis on leveraging technology for developmental solutions. Following its model of direct engagement, the Foundation directly reaches out to the affected communities through trained professionals.

Over the years, Reliance Foundation's initiatives have continued to evolve, while remaining responsive to the ever-changing needs of society. The Foundation is currently focusing on creating change in areas of Rural Transformation, Health, Education, Sports for Development, Disaster Response, Arts, Culture & Heritage and Urban Renewal.

To maximize its reach and improve outcomes, Reliance Foundation has also established strategic partnerships with organizations that have the technical expertise and experience to undertake various programmes in the identified focus areas of operation.
Reliance Industries – India no 1 companies.