Reliance Retail is India's largest and most successful retailer. In just 14 years of
launch, Reliance Retail has accomplished a feat which no other retailer has achieved.
Reliance Retail touches every aspect of its consumers' life from morning to evening,
food to fashion, items of necessities to luxuries of life, cities to towns, online to
offline and much more, enabling the ease of living for every Indian.
Reliance Retail has adopted a multi-prong strategy and operates chain of
Neighbourhood stores,
Supermarkets,
Wholesale cash & carry stores,
Specialty stores and
Online stores
Reliance Retail is not only India's foremost retailer, but it has emerged as the fastest growing retailer in the world and features among the top 100 retailers globally. Reliance Retail achieved a turnover of Rs 1,62,936 crore in FY 2019-20.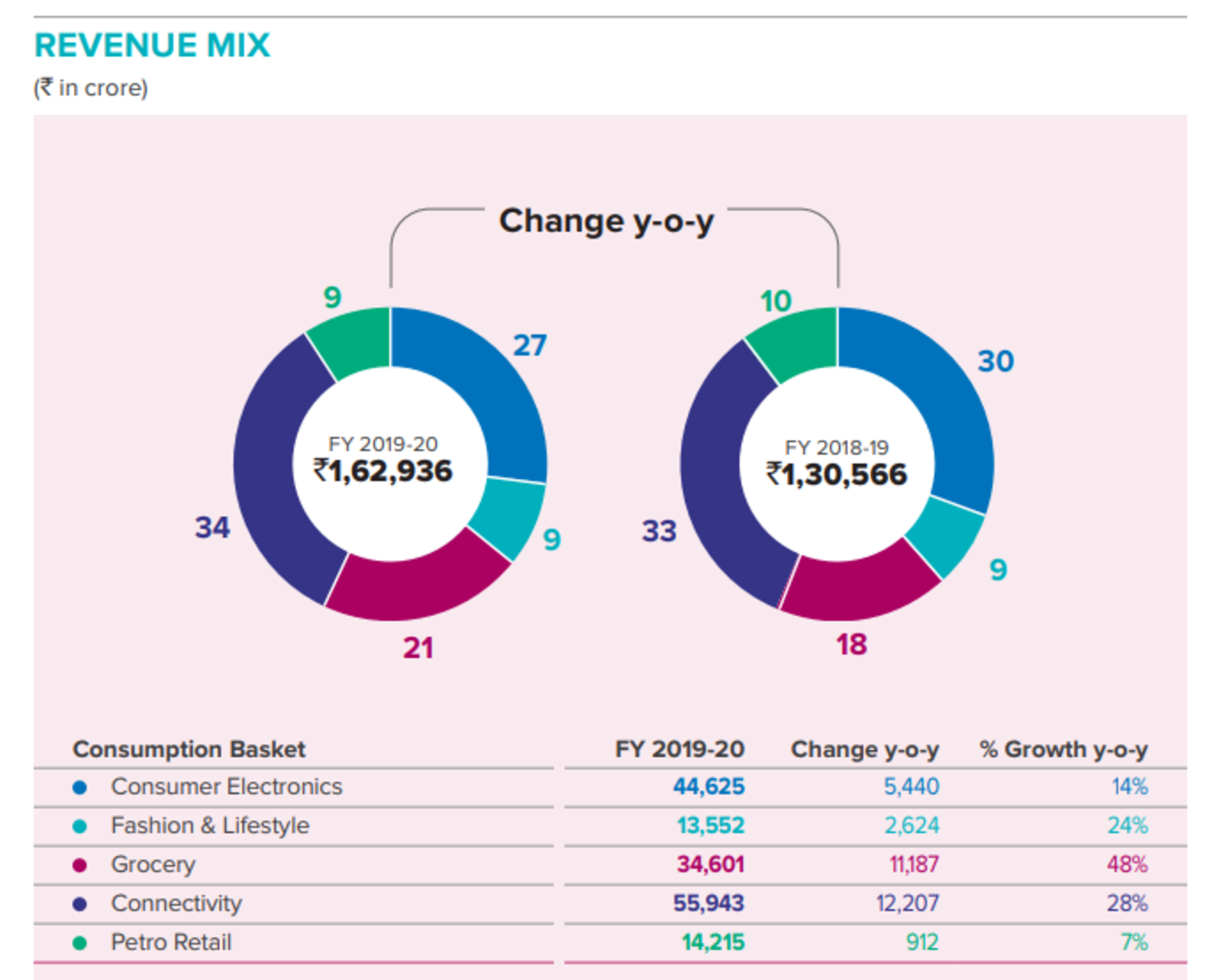 Reliance Retail Limited
Reliance Retail is India's largest Consumer Electronics retailer with an extensive
physical store network. Reliance Retail has established its business across five key consumption baskets of:
a) Consumer Electronics,
b) Fashion & Lifestyle,
c) Grocery,
d) Petro Retail and
e) Connectivity with deep business moats.
The dimensions of the business span across 11,784 physical retail stores across 7,000+
towns and cities, direct to consumer, Digital commerce channels and B2B channels serving millions of Indian consumers across undeserved markets. The adjacent table sets out the spread of Reliance Retail's business.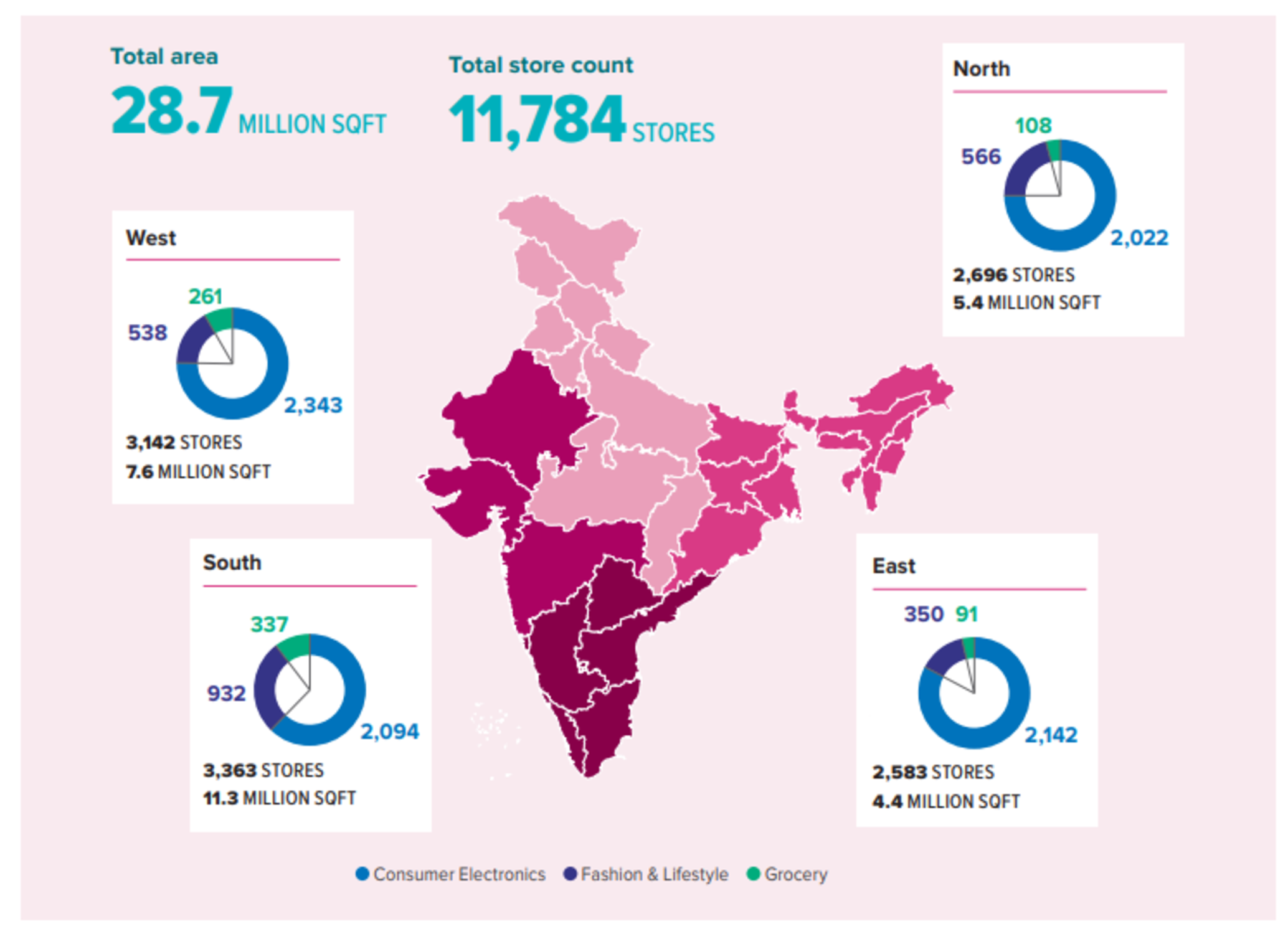 Reliance food and Grocery Retail
Serving the food and grocery category Reliance Retail operates
Reliance Fresh,
Reliance Smart and
Reliance Market stores.
Reliance Fresh
Reliance Retail started its journey in 2006 with the opening of its first Reliance Fresh store. Today Reliance Retail operates 621 Reliance Fresh and Reliance Smart stores and sells over 200 metric tonnes of Fruits and over 300 metric tonnes of Vegetables every day.
Reliance Market
Reliance Retail opened the first Reliance Market in 2011 and since then Reliance Market has grown rapidly with 52 stores serving over 4 million-member partners.
Reliance Consumer Electronics Store
In the consumer electronics category Reliance Retail operates
Reliance Digital,
Reliance Digital Express Mini stores and
Jio stores
Reliance Digital
Reliance Retail has the distinction of operating the largest consumer electronics store chain in India through a network of over 8,000 Reliance Digital and jio stores.
Reliance Digital offers over 200 national and international brands offering a widest assortment of products spanning across
Audio & Video products,
Digital Cameras, Durables like Air Conditioners,
Refrigerators, Washing Machines, Microwave Ovens,
Water Purifiers, Kitchen and Home Appliances,
Gaming Consoles & Games, Computers, Laptops,
Tablets & Peripherals, Mobile and Fixed line instruments as well as a wide range of accessories and new-age gadgets across all major product categories.
Reliance Retail has developed a strong portfolio of products offered under its own label Reconnect.
Reliance Retail offers a wide range of 4G LTE smartphones and 4K TVs under its own brand 'LYF'. LYF range of smartphones with superior features like Voice over LTE (VoLTE), Voice over Wi-Fi (VoWi-FI), HD Voice and HD quality video calling enables users to experience a new digital life.
Jio Stores
Jio Stores products offering a wide range of mobile phones, tablets and accessories. Within a short span of time Reliance Jio Stores has grown to become India's largest retail chain with presence in over 6,000 cities.
Fashion & Lifestyle Category
Fashion & lifestyle category it operates
Reliance Trends,
Trends Women,
Trends Man,
Trends junior,
Project Eve,
Reliance Footprint,
Reliance Jewels and
AJIO.com
in addition to a large number of partner brand stores across the country. Reliance Jewels currently has a consolidated presence of 93 showrooms and 110 SIS across 105 cities in India.
Reliance Trends
Trends is the flagship store concept of Reliance Retail democratising fashion for millions of Indian consumers.
Acceptance of Trends concept by its consumers has further helped it to nurture engaging store concepts of Trends Woman, Trends Man, Trends Junior and Trends Footwear. Together, Trends is India's largest fashion retail chain operating over 1,400 stores. Trends predominantly sells own brand products, which constitute over 70% of its sales.
The core business model of Trends is dogged upon providing best and latest of fashion trends to consumers at compelling price points backed by an integrated value chain that ensures high quality products with optimisation from sourcing till delivery of products to consumers.
This approach ensures early break-even for most Trends stores and contribute to the overall profitability of the business. At the same time, a curated blend of select third-party
brand offerings add to the choices and comparison for the consumers. Trends has developed a robust portfolio of over 20 own brands such as
Avaasa,
DNMX,
Netplay,
Performax,
Teamspirit, etc. to cater to diverse tastes and preferences of customers.
Today, many of these brands have an annual turnover of over Rs 500 crore making them comparable to many national and international brands operating in the market.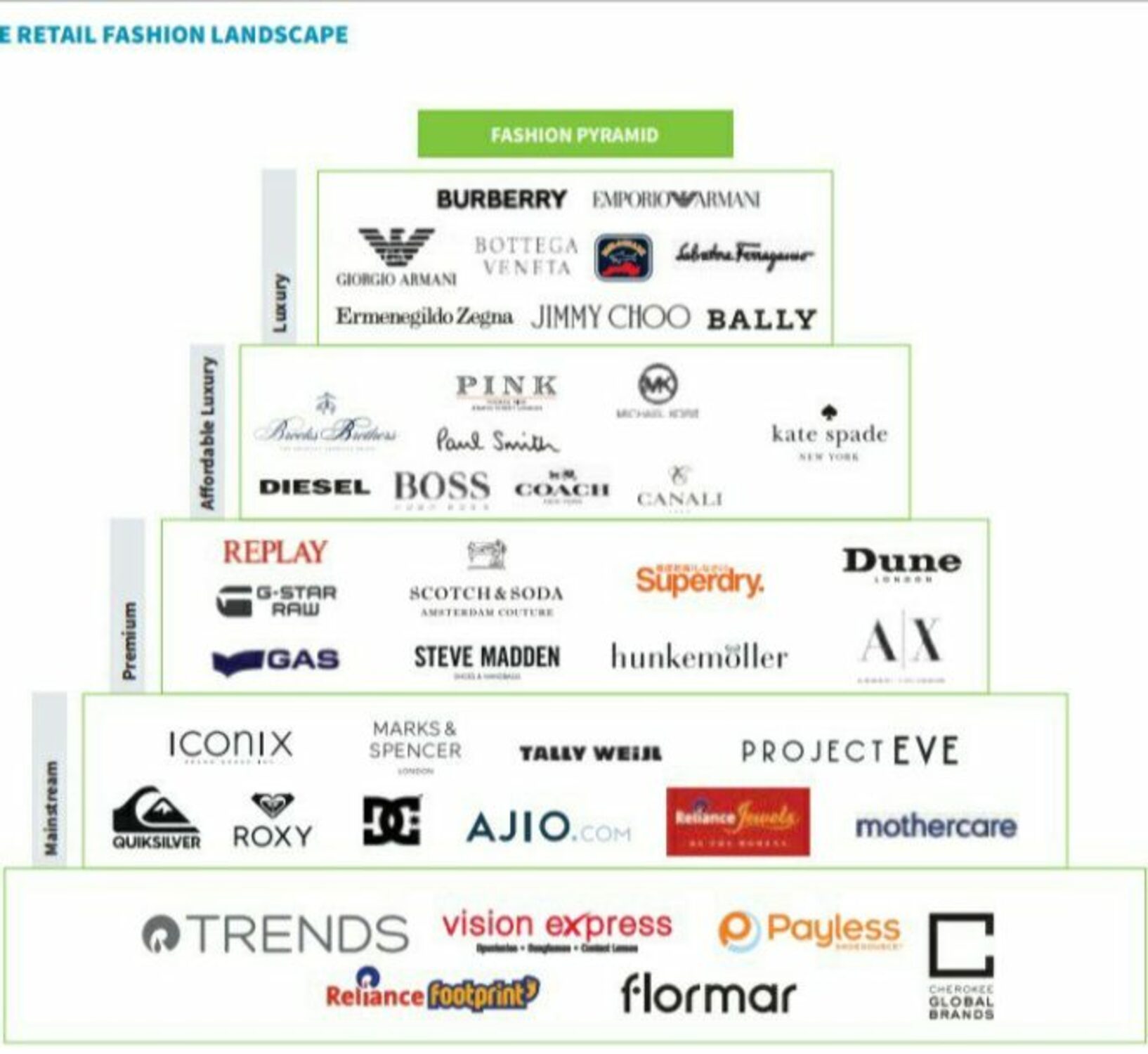 International Brands Partner
Reliance Retail has a portfolio of over 45 international brands that spans across the entire spectrum of luxury, bridge to luxury, high–premium and high–street lifestyle.
Reliance Retail operates over 682 stores for these international brands and continues to partner with new and revered international brands.Reliance Retail has emerged as the partner of choice for International brands and has established exclusive partnerships with many revered international brands such as
Diesel,
Superdry,
Hamleys,
Ermenegildo Zegna,
Marks and Spencer,
Paul & Shark,
Thomas Pink,
Kenneth Cole,
Brooks Brothers,
Steve Madden,
Payless Shoesource,
Grand Vision and many more.