Divi's Laboratories Limited is one of the leading pharmaceutical companies in the world, manufacturing Active Pharmaceutical Ingredients (APIs), Intermediates and Nutraceuticals.
Sales:₹ 9,121 Cr.
Operating profit:₹ 3,669 Cr.
Net profit:₹ 2,992 Cr.
Sales last year: ₹ 8,960 Cr.
EBIDT last year: ₹ 3,999 Cr.
Sales growth 3Years: 21.9 %
Leveraging state-of-the-art manufacturing facilities and research capabilities, the company has earned a reputable
name in manufacturing and supplying High-Quality Generics, Custom Synthesis of APIs and intermediates for global innovator companies and nutraceutical ingredients.
Also Read Pharmaceutical Industry in India 2022
Profile of Divi's Laboratories Limited
Divi's has been established for more than 30 years in Hyderabad, India with two manufacturing units and is among the top pharmaceuticals companies in India.
Divi's Laboratories Limited is a leading manufacturer of Active Pharmaceutical Ingredients ("API"), intermediates as
well as nutraceutical ingredients offering quality products with the high level of compliance to customers in over 95
countries. The Company is recognised as a reliable supplier of generic APIs, a trustworthy custom manufacturer to big
pharma and is among the top API manufacturers worldwide.
Total Assets: ₹ 13,518 Cr.
Reserves: ₹ 12,082 Cr.
Debt: ₹ 3.29 Cr.
Current assets: ₹ 8,430 Cr.
Current liabilities: ₹ 914 Cr.
Debt to equity: 0.00
Dividend yield: 0.92 %
Face value: ₹ 2.00
ROE 5Yr: 22.4 %
ROCE: 35.1 %
ROCE 3Yr: 31.2 %
Return on equity: 28.2 %
Divi's operates from its headquarters and registered office at Hyderabad. The Company has six multi-purpose manufacturing
facilities from two locations with all support infrastructure like utilities, environment management and safety systems.
The Company has constantly been working towards improving quality systems, compliances to environment and
safety while simultaneously creating additional capacities with supporting infrastructure; and is well equipped to service several projects of customers for custom synthesis opportunities as well as increase its generic business.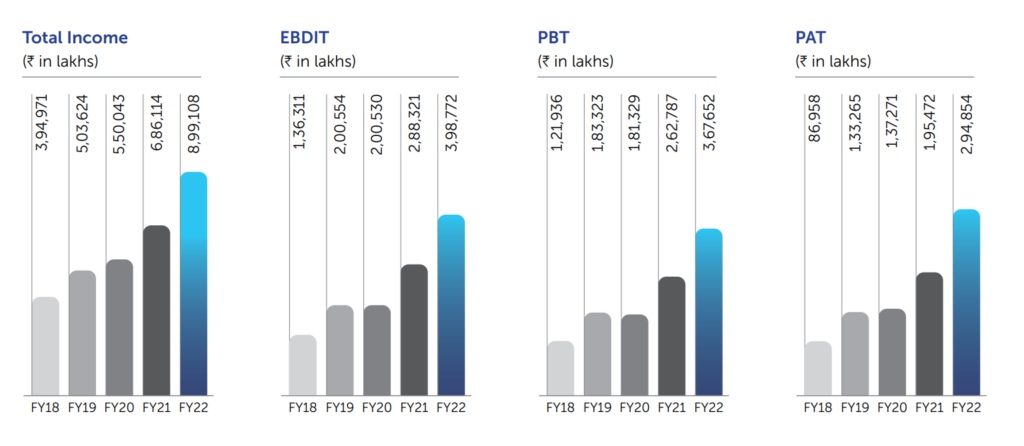 The company is one of the world's largest API companies, with two manufacturing units and a market presence across 100 countries. Backed by a team of ~16,500 people, and a portfolio of ~160 products across diverse therapeutic areas, the company is making steady progress with disciplined execution.
Divi's is recognized as a 'Reliable Supplier of generic APIs (Active pharmaceuticals ingredients)' and a trustworthy 'Custom Manufacturer' to Big Pharma and also is among the top API manufactures in the world.

Divi's has established three R&D centers, each with a team of competent and qualified people who assist us in continuously improvising our processes. As a result, several process patents have been granted to us, maintaining market leadership for majority of our products, while ensuring that our operating practices are safe and sustainable.
Divi's is the leading manufacturer of APIs(Active pharmaceuticals ingredients), Intermediates and Registered starting materials offering high quality products with the highest level of compliance and integrity to over 100+ countries. Divi's recently reached the milestone of being one among the top 3 API manufacturers in the world and one among the top API companies in Hyderabad.
Manufacturing Facilities
Advanced manufacturing facilities both in Hyderabad and Vizag have been inspected multiple times by USFDA, EU GMP (UK, Slovenia, German, Irish authorities), HEALTH CANADA, TGA, ANVISA , COFEPRIS, PMDA and MFDS health authorities
The Company operates at two manufacturing locations:
• Unit- I, located at village Lingojigudem in Yadadri Bhuvanagiri District near Hyderabad
• Unit-II, located at village Chippada, Bheemunipatnam Mandal, Visakhapatnam District, Andhra Pradesh State

All these Units have been adding production capacities and utility infrastructure and are upgraded and modernized from time to time.
Divi's is engaged in manufacture of generic APIs, custom synthesis of active ingredients for innovator companies, other specialty chemicals and nutraceuticals. The Company is very selective in its product portfolio with a focus on export markets within the domain of its capabilities.
As the Company has significant exposure to export markets and hence may have impact due to global economy or changing dynamics in the supply-chain of its products in the global markets besides any protective actions by governments of recipient countries.
Research Centers
The Company has Research Centers called as DRC at Sanath Nagar, Hyderabad and Process Development & Support Centres (PDSCs) at the manufacturing sites. These centers are involved in development of processes for both new compounds and improvement of processes for compounds on the market.
PDSCs work on process development and scale up from gram scale further through various stages of development, process
optimization, impurity profile, pilot studies, pre-validation batches, validation of process and transfer of technology to Plant. PDSCs also review improvement of processes and gives process support to the Plants from time to time.
Divi's Laboratories Subsidiaries
The company has two subsidiaries
M/s. Divis Laboratories (USA) Inc., in the United States of America and
M/s. Divi's Laboratories Europe AG in Switzerland for marketing its nutraceutical products and to provide a greater reach to customers within these regions.