Incorporated in 1993, Dwarikesh Sugar Industries Limited was founded by Shri G. R. Morarka, who was driven by the objective to create one of the most respected sugar companies in India. Dwarikesh Sugar has positioned itself as one of the most sustainable multi-product sugar companies in India, manufacturing sugar, ethanol and co-generated power.
Sales: ₹ 2,263 Cr.
Operating profit: ₹ 259 Cr.
Net profit: ₹ 136 Cr.
Sales last year: ₹ 1,974 Cr.
EBIDT last year: ₹ 294 Cr.
Sales growth 3Years: 22.1 %
The Company commenced operations in the Dwarikesh Nagar plant, Bundki, in 1995 followed by plants in Afzalgarh and Bareilly. The Company manufactures sugar crystals of a quality below 100 ICUMSA (international unit of sugar analysis), which generates a premium.
Also Read Top Sugar Manufacturing Companies in India 2022
Profile of Dwarikesh Sugar Industries Limited
Dwarikesh Sugar Industries Limited engages in the manufacture of Sugar, ethanol (and related products) and power. The Company has three manufacturing units in two regions across the western Uttar Pradesh. Dwarikesh Nagar and Dwarikesh Puram plants are situated at a distance of 45 kms apart in Bijnor district, while the Dwarikesh Dham plant is located in Bareily district. The company Business segments are
The Company employed 771 permanent nonseasonal talents as on 31st March, 2022 across its manufacturing facilities and offices. A large proportion of these employees were based in the rural manufacturing plants. The plants are located in the state of Uttar Pradesh – Dwarikesh Nagar (Najibabad) and Dwarikesh Puram (Afzalgarh) in Bijnor district, and Dwarikesh Dham, Tehsil Faridpur in Bareilly district.
Also Read List of 57 Sugar Company in India
A market leader in the Indian sugar industry, Dwarikesh Sugar Industries Limited is a multi-faceted, diversified industrial group engaged in the manufacture of the finest grains of sugar, as well as allied products.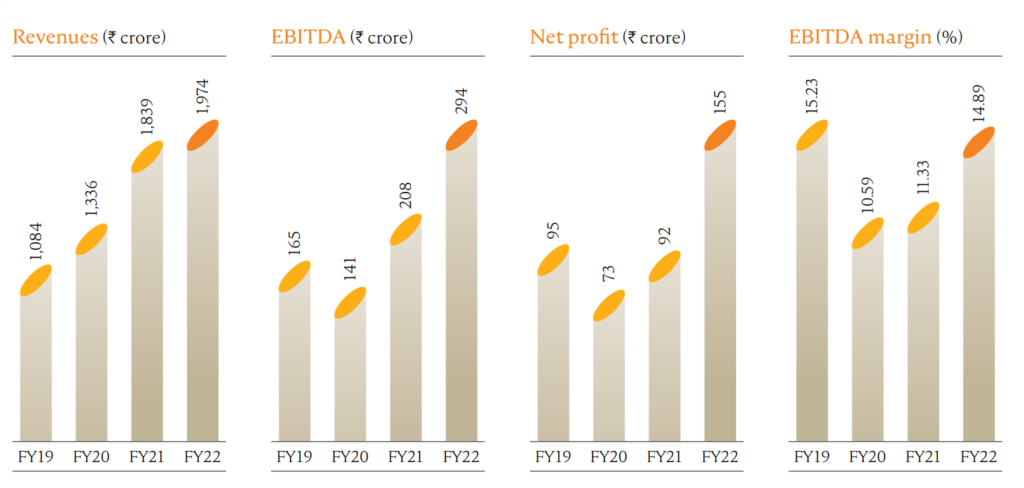 The Company was the first sugar company in Uttar Pradesh to use the new generation CO 0238 cane variety (early maturing), which not only enhanced farm yields but also enhanced manufacturing output leading to an increased recovery.
As a testimony of the Company's manufacturing excellence, capacity utilisation was an average ~90% for the sugar manufacturing business and ~95% for the distillery operations.
Total Assets: ₹ 1,130 Cr.
Debt: ₹ 312 Cr.
Equity capital: ₹ 18.8 Cr.
Current assets: ₹ 525 Cr.
Current liabilities: ₹ 125 Cr.
Debt to equity: 0.43
Dividend yield: 2.13 %
Face value: ₹ 1.00
ROE 5Yr: 21.8 %
ROCE: 21.0 %
ROCE 3Yr: 14.2 %
Return on equity: 24.8 %
The Company's operations were neither censured or closed (for however short a period) for any safety or environmental transgression, emphasising responsible operations. The maiden sugar manufacturing unit of Dwarikesh Sugar Industries Limited was commissioned in 1995 in Bijnor, Uttar Pradesh, with a cane crushing capacity of 2,500 tonnes per day. The Company's aggregate cane crushing capacity was 21,500 tonnes per day as on March 31, 2022.

Sugar Segment
In 1995, Dwarikesh commenced its maiden manufacturing facility in Bijnor with a cane crushing capacity
of 2,500 tonnes per day. The Company has grown since; it possessed three manufacturing units – two units in
Bijnor district and one in Bareilly district – with an aggregate cane crushing capacity of 21,500 tonnes per day.
₹ 1,906 Cr Sugar revenues earned in 2021-22.
45.93 Total sugar production during 2020-21 (lakh quintals)
75 % Contribution to total revenues during 2021- 22.
Distillery Segment
In 2005, the Company commissioned a distillery at Dwarikesh Nagar in Bijnor district with a capacity of 30
kilolitres per day to manufacture industrial alcohol. The distillery was subsequently utilised for ethanol manufacture, addressing the needs of proximate oil marketing companies.
₹ 326 Cr Revenues earned during 2021-22
557 Industrial alcohol sold during 2021-22 (lakh litres)
The Central Government's ethanol blending program has encouraged the Company to scale its distillery capacity to 162.5 KLPD and participate in the exciting 'ethanolisation' program to reduce cyclicality and the country's reliance on imported fuel. Dwarikesh produced 5.54 crore litres of ethanol, utilise B heavy molasses. The Company invested in premium
boilers and effluent treatment equipment. The plant incinerated effluents, empowering the distillery to enhance operations to more than 330 days a year.
Power segment
The Company entered the cogeneration business when it commissioned its first 6 MW power plant in 1995. In 2002, the Company expanded to its capacity to 9 megawatts. The Company's cumulative cogeneration capacity was 91 megawatts as on 31st March, 2022.
₹ 304 Cr Revenues earned during 2021-22.
3,013 Total production during 2021-22 (lakh units)