Incorporated in 1983, Havells India Limited is India's leading fast-moving electrical goods (FMEG) and consumer durable Company, with an influential pan-India presence and growing global footprint. Havells India Limited ('the Company') is a public limited Company.
The Company network constitutes of 4000 professionals, over 7900 plus dealers and 40 branches in the country. The Company products are available in 40 countries. Today, Havells owns some of the most prestigious brands like
Havells,
Lloyd,
Crabtree and
Standard.
The company has 12 state-of-the-art manufacturing plants in India located at Haridwar, Baddi, Sahibabad, Faridabad, Alwar, Neemrana, Guwahati and Ghiloth manufacturing globally acclaimed products, synonymous with excellence and precision in the electrical industry.
Havells India Limited
Havells India Limited is a leading Fast Moving Electrical Goods (FMEG) Company and a major power distribution equipment manufacturer with a strong global presence. The Company is a leading Fast Moving Electrical Goods (FMEG) Company and a major power distribution equipment manufacturer with a strong global presence.
Total Sales: 9,440 Cr.
Book Value: 68.87
Dividend Yield: 0.68 %
ROCE: 21.45 %
ROE: 17.41 %
Sales Growth (3Yrs): 15.48 %
The company pioneered the concept of exclusive brand showroom in the electrical industry with 'Havells Galaxy'.
Exclusive brand showroom – Over 500
50+ Countries
10000+ Strong Dealer Network
40 Branch Offices
14 Manufacturing Plants
Today The Company has over 500 plus Havells Galaxies across the country are helping customers, both domestic and commercial, to choose from a wide variety of products for different applications. Havells became the first FMEG Company to offer door step service via its initiative 'Havells Connect'.
Havells Products
The Company is consumer electrical/electronics and power distribution equipment manufacturer with products ranging from Industrial and Domestic Circuit Protection
Switch gears,
Cables,
Motors,
Pumps,
Fans,
Power Capacitors,
LED Lamps and
Luminaries for Domestic,
Commercial and Industrial applications,
Modular Switches,
Water Heaters,
Domestic Appliances,
Air conditioner,
Washing machine and
Refrigerator covering the entire range of household, commercial and industrial electrical needs.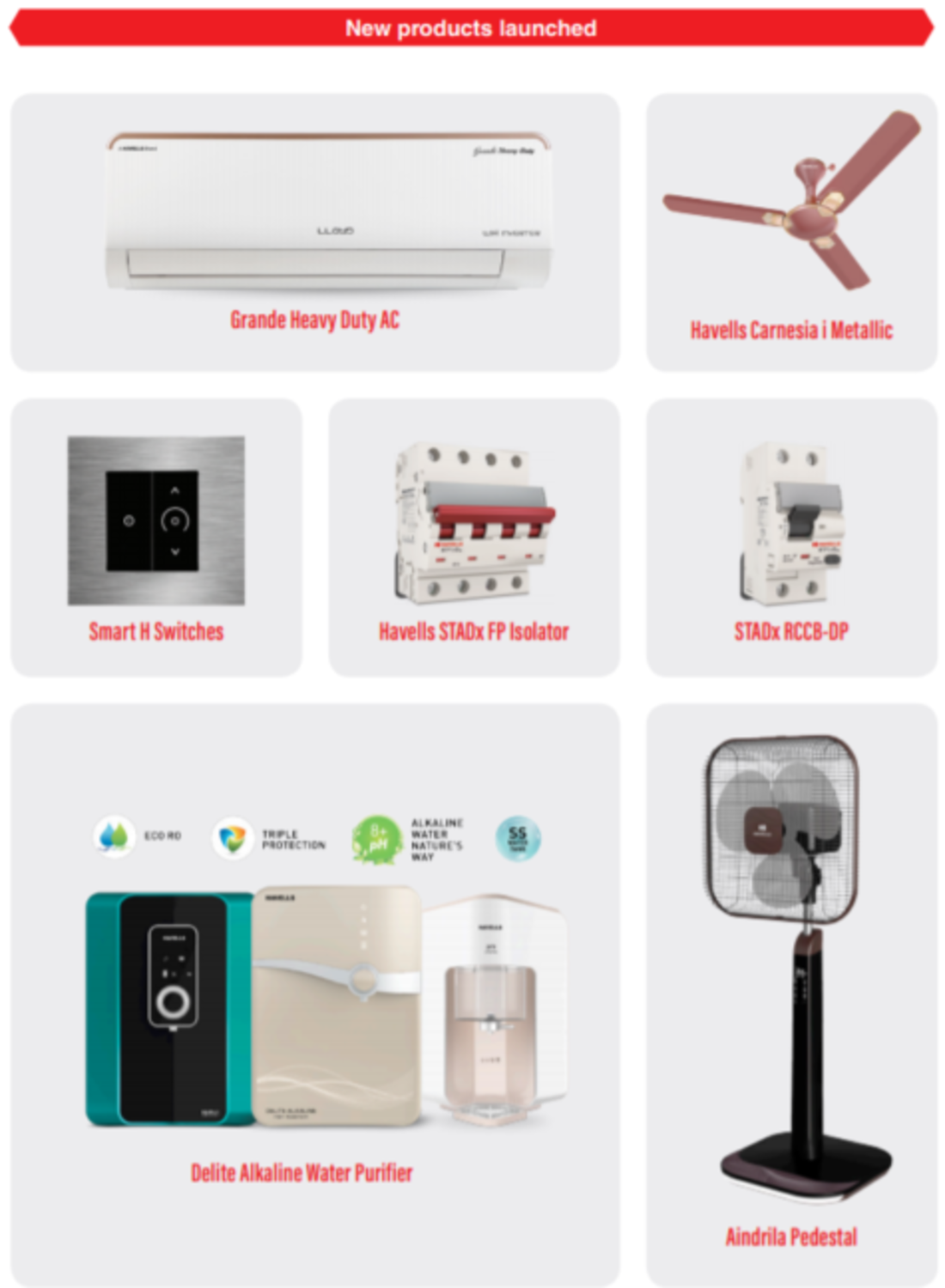 Room Heater, Wires , Fan, | Max alkaline, e Plus, Reo, Electric, MCB Box, Cables, Galaxy, Modular Switches
Havells enjoys enviable market dominance across a wide spectrum of products, including Industrial & Domestic Circuit Protection Devices, Cables & Wires, Motors, Fans, Modular Switches, Home Appliances, Air Conditioners, Electric Water Heaters, Power Capacitors, Luminaires for Domestic, Commercial and Industrial Applications.
SWITCHGEARS: Switches, Capacitors, Industrial and Domestic
Switchgears, Motors, Pumps, Automation and Control
CABLES : Power Cable and Flexible Cables
LIGHTING AND FIXTURES : LED, Luminaires for Domestic and
Professional needs
ELECTRICAL CONSUMER DURABLES: Fans, Small Domestic
Appliances, Water Heaters, Air Coolers, Air purifier and Personal
Grooming
LLOYD Consumer Division : ACs, TVs and Washing Machines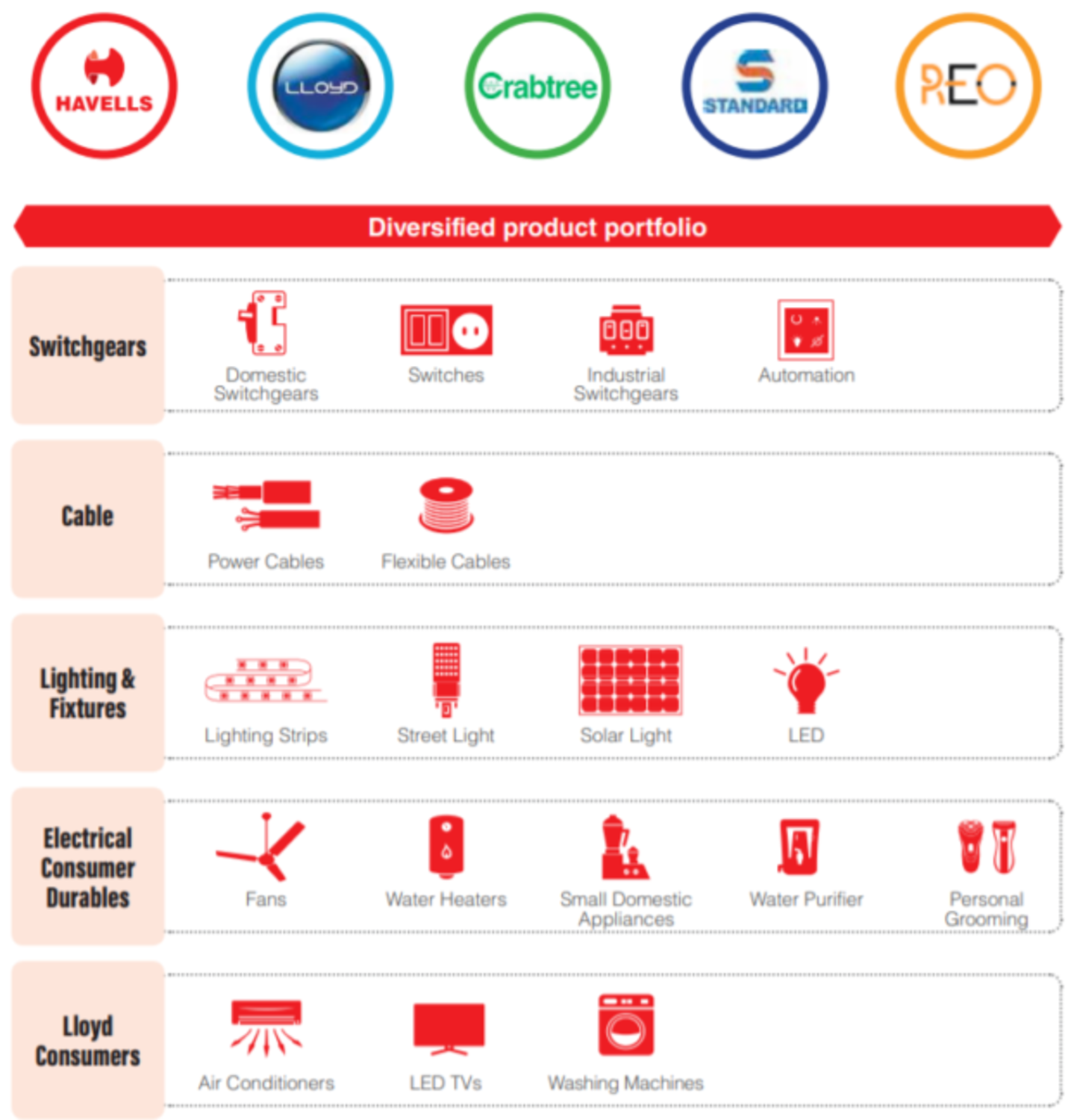 Havells Manufacturing Plants Location
Havells India Limited has totally seven 7 Manufacturing Plants located within India and here is the list of Plant location.
Alwar (Rajasthan),
Neemrana (Rajasthan),
Baddi (Himachal Pradesh),
Faridabad (Haryana),
Ghiloth (Rajasthan),
Haridwar (Uttarakhand),
Sahibabad (Uttar Pradesh)
Anil Rai Gupta Chairman & Managing Director.
Shri Anil Rai Gupta is the Chairman and Managing Director of Havells, and is the son of Late Shri Qimat Rai Gupta. He has been a constant support to his father for 22 years, supporting him in all his endeavors until in 2014 when the duties and responsibilities were passed on to him.
Mr. Gupta has catered to the company's needs since 2006 and has also served as the Executive Director to the company since 1992 itself.
Being a member of the Shri Ram College of Commerce alumni committee, in New Delhi, Mr. Gupta has pursued his higher studies from the Wake Forest University in North Carolina, USA.
He holds an MBA in Marketing and Finance. His marketing strategies proved to be highly fundamental for transforming Havells from a family brand to a globally recognized electricals and consumer durable company.
Sh. Qimat Rai Gupta Founder
Born to a lower middle-class family in the year 1937 in then undivided Punjab, Late Shri Qimat Rai Gupta's upbringing was shaped by Indian quintessence and the teachings of the Bhagwad Gita.
His career in business began in 1958 with the setting up of a quaint little electrical goods shop at the electrical market of Bhagirath Palace in Delhi. He invested capital into creating world-class manufacturing plants around India. The purchase of a small electrical good company in 1971 saw a turn of events that led to its creation, pioneering various trends in the FMEG industry. He also helped the Indian electrical goods manufacturing achieve global standards. Today, with a workforce of 6,500 employees and 20,000+ trade partners, with operations spanning across 50 different countries, Havells as a company now stands at a net worth of USD 1.4 billion.
His partnership with a 20,000 strong network of dealers, distributors, and retailers has propelled Havells' profits while also benefiting its stakeholders. Each person's association with him brought benefit to their lives.
Company Social Responsibility was never left in the dark with QRG. Havells' investment in staff and transport infrastructure has improved their workers' standard of living by manifolds while their setting up and maintaining of a central kitchen has fed nutritious, wholesome and hygienic mid-day meals to over 50,000 school going children each day, covering 666 government schools in the Alwar district of Rajasthan.
Subsidiary Companies of Havells India Ltd
so here is the List of subsidiary Companies of Havells
1 Havells Holdings Limited [ Wholly Owned Subsidiary (WOS) ]
2 Havells Guangzhou International Limited [ Wholly Owned Subsidiary (WOS) ]
3 Havells Exim Limited
Step Down Subsidiary Companies
1 Havells International Limited
2 Havells Sylvania Iluminacion (Chile) Ltda
3 Thai Lighting Asset Co. Ltd.# [ 49% held by Havells International Limited ]
Joint Venture
Jiangsu Havells Sylvania Lighting Co. Limited [ 50% ownership interest held by Company ]
Havells Head Office
904, 9th Floor,
Surya Kiran Building,
K.G. Marg,
Connaught Place,
NewDelhi-110001.