KEC International ltd, headquartered in Mumbai, India, is the flagship company of the RPG Group. A USD 1.7 billion Engineering, Procurement, and Construction (EPC) major, The Company deliver projects in key infrastructure sectors such as
Power Transmission & Distribution,
Railways,
Civil,
Urban Infrastructure,
Smart Infrastructure, and
Cables.
KEC International Ltd is built on a strong foundation of its 9,328 permanent employees and 27,000+ temporary/contractual workforce.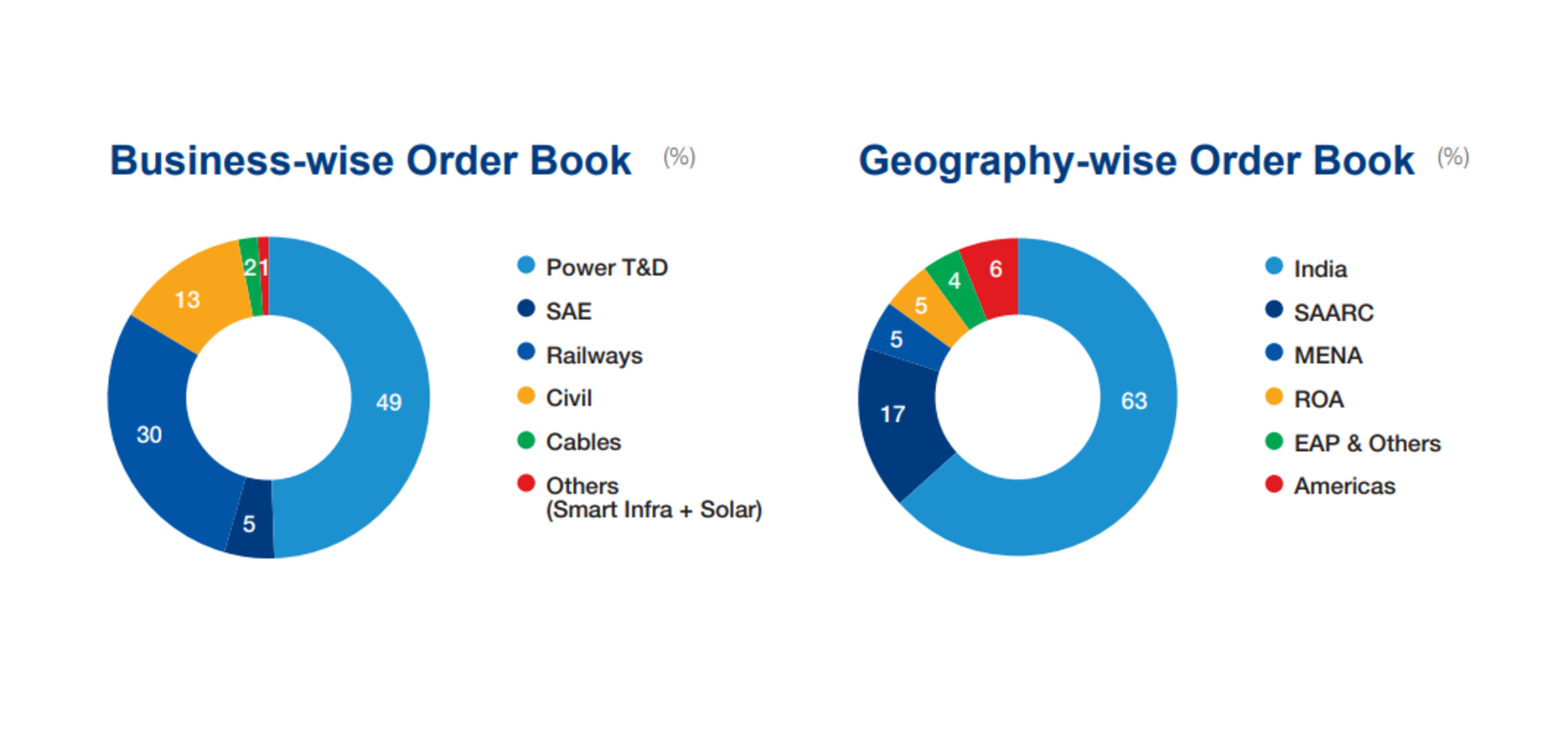 KEC International Limited is a global leader in the Power Transmission & Distribution (Power T&D) industry and offers integrated solutions ranging from design, manufacturing, supply, installation, and commissioning of Transmission Lines, Substations and Underground Cabling (Power and Optical Fibre Cables) in both domestic and international markets.
Power T&D is the largest segment of the Company, contributing over 65 percent to the overall revenue mix and over 50 percent to the order book.
Read more about RPG Group RP Sanjiv Goenka Companies Subsidiaries
KEC International Ltd
KEC International Limited has successfully executed complex projects across some of the world's most difficult terrains and conditions aided by robust project management and execution capabilities. The Company has 8 Manufacturing plants across India, Dubai, Brazil, and Mexico.
70+ Countries EPC
60+ Countries Tower Supply
80+ Countries Cables Supply
KEC International limited unrivalled expertise in manufacturing and testing, with a footprint extending across India, Dubai, Brazil, and Mexico. The Company global presence has enabled a robust and agile supply chain that extends across six continents in over 100 countries.
9,328 Employees
30+ Nationalities
Rs 11,965 crore Revenue
Rs 20,503 crore Order Book (as on March 31, 2020)
2,052 km Transmission Lines executed
171 Substation Bays built
1,095 km – 25% of India's Railway Tracks electrified
KEC International Ltd is also one of the leading engineering, procurement, and construction (EPC) players with a vast experience in various works for Railways such as overhead electrification, traction power supply, track laying and linking, doubling and tripling of tracks, gauge conversion, signalling and telecommunication, and civil works, viz. railway stations, bridges, residential quarters, depots/ workshops, etc.
Railways has been one of the biggest drivers of growth for KEC. The Company forayed into the Civil construction business a few years ago to drive growth and adjacently expand its
business portfolio.
The Civil business is focussing on high growth areas such as large industrial and infrastructure projects, viz. industrial plants, residential buildings, railway stations, commercial buildings, airports, and water segments.
The Solar business offers comprehensive state-of-the-art engineering, procurement and construction services across ground mounted and rooftop solutions. Launched in 2016,
KEC's solar business has grown to be among the few companies in India with capabilities to execute large-scale projects of 150 MWp.
H.V. Goenka Chairman
Graduate in Economics, University of Calcutta;
MBA, IMD (Switzerland)
Mr. H.V. Goenka is Chairman of RPG Enterprises, one of the largest industrial groups in India, active in key business segments such as tyres, infrastructure, information technology and other diversified segments having an annual turnover of about USD 4 billion.
Born in December 1957, Mr. Goenka is a graduate in Economics and MBA from the International Institute of Management Development (IMD), Lausanne, Switzerland and is now on the Foundation Board of IMD, Lausanne.
Mr. Goenka, a past President of the Indian Merchants' Chamber, in India, is also a member of the Executive Committee of FICCI and has been the Chairman of Breach Candy Hospital Trust. He has been the Chairman of the Board of the Company since 2006.
Vimal Kejriwal Managing Director & CEO
Chartered Accountant, ICAI;
Company Secretary, ICSI;
Advanced Executive Programme, Kellogg School of Management, USA
Mr. Vimal Kejriwal is the MD & CEO of KEC International Ltd. He has successfully led the
Company towards profitable growth during his tenure. Mr. Kejriwal has over 37 years of rich global corporate experience in the areas of Power Infrastructure, Oil & Gas, Pharmaceuticals, Fertilisers, and Investment Banking.
He also serves on the Boards of SAE Towers Holdings LLC, USA, a wholly-owned subsidiary of KEC, and Raychem RPG Private Limited, an RPG Group company. He is also an Executive Council Member of Indian Electrical and Electronics Manufacturers' Association (IEEMA).
Subsidiaries of KEC International Limited
The following are the Subsidiaries and Associate Companies of KEC international Limited
1 KEC Power India Private Limited
RPG House, 463, Dr. Annie Besant Road, Worli,
Mumbai – 400 030, India
U40102MH2008PTC179720 Subsidiary 100 %

2 RPG Transmission Nigeria Limited
23 Bamako Street,
Wuse Zone 1 Abuja, Nigeria
Foreign Company Subsidiary 100%

3 KEC Global FZ LLC
Ras Al Khaimah, United Arab Emirates
Foreign Company Subsidiary 100 %

4 KEC Investment Holdings
C/o IQ EQ Corporate Services (Mauritius) Ltd,
33, Edith Cavell Street,
Port-Louis, 11324, Mauritius
Foreign Company Subsidiary 100 %

5 KEC Global Mauritius
C/o IQ EQ Corporate Services (Mauritius) Ltd,
33, Edith Cavell Street,
Port-Louis, 11324, Mauritius
Foreign Company Subsidiary 100 %

6 SAE Towers Holdings LLC
Corporation Trust Center, 1209 Orange Street,
Wilmington, DE 19801, USA
Foreign Company Subsidiary 100 %

7 SAE Towers Brazil Subsidiary Company LLC
Corporation Trust Center, 1209 Orange Street,
Wilmington, DE 19801, USA
Foreign Company Subsidiary 100 %
8 SAE Towers Mexico Subsidiary Holding
Company LLC
Corporation Trust Center,1209 Orange Street,
Wilmington, DE 19801, USA
Foreign Company Subsidiary 100 %

9 SAE Towers Mexico S de RL de CV
Km. 24 Arco Vial Saltillo – Nuevo Laredo, 66050,
General Escobedo, Nuevo León, Mexico
Foreign Company Subsidiary 100 %

10 SAE Towers Brazil Torres de Transmission Ltda
Rua Moacyr Gonçalves Costa nº 15, Jardim
Piemont, Brazil
Foreign Company Subsidiary 100 %

11 SAE Prestadora de Servicios Mexico S de RL
de CV
Km. 24 Arco Vial Saltillo – Nuevo Laredo, 66050,
General Escobedo, Nuevo León Mexico
Foreign Company Subsidiary 100 %

12 SAE Towers Limited
Corporation Trust Center, 1209 Orange Street,
Wilmington, DE 19801, USA
Foreign Company Subsidiary 100 %

13 SAE Engenharia E Construcao Ltda.
State of Minas Gerais, at Rua Moacyr Gonsalves
Costa, No. 15, Bairro Jardim Piemont, CEP, Brazil
Foreign Company Subsidiary 100 %

14 KEC Engineering & Construction Services S de
RL de CV (1)
Km. 24 Arco Vial Saltillo – Nuevo Laredo, 66050,
General Escobedo, Nuevo León, Mexico
Foreign Company Subsidiary 100 %

15 KEC International (Malaysia) SDN. BHD.
Unit D-3-5, Level 5, Block D Setiawalk, Persiaran
Wawasan, Pusat Bandar Puchong, 47160
Puchong, Selangor Darul Ehsan, Malaysia
Foreign Company Subsidiary 100 %

16 Al Sharif Group & KEC Ltd. Co.
Floor # 3, Unit # 4, Najah Administrative Center,
P.O. Box-51953, Building # 3592, Muhammad
Al Tawel Street, Near NCB Quick pay, Mishrifah
District, Jeddah-23332, Kingdom of Saudi Arabia.
Foreign Company Subsidiary 51.10 %

17 KEC Towers LLC(2)
P.O. Box No. 392774, Plot No. 597-653, Dubai
Investment Park-2, Jebal Ali Industrial Area,
Dubai – UAE
Foreign Company Subsidiary 100 %

18 RP Goenka Group of Companies Employees
Welfare Association
8th Floor, Building No. 9A, DLF Cyber City
Phase – III, Gurgaon – 122 002, India
U93000HR2012NPL046012 Associate 49 %