Motherson Sumi Systems Ltd is a full system solutions provider catering to a diverse range of customers globally in the automotive and other industries.
MSSL is the flagship company of the "Motherson Group" and was established in 1986 as a joint venture with Sumitomo Wiring Systems, Japan (SWS) and is listed on BSE ( formerly Bombay Stock Exchange) and National Stock Exchange of India (NSE).
The product portfolio of the Company comprises electrical distribution systems (wiring harnesses), electronics components, automotive rearview mirrors, moulded plastic parts and assemblies, extruded and injection moulding tools and components, moulded and extruded rubber components, interior and exterior polymer modules like cockpits / IPs, door trims, bumpers and machined metal products etc.
Motherson Sumi Systems Limited Profile
Motherson Sumi Systems Limited (MSSL) is a specialised, full-system solutions provider catering to a diverse range of customers in the automotive and other industries.
MSSL is today the largest auto ancillary in India and enjoys market leadership positions in many of its product segments globally. It is one of the leading suppliers of rearview mirrors globally, a leading supplier of polymer modules in Europe and is a market leader for wiring harnesses for heavy-duty commercial vehicles in the American & European markets
As a flagship company of the Motherson Group, Motherson Sumi Systems Ltd has over 230 facilities across 41 countries and five continents. This global footprint allows the company to provide robust and scalable product support to its customers worldwide. The Company has a strong and evolving line of product range and is well recognised as a Leading Supplier to Original Equipment Manufacturers (OEMs) mainly in the automotive industry
MSSL's strong and developing product line includes
wiring harnesses,
vision systems,
cockpits,
bumpers,
door trims,
and a broad range of other polymer,
elastomer and metal-based products.
The Company is one of the largest manufacturers of wiring harnesses and electrical components globally and is a complete solutions provider to all its customers – from the
product and concept development stage with complete in-house design capability & global engineering support to manufacturing and aftersales service.
Wiring harness portfolio has strong vertical integration and supports its customers with increased content & capabilities, components manufacturing, testing & validation and production engineering as well as enterprise production planning systems. The Company has 82 wiring harness facilities across 22 countries globally.
Wiring Harness
The Wiring Harness division of Motherson is a full service system supplier with complete
in-house design, development and manufacturing capability. It is one of the most vertically integrated business divisions with a product range that promotes technological advancement across both the automotive and non-automotive sectors that it supplies to.
Vision Systems
Motherson is one of the leading global suppliers of vision systems to the automotive industry and the product range includes interior mirrors, exterior mirrors and camera based detection which it supplies to almost all major OEMs. Vision Systems is aided by strong vertical integration and provides full-service solutions to its customers.
Modules & Polymer Products
The division encompasses the largest business line in Motherson. It develops and produces a highly diversified product range from simple plastic parts to highly integrated systems and modules, supplying to OEMs globally. The group also exhibits capabilities in mould design, tooling and elastomer processing.
Precision Metals & Modules
The division is a full system solutions provider for any metal processing including integration of higher level assembly. It offers an array of products in precision machining; modules like cabins for off-highway vehicles and HVAC systems; body parts and process
equipment to a wide spectrum of industries.
Technology & Industrial Solutions
The division focuses on technology, engineering and manufacturing solutions. It sustains
the digital foundation of the group's global operations. It also caters to external clients from different industries globally. This division has a futuristic approach in understanding industry trends and providing solutions. The division has also forayed in the healthcare
IT solutions and telematics.
Lighting & Electronics
The division consists of a spectrum of businesses that focus on OEM supplies and also do business through direct channels. The product portfolio includes exterior lighting and electronics, passenger car HVAC and compressors, body control module, struts, shock absorbers and products for backward integration The division also engages in the area of direct B2B supply.
Aerospace Division
The Aerospace division of Motherson brings the current capabilities of the group in areas
such as wiring harnesses and plastics — into the aerospace industry by providing integrated solutions. The division is simultaneously engaged in developing new products in
order to increase its foothold in this segment.
Logistics Solutions
The Logistics Solutions division of Motherson aims to bring in efficiency, technology and
specialisation in the automotive supply chain. It deals with the logistics of finished vehicles in both the groups' internal supply chain as well as for external customers.
Health & Medical
The division is driven by its purpose of positively impacting lives globally by helping people
become healthy, and stay healthy. The division works towards realising this by providing
products, solutions and services that help people manage and improve their health, and enable people to access affordable care of the highest quality.
Services
The division consists of several businesses that engage in direct sales and services to the end customer and supports their manufacturing operations. The business portfolio includes an industrial park; manufacturing engineering, consultation, project management and turnkey supplies to the automotive industry and trading of machine tools and hydraulic products.
Motherson Sumi Systems Subsidiaries
The Company's subsidiary, Samvardhana Motherson Automotive Systems Group BV (SMRP BV) business consist of
Samvardhana Motherson Reflectec (referred to as SMR) and
Samvardhana Motherson Peguform (referred to as SMP),
Samvardhana Motherson Reydel Companies (referred to as SMRC- erstwhile Reydel Automotive Group acquired by SMRP BV in August 2018) and
Samvardhana Motherson Innovative Autosystems (referred to as SMIA).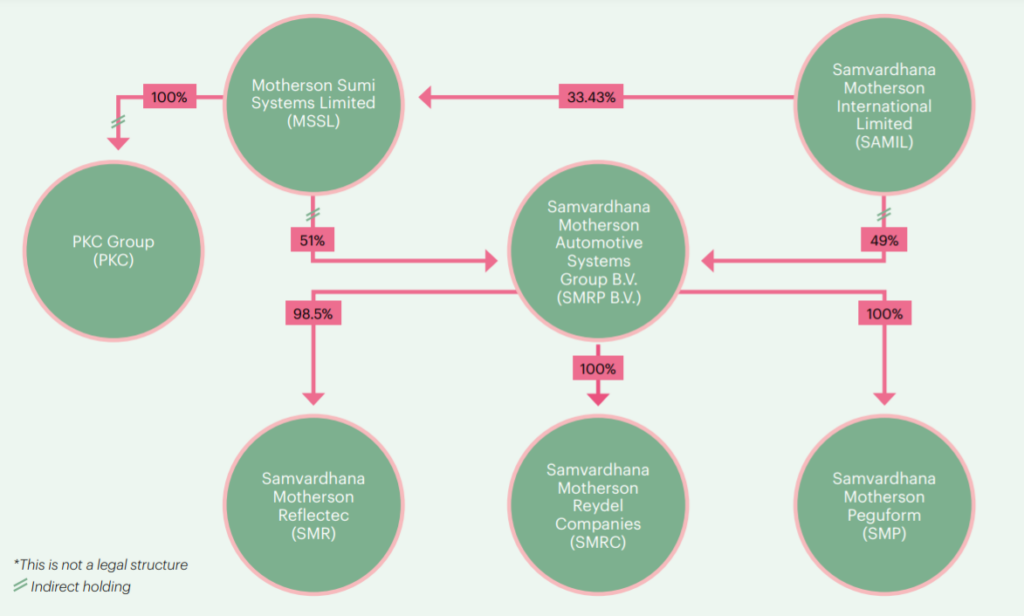 SMRP BV Group has a presence in all the major global automotive production hubs, with 70 production facilities spread across 24 countries and strategically located close to the manufacturing plants of the OEM customers and serving with the support of a workforce of more than 30,000.
So here is the full list of Motherson Sumi Systems Subsidiaries and there are 177 Subsidiaries.
| | |
| --- | --- |
| 1 MSSL Mauritius Holdings Limited | |
| 2 Motherson Electrical Wires Lanka Private Limited | 91 SMP Automotive Exterior GmbH |
| 3 MSSL Mideast (FZE) | 92 Samvardhana Motherson Innovative Autosystems B.V. & Co. KG |
| 4 MSSL (S) Pte Limited | 93 Samvardhana Motherson Innovative Autosystems Holding Company BV |
| 5 Motherson Innovations Tech Limited (esrt MSSL Automobile Component Limited) | 94 SM Real Estate GmbH |
| 6 Samvardhana Motherson Polymers Limited | 95 Samvardhana Motherson Innovative Autosystems de México, S.A. de C.V. |
| 7 MSSL (GB) Limited | 96 SMP Automotive Systems Alabama Inc. |
| 8 Motherson Wiring System (FZE) | 97 Celulosa Fabril (Cefa) S.A. |
| 9 MSSL Tooling (FZE) | 98 Modulos Ribera Alta S.L.Unipersonal |
| 10 MSSL GmbH | 99 Motherson Innovations Lights GmbH & Co KG |
| 11 Samvardhana Motherson Invest Deutschland GmbH | 100 Motherson Innovations Lights Verwaltungs GmbH |
| 12 MSSL Advanced Polymers s.r.o. | 101 SMP Automotive Interior Modules d.o.o. Ćuprija |
| 13 Motherson Techno Precision GmbH | 102 MSSL Estonia WH OÜ |
| 14 MSSL s.r.l. Unipersonale | 103 PKC Group Oy |
| 15 Motherson Techno Precision México, S.A. de C.V | 104 PKC Wiring Systems Oy |
| 16 MSSL Manufacturing Hungary Kft | 105 PKC Group Poland Sp. z o.o. |
| 17 Motherson Air Travel Pvt Ltd | 106 PKC Wiring Systems Llc |
| 18 MSSL Australia Pty Limited | 107 PKC Group APAC Limited |
| 19 Motherson Elastomers Pty Limited | 108 PKC Group Canada Inc. |
| 20 Motherson Investments Pty Limited | 109 PKC Group USA Inc. |
| 21 MSSL Ireland Private Limited | 110 PKC Group Mexico S.A. de C.V. |
| 22 MSSL Global RSA Module Engineering Limited | 111 Project del Holding S.a.r.l. |
| 23 MSSL Japan Limited | 112 PK Cables do Brasil Ltda |
| 24 Vacuform 2000 (Proprietary) Limited | 113 PKC Eesti AS |
| 25 MSSL México, S.A. De C.V. | 114 TKV-sarjat Oy |
| 26 MSSL WH System (Thailand) Co., Ltd | 115 PKC SEGU Systemelektrik GmbH |
| 27 MSSL Korea WH Limited | 116 Groclin Luxembourg S.à r.l. |
| 28 MSSL Consolidated Inc. | 117 PKC Vehicle Technology (Suzhou) Co., Ltd. |
| 29 MSSL Wiring System Inc | 118 AEES Inc. |
| 30 Alphabet de Mexico, S.A. de C.V. | 119 PKC Group Lithuania UAB |
| 31 Alphabet de Mexico de Monclova, S.A. de C.V. | 120 PKC Group Poland Holding Sp. z o.o. |
| 32 Alphabet de Saltillo, S.A. de C.V. | 121 OOO AEK |
| 33 MSSL Wirings Juarez, S.A. de C.V. | 122 Kabel-Technik-Polska Sp. z o.o. |
| 34 Samvardhana Motherson Global Holdings Ltd. | 123 T.I.C.S. Corporation |
| 35 Samvardhana Motherson Automotive Systems Group B.V. (SMRPBV) | 124 AEES Power Systems Limited partnership |
| 36 Samvardhana Motherson Reflectec Group Holdings Limited (SMR) | 125 Fortitude Industries Inc. |
| 37 SMR Automotive Technology Holding Cyprus Limited | 126 AEES Manufactuera, S. De R.L de C.V. |
| 38 SMR Automotive Mirror Parts and Holdings UK Ltd | 127 Cableodos del Norte II, S. de R.L de C.V. |
| 39 SMR Automotive Holding Hong Kong Limited | 128 Manufacturas de Componentes Electricos de Mexico S. de R.L de C.V. |
| 40 SMR Automotive Systems India Limited | 129 Arneses y Accesorios de México, S. de R.L de C.V. |
| 41 SMR Automotive Systems France S.A. | 130 Asesoria Mexicana Empresarial, S. de R.L de C.V. |
| 42 SMR Automotive Mirror Technology Holding Hungary KFT | 131 Arneses de Ciudad Juarez, S. de R.L de C.V. |
| 43 SMR Patents S.à.r.l. | 132 PKC Group de Piedras Negras, S. de R.L. de C.V. |
| 44 SMR Automotive Technology Valencia S.A.U. | 133 PKC Group AEES Commercial S. de R.L de C.V |
| 45 SMR Automotive Mirrors UK Limited | 134 Jiangsu Huakai-PKC Wire Harness Co., Ltd. |
| 46 SMR Automotive Mirror International USA Inc. | 135 PKC Vechicle Technology (Hefei) Co, Ltd. |
| 47 SMR Automotive Systems USA Inc. | 136 PKC Vehicle Technology (Fuyang) Co., Ltd. |
| 48 SMR Automotive Beijing Company Limited | 137 Shangdong Huakai-PKC Wire Harness Co., Ltd. |
| 49 SMR Automotive Yancheng Co. Limited | 138 Motherson Rolling Stock Systems GB Limited |
| 50 SMR Automotive Mirror Systems Holding Deutschland GmbH | 139 Motherson PKC Harness Systems FZ-LLC |
| 51 SMR Holding Australia Pty Limited | 140 Wisetime Oy |
| 52 SMR Automotive Australia Pty Limited | 141 Motherson Rolling Stocks S. de R.L. de C.V. |
| 53 SMR Automotive Mirror Technology Hungary BT | 142 Global Environment Management (FZC) |
| 54 Motherson Business Service Hungary Kft. | 143 SMRC Automotive Holdings B.V. |
| 55 SMR Automotive Modules Korea Ltd. | 144 SMRC Automotive Holdings Netherlands B.V. |
| 56 SMR Automotive Beteiligungen Deutschland GmbH | 145 SMRC Automotives Techno Minority Holdings B.V. |
| 57 SMR Hyosang Automotive Ltd. | 146 SMRC Smart Automotive Interior Technologies USA, LLC |
| 58 SMR Automotive Mirrors Stuttgart GmbH | 147 SMRC Automotive Modules France SAS |
| 59 SMR Automotive Systems Spain S.A.U. | 148 Samvardhana Motherson Reydel Automotive Parts Holding Spain, S.L.U. |
| 60 SMR Automotive Vision Systems Mexico S.A. de C.V | 149 SMRC Automotive Interiors Spain S.L.U. |
| 61 SMR Grundbesitz GmbH & Co. KG | 150 SMRC Automotive Interior Modules Croatia d.o.o |
| 62 SMR Automotive Brasil Ltda. | 151 Samvardhana Motherson Reydel Autotecc Morocco SAS |
| 63 SMR Automotive System (Thailand) Limited | 152 SMRC Automotive Technology RU LLC |
| 64 SMR Automotives Systems Macedonia Dooel Skopje | 153 SMRC Smart Interior Systems Germany GmbH |
| 65 SMR Automotive Operations Japan K.K. | 154 SMRC Automotive Interiors Products Poland SA |
| 66 SMR Automotive (Langfang) Co. Ltd | 155 SMRC Automotive Solutions Slovakia s.r.o. |
| 67 SMR Automotive Vision System Operations USA INC | 156 SMRC Automotive Holding South America B.V. |
| 68 SMR Mirror UK Limited | 157 SMRC Automotive Modules South America Minority Holdings B.V. |
| 69 Motherson Innovations Company Limited | 158 SMRC Automotive Tech Argentina S.A. |
| 70 Motherson Innovations Deutschland GmbH | 159 SMRC Fabricacao e Comercio de Produtos Automotivos do Brasil Ltda |
| 71 Samvardhana Motherson Global (FZE) | 160 SMRC Automotive Products India Limited |
| 72 SMR Automotive Industries RUS Limited Liability Company | 161 SMRC Automotive Smart Interior Tech (Thailand) Ltd. |
| 73 Re-time Pty Limited | 162 SMRC Automotive Interiors Japan Ltd. |
| 74 Samvardhana Motherson Peguform GmbH (SMP) | 163 Shanghai SMRC Automotive Interiors Tech Consulting Co. Ltd. |
| 75 SMP Automotive Interiors (Beijing) Co. Ltd. | 164 PT SMRC Automotive Technology Indonesia |
| 76 SMP Deutschland GmbH | 165 Yujin SMRC Automotive Techno Corp. |
| 77 SMP Logistik Service GmbH | 166 SMRC Automotives Technology Phil Inc. |
| 78 SMP Automotive Solutions Slovakia s.r.o. | 167 Motherson Innovations LLC |
| 79 Changchun Peguform Automotive Plastics Technology Co., Ltd. | 168 Samvardhana Motherson Corp Management Shanghai Co Ltd. |
| 80 Foshan Peguform Automotive Plastics Technology Co. Ltd. | 169 Motherson Ossia Innovations llc. |
| 81 Shenyang SMP Automotive Plastic Component Co. Ltd. | 170 Motherson Sumi Wiring India Limited |
| 82 Tianjin SMP Automotive Component Company Limited | 171 Motherson Polymers Compounding Solution Limited (merged with the Company, refer note 50) |
| 83 Shenyang SMP Automotive Trim Co., Ltd | 172 SMRC Automotive Interiors Management B.V. (liquidated w.e.f March 24, 2021) |
| 84 SMP Automotive Technology Management Services (Changchun) Co. Ltd. | 173 MSSL M Tooling Ltd (liquidated w.e.f. 30.10.2020) |
| 85 SMP Automotive Technology Iberica S.L. | 174 Samvardhana Motherson Polymers Management Germany GmbH (merged with MSSL GmbH on August 30, 2019) |
| 86 Samvardhana Motherson Peguform Barcelona S.L.U | 175 PKC Netherlands Holding B.V. (Liquidated on July 31, 2019) |
| 87 SMP Automotive Technologies Teruel Sociedad Limitada | 176 PK Cables Nederland B.V. (Liquidated on July 31, 2019) |
| 88 Samvardhana Motherson Peguform Automotive Technology Portugal S.A. | 177 SMR Automotive Servicios Mexico S.A. de C.V. (liquidated on July 2, 2019) |
| 89 SMP Automotive Systems Mexico S.A. de C.V. | |
| 90 SMP Automotive Produtos Automotivos do Brasil Ltda. | |
List of Motherson Sumi Systems Subsidiaries
SMR is one of the largest producers of rear-view vision systems for the automotive industry and supplies interior mirrors, exterior mirrors and camera-based detection
systems to almost all major car makers globally. SMP develops and manufactures plastic parts and highly integrated modules for the automotive industry. It is a specialist in cockpits, door panels, bumper modules and innovative plastic vehicle body parts. SMRC has full capability to design, develop and manufacture complete and functional modular interior systems.
Its expertise in manufacturing, materials, design and styling helps in providing innovative, cost-and-weight-efficient products. SMIA is a complete source for profiles and moulded parts made of thermoplastics. The Company has a presence through various subsidiaries
located in other countries, catering to the requirements of OEMs as a Tier 1 supplier.