Raymond Limited (Raymond) is a diversified group that is a leading name in Textile & Apparel sectors, along with a rapidly growing presence in Real Estate, FMCG and Engineering.
Sales: ₹ 7,698 Cr.
Operating profit: ₹ 1,103 Cr.
Net profit: ₹ 610 Cr.
Sales last year: ₹ 6,179 Cr.
EBIDT last year: ₹ 846 Cr.
Sales growth 3Years: -2.09 %
With roots dating back to 1925, as a small woollen mill at Thane (Maharashtra), the company deliver world-class products and offerings globally. Raymond Ltd is amongst India's most trusted brands.
Raymond Ltd Profile
Raymond Limited incorporated in India is a leading Indian Textile, Lifestyle and Branded Apparel Company. The Company has its wide network of operations in local as well foreign market. The Company sells its product through multiple channels
including wholesale, franchisee, retail etc.
20,000+ Touchpoints in Branded Textile
600+ Cities and towns
1,351 Exclusive retail stores
The Company had commenced activities to develop part of its land for residential / commercial purpose a few years back.
The Company is a public limited company and is listed on the Bombay Stock Exchange (BSE), National Stock Exchange (NSE) and Luxembourg Stock Exchange (GDR's). The Company has its registered office at Plot No.156/H.No. 2, Village Zadgaon, Ratnagiri – 415 612, Maharashtra.
Total Assets: ₹ 7,911 Cr.
Reserves: ₹ 2,521 Cr.
Debt: ₹ 2,399 Cr.
Current assets: ₹ 4,878 Cr.
Current liabilities: ₹ 3,725 Cr.
Debt to equity: 0.93
Dividend yield: 0.23 %
Face value: ₹ 10.0
ROE 5Yr: 5.28 %
ROCE: 13.2 %
ROCE 3Yr: 6.13 %
Return on equity: 16.2 %
Branded Textiles
Raymond is India's leading branded player in suiting and shirting fabrics and commands a market leadership position. With a majority market share in Branded Textile, Raymond is a market leader in domestic worsted suiting industry. It has also emerged as the largest over-the-counter (OTC) branded shirting player in the domestic organised market since its launch in 2015.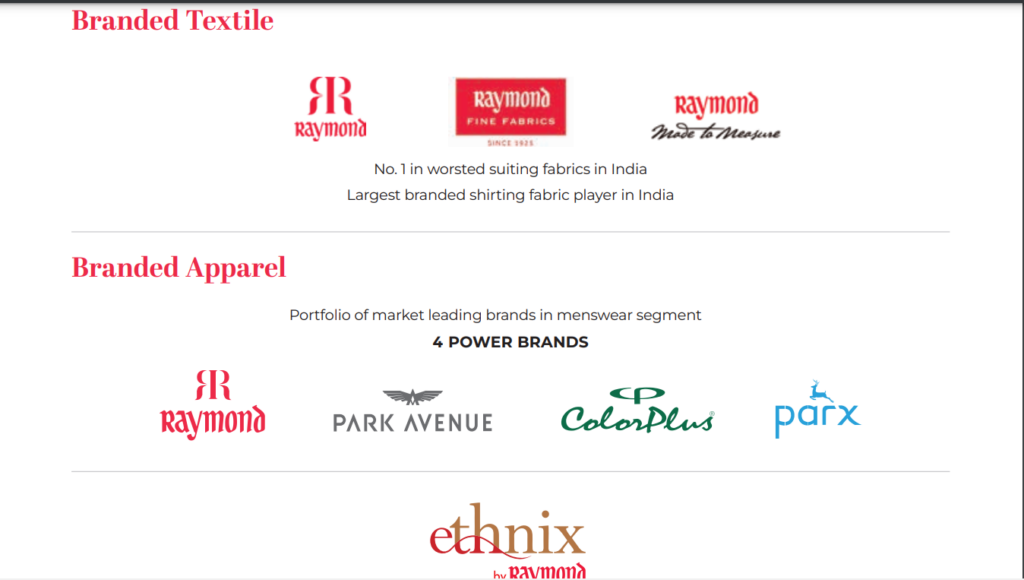 Branded Apparel
Being a pioneer to offer the first Indian apparel brand 'Park Avenue' way back in 1986, Park Avenue defined formal wear for the Indian diaspora. The company, have come a long way offering diversified silhouettes and creative lines of high fashion apparel through our power brands like —
Raymond Ready to Wear (RRTW),
Park Avenue (PA),
ColorPlus (CP) and
Parx.
Catering to discerning consumers for their wedding and celebration needs, 'Ethnix by Raymond' offers a wide range of menswear suited for special occasions, weddings and celebrations for the men of the family.
Textile Retail Raymond
Having being reckoned as the pioneer in organised textile retail, Raymond presented the first 'The Raymond Shop' (TRS) in 1958 to the Indian discerning consumers and offered them the unique fabric-to-garment service through in-house tailoring value proposition. Raymond continued its retail journey by establishing a significant network through TRS, MTM and EBOs
for its in-house brands namely RRTW, Park Avenue, ColorPlus and Parx across the length and breadth of the country. The Company is now strengthening a new brand called 'Ethnix by Raymond' and is offering more diversed product lines.
Raymond Garmenting
Raymond's garmenting unit is now a preferred choice and enjoys critical supplier status for leading international brands. The business vertical has come a long way and has been a constant partner for its customers all through the pandemic. With our par excellence production facilities offering products in menswear, such as suits, formal blazers, jackets, formal trousers, denims and shirts, we are a clothier to the world.
High Value Cotton Shirting
With a clear domain in crafting natural fabrics in India, Raymond has an edge in creating best cotton and linen fabrics. Having the prowess of manufacturing 340s count cotton and 150 lea linen, the company is the leading suppliers to domestic and international brands both for high value cotton and linen fabrics along with bottom weight fabrics.
Engineering
Raymond Limited engineering business is involved in the manufacturing and sale of precision engineered components for tools and hardware such as steel files, drills, hand tools and power tool accessories as well as auto components such as ring gears, flexplates and water pump bearings.
The business has successfully maintained long-term relationships with domestic and international customers over the decades, which is a testimony and recognition of being a reliable partner who ensures consistent high-quality products.
Real Estate
The Real Estate business was launched in 2019 with developing of a land parcel of company Thane land. With distinct advantages of offering the right product, at right price with location advantage, Raymond Realty is reckoned as one of the best-selling real estate projects in Thane, Maharashtra within a short span of its time having sold 701 units in the projects – 'TenX' and 'The Address by GS' in FY 2021-22.
Raymond UCO Denim Private Limited
Raymond UCO Denim Private Limited is a preferred supplier of high-quality denim fabrics and apparel to the world. The Company's strength lies in producing fabrics comprising of premium cotton, stretch, exotic blends, special finishes and performance denims, amongst others. The denim fabric manufacturing facility is located in Yavatmal, Maharashtra that
supplies to varied denim brands.
FMCG Raymond Consumer Care
Raymond Group has a presence in the FMCG industry through its associate company Raymond Consumer Care Limited (RCCL). The FMCG businesses of personal care, sexual wellness and home care have been integrated in RCCL in FY 2019-20. This integration has brought about business synergies, operational efficiencies and channel distribution strengths.
RCCL is amongst the top players in India's Fragrances and Sexual Wellness categories, with aspirational brands like Park Avenue, KamaSutra, KS and Premium encompassing its Personal Care, Sexual Wellness and Home Care Segments. Raymond Consumer Care also has a worldclass condoms manufacturing facility with 400 million per annum capacity in Aurangabad,
Maharashtra.
Raymond Ltd Subsidiaries List
• Raymond Apparel Limited
• Colorplus Realty Limited
• Pashmina Holdings Limited
• Everblue Apparel Limited
• JK Files & Engineering Limited (Formerly known as JK Files (India) Limited) (Consolidated)
• Silver Spark Apparel Limited (Consolidated)
• Celebrations Apparel Limited
• Raymond (Europe) Limited
• Jaykayorg AG
• Raymond Woollen Outerwear Limited
• Raymond Luxury Cottons Limited
• Raymond Lifestyle Limited
• Raymond Lifestyle (Bangladesh) Private Limited
• TenX Realty Limited (w.e.f. 24 December 2021)
Associates
• P.T. Jaykay Files Indonesia
• J.K. lnvesto Trade (India) Limited (Consolidated)
• Ray Global Consumer Trading Limited (Consolidated)
• Radha Krshna Films Limited
Joint ventures
• Raymond UCO Denim Private Limited
• UCO Tesatura S.r.l.
• UCO Raymond Denim Holding NV