Shree Cement Limited is one of the top three cement groups in India in terms of production capacity. Being committed
to sustainable and inclusive growth, the company has installed the largest waste heat recovery based power plants in the world cement industry, next only to China. The company cement manufacturing and grinding units span across 10 states of Bihar, Chhattisgarh, Haryana, Jharkhand, Karnataka, Maharashtra, Odisha, Rajasthan, Uttar Pradesh and Uttarakhand.
Shree Cement Limited Profile
Shree Cement Limited is a public limited company domiciled in India and is incorporated under the provisions of the
Companies Act applicable in India. Its shares are listed at BSE Limited and National Stock Exchange of India Limited in India. The registered office of the Company is located at Bangur Nagar, Beawar, District – Ajmer-305901 (Rajasthan), India.
Shree Cement Limited is one of India's Top three cement producers and among the fastest growing, with an installed capacity of 43.4 Million Tonnes Per Annum in India and 47.4 including overseas. Be it OPC/PPC/PSC, Bag packing or loose cement in bulkers – our products meet the requirements of different customer segments. Shree also has an installed Power Generation Capacity of 752 Mega Watts which includes Waste Heat Recovery Power, Solar Power, Wind Power along with others.
The Company is engaged in the manufacturing and selling of cement and cement related products. It is regarded as one of the most efficient and environment friendly company in the global cement industry. Shree Cement Limited rank at 51st among the listed companies in India as on 31st March, 2022 in terms of market capitalisation.
46.40 MTPA Cement production capacity
4 – Number of locations with integrated plants in India
771 MW Total power generation capacity
1 – Number of location with integrated plants outside India (in UAE)
263 MW Green energy generation capacity (WHR, wind and solar)
10 Number of locations with standalone grinding units in India
Shree Cement has a consolidated Cement Production Capacity of 47.4 Million tonnes per annum (including overseas) and a Power Generation Capacity of 752 Megawatts. The company operations span across India and the UAE with 4 integrated plants in India, 1 in UAE and 9 Grinding Units.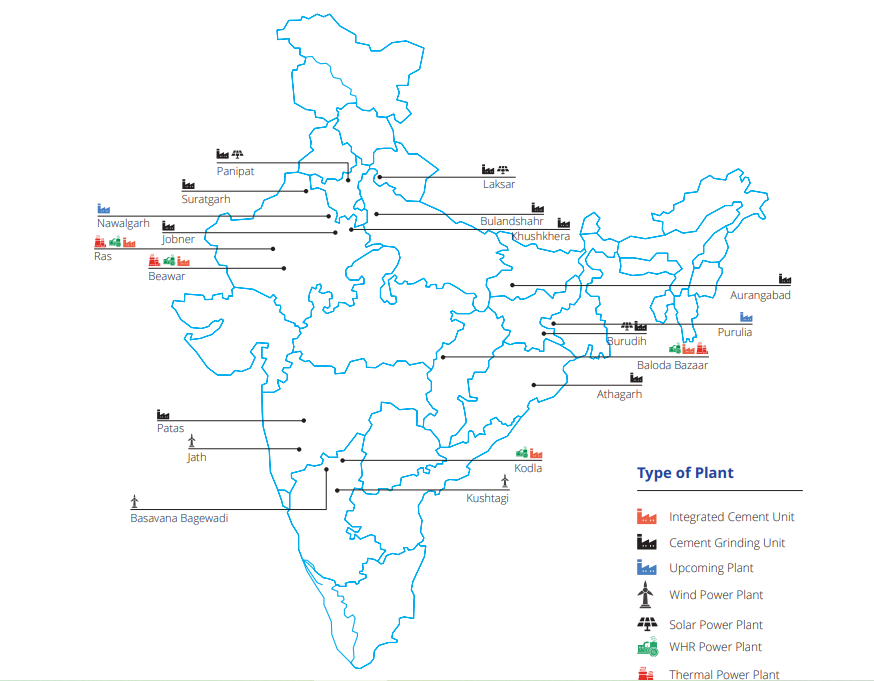 Shree Cement Product Portfolio
The company product portfolio is consciously diversified and dynamic to cater to different needs and requirements of customers. We are constantly striving hard to create a positive impact on the planet by developing products that are sustainable. The company products are a result of rigorous Research & Development (R&D) process involving innovation and
focus on quality. All brands enjoy high recall from customers. The company portfolio consists of varied type of cement with special focus on blended cement which contributes to circular economy.
Shree Cement Limited provide four major types of cement for customers based on their requirements:
Ordinary Portland Cement (OPC): OPC is a widely used form of cement, also known as Ordinary Portland Cement.
OPC can be used in normal as well as pre-stressed construction.
Portland Pozzolana Cement (PPC): When the clinker and gypsum are ground/mixed with pozzolana or silicious materials
such as fly ash, PPC is formed. PPC is more durable as compared to OPC due to formation of denser micro-structures. PPC is also known as cement of future because of its properties of sustaining hydraulic structures.
Portland Slag Cement (PSC): In PSC, by-product from iron blast furnace is mixed in suitable proportion with ground clinker and gypsum. Slag cement is a form of hydraulic cement and is also resistant to high temperature. It is used in sea water construction projects due to its resistance to sulphate attack.
Composite Cement (CC): Composite cement is used in the production of high strength durable concrete. Composite cement is prepared by replacing a portion of Portland cement clinker with industrial by-products such as fly-ash and Granulated Blast furnace Slag (GBS).
Also Read Top 10 Cement Companies in India
Shree Cement Limited valued products
Shree Jung Rodhak Cement is an all-purpose cement that provides strength and durability to all the structures through its strong corrosion resistant properties and is the most preferred choice in the segment. Available in: PPC
Bangur Cement is used for diversified construction purpose and is developed using German technology. It is a superior quality product that meets the global standards. Available in: OPC, PPC
Bangur Power Cement is a premium quality product meeting all international standards. It provides extra fineness, smoothness, greater coverage area, higher strength and resistance to corrosion. Available in: PPC, PSC, CC
Shree Cement is launched as the first cement brand by the Company. High on strength, this is well established brand, time tested and offer superior quality and durability to its customers. Available in: OPC, PPC, PSC
Rockstrong Cement An obvious choice for any type of construction with quick setting properties, durability and is an excellent value for money. Available in: PPC
Concrete Master Roofon Cement is one of the best concrete master that gives strong and long-lasting construction. It is suitable for all whether conditions and produces concrete that is crack resistant, thus making air-tight, water shield construction that is resistant to corrosion. Available in: PPC, PSC, CC.
Shree Cement Limited Directors
Chairman and Managing Directors of Shree Cement Limited
B.G. Bangur Chairman
Mr. B. G. Bangur is B.Com. (Hons) from Calcutta University and he brings to Shree an extensive experience of the Industry. He is Director in The Marwar Textiles (Agency) Pvt. Ltd., Shree Global FZE, Shree Enterprises Management Ltd., Shree International Holding Ltd., Union Cement Company (Pr.JSC), Ansh Trading DMCC, Ansh Investment Limited and SCL Investment Corp Pte. Ltd. He has also been actively associated with various philanthropic and charitable institutions and trusts.
H.M. Bangur Managing Director
Mr. H. M. Bangur is a Chemical Engineer from IIT, Mumbai. He brings to the Board technical insights, which are a driving force of the technical excellence achieved by the Company. Mr. Bangur is President of Rajasthan Foundation, Kolkata Chapter.
Mr. Bangur was the President of the Cement Manufacturers' Association (CMA) between 2007 and 2009 and Ex-executive Member of FICCI. He has been awarded with the prestigious "Ernst & Young Entrepreneur of the Year Award 2016" and "Forbes Leadership Award 2017". He is also Chairman of "The Bengal" an NGO actively engaged with Kolkata Police to provide all possible help to the old age people living alone.
Also Read ACC Limited Company Profile
Shree Cement Limited subsidiaries
The following are the subsidiaries of Shree Cement Ltd (Subsidiary).
1 Shree Global FZE UAE 100%
2 Shree International Holding Ltd. UAE 100%
3 Shree Enterprises Management Ltd. UAE 100%
4 Union Cement Company (PJSC) UAE 98.25%
5 Union Cement Norcem Company Limited L.L.C. UAE 60%
6 Raipur Handling and Infrastructure Private Limited India 100%
7 Shree Cement North Private Limited (w.e.f. 11.06.2022) India 100%
8 Shree Cement East Private Limited (w.e.f. 11.06.2022) India 100%
9 Shree Cement South Private Limited (w.e.f. 11.06.2022) India 100%