Aarti Industries Limited (Aarti Industries) is one of the most competitive benzene-based speciality chemical companies in the world. Aarti Industries is a rare instance of a global speciality chemicals company that combines process chemistry competence (recipe focus) with scaled up engineering competence (asset utilisation).
Aarti Industries Ltd was started in 1984 with just two products and one manufacturing unit. Today, the company myriad products are used not only in India but are also exported to 60+ countries world over.
Profile of Aarti Industries Ltd
Aarti Industries Limited (AIL) is a leading Indian manufacturer of speciality chemicals and pharmaceuticals with a global footprint. The company combine process chemistry competence (recipe focus) with a scale-up engineering competence (asset utilisation) for creating a sustainable future.
Sales: ₹ 7,427 Cr.
Operating profit: ₹ 1,854 Cr.
Net profit: ₹ 1,226 Cr.
Sales last year: ₹ 7,000 Cr.
EBIDT last year: ₹ 1,929 Cr.
Sales growth 3Years: 18.9 %
Over the last decade, AIL has transformed from an Indian company servicing global markets to a global entity with state-of-the-art manufacturing facilities in India. The company manufacture chemicals used in the downstream manufacturing of pharmaceuticals, agrochemicals, polymers, additives, surfactants, pigments and dyes.
The products company supply are used in downstream manufacturing with applications across a wide range of industries.
200+ Products
700+ Indian customers
400+ Global customers
17 Manufacturing plants
2 USFDA approved units
5,200+ Employees
The Company ranks among the top five globally for 75% of its portfolio and is a 'Global Partner of Choice' for various major global and domestic customers.
Aarti Industries Ltd has 17 has state-of-the-art manufacturing facilities located in India, the company produce high-quality speciality chemicals and pharmaceutical products, which are then exported to over 60 countries across the globe. With fully equipped modern manufacturing sites, most trusted one in the global chemical industry.
Total Assets: ₹ 8,641 Cr.
Reserves: ₹ 4,507 Cr.
Debt: ₹ 2,767 Cr.
Current assets: ₹ 2,797 Cr.
Current liabilities: ₹ 2,749 Cr.
Debt to equity: 0.59
Dividend yield: 0.56 %
Face value: ₹ 5.00
ROE 5Yr: 22.2 %
ROCE: 22.1 %
ROCE 3Yr: 17.5 %
Return on equity: 27.8 %
The company is the global leaders in benzene-based chemistry and have also diversified operations across other derivative chains. Since inception, the company has maintained unwavering focus on four major areas: technical know-how, Research and Development (R&D), customer centricity and sustainability.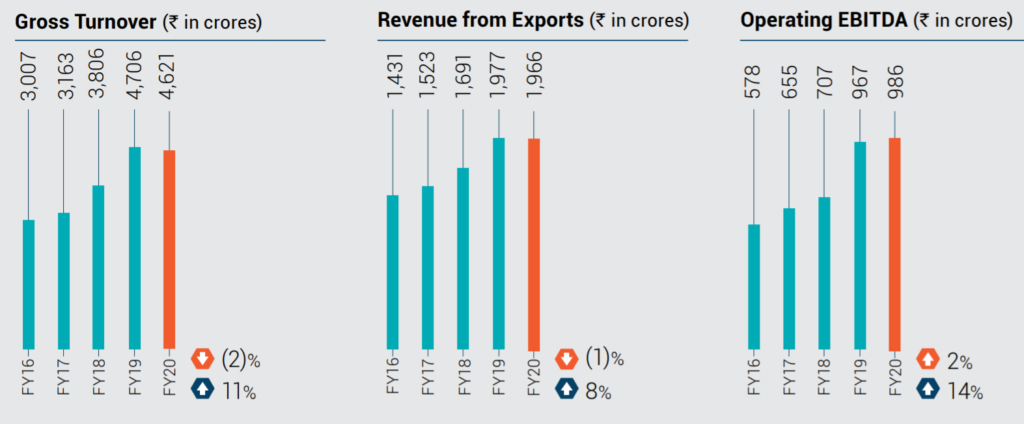 This has made the company Global Partner of Choice for market leaders and others in the
chemical industry. The company primarily operate two business segments –
Speciality Chemicals and
Pharmaceuticals.
Aarti Industries has a de-risked portfolio that is multiproduct, multi-geography, multi-customer and multi-industry. Its 200+ products are sold to 700+ domestic and 400+
export customers spread across the globe in 60 countries with major presence in the USA, Europe and Japan.
Its speciality chemicals and intermediate products find usage in pharmaceuticals, agrochemicals, polymers, pigments, printing inks, dyes, fuel additives, aromatics, FMCG and various other industrial sectors.
Speciality Chemicals Business
The Speciality Chemicals business is the cornerstone of Aarti Industries and contributes to ~84% of revenues. The company use feedstock materials such as benzene, toluene, nitric acid, chlorine, methanol, aniline sulphur, etc., along with a wide range of reactions to create highly integrated value chains.
The Company is also the only manufacturer of nitro fluoro aromatics using the Halex process and the only manufacturer of Phlyenediamines (PDA) value chain in India. Most of its speciality chemical products are primarily along the benzene-based value chain.
Other chemicals such as sulphuric acid and its derivatives, single super phosphate, Toulene-based derivatives, calcium chloride granules, fuel additives and phthalates are also part of its manufacturing portfolio.
Products in the speciality chemicals segment have varied applications across agrochemicals, pharmaceuticals, polymer additives, pigments and dyes industries. The
various processes used in the manufacturing operations include chlorination, nitration, ammonolysis, hydrogenation, ethylation and fluoro compounding. Aarti Industries has
integrated its operations across the product chain of benzene, sulphur and toluene which gives it the ability to effectively use co-products and generate value-added products
Active Pharmaceutical Ingredient (API)
The Company has five pharma manufacturing plants, two of which are approved by the United States Food and Drug Administration (USFDA) and the remaining three are World Health Organisation (WHO) and Good Manufacturing Practices (GMP) certified.
Aarti Industries Ltd is a world-class expertise and modern manufacturing infrastructure to develop APIs, intermediates and xanthine derivatives for the pharmaceutical and food/beverages industry. The company has its own backward integrated intermediaries for
most of the APIs that are manufactured.
The Company products are exported to regulated markets across the globe, including the US, and several countries in the European Union and Japan. The company has established a Custom Synthesis division to manufacture pharmaceutical intermediates to meet the requirements of various Indian and international customers.
Aarti Industries Products
APIs and intermediates for innovators and generic companies for varied applications such as anti-cancer, anti-asthma, anti-hypertensive drugs, oncology therapies, etc. Xanthine derivatives for applications such as in beverages, and for nutraceutical and other pharma applications.
The company manufacture intermediates of the following APIs:
• Abemaciclib
• Acalabrutinib
• Afatinib
• Apalutamide
• Apixaban
• Bazedoxifene
• Bosutinib
• Canagliflozin
• Duloxetine
• Eluxadoline
• Enzalutamide
• Epagliflozin
• Ertugliflozin
• Fluoxetine
• Fumarate
• Hydrochloride
• Ibrutinib
• Idelalisib
• Ivabradine
• Lacosamide
• Lumacaftor
• Montelukast
• Moxifloxacin
• Neratinib
• Osimertinib
• Palbociclik/
• Perindopril
• Quetiapine
• Quinapril
• Ramipril
• Ranolazine
• Ribociclib
• Rotigotine
• Teneligliptin
• Ter-Butylamine
• Tofacitinib
• Vardenafil
• Venetoclax
• Venlafaxine
The Company manufacture the following xanthine derivatives:
• Caffeine Anhydrous
• Theophylline
• Aminophylline
• Acephylline Piperazine
• Theobromine