Yasho Industries is a pioneer in specialty and fine chemicals manufacturing, incorporated in 1985 by Mr. Vinod Jhaveri. Equipped with a dedicated research and development centre and state-ofthe-art manufacturing facilities, the company manufacture 148 products across five business verticals – Food Antioxidants, Aroma Chemicals, Rubber Chemicals, Lubricant Additives, and Specialty Chemicals.
The company diverse product portfolio helps us serve a dynamic and far-reaching customer base across the world including the United States of America (USA), Europe, Asia, and the Middle East, securing around 64% of revenue from exports.
Yasho Industries Limited and its Wholly Owned Subsidiary 'Yasho Industries Europe B.V.' (collectively together referred to as
"the Group") is engaged in manufacturing and Distribution of Specialty and Fine Chemicals for industrial use.
Yasho Industries Ltd Profile
Yasho Industries Limited was incorporated in October 1985 as "Vasu Preservatives Private Limited" under the provisions of Companies Act, 1956. The Company is engaged in manufacturing of Specialty and Fine Chemicals for industrial use.
The products manufactured by the company are used by industries as diverse as Rubber & Latex, Food & Flavors, Perfumery, Lubricants, and other Specialty applications since 1993. The company has manufacturing facilities in three factories situated
in GIDC, Vapi, Gujarat, with its registered Office Located in Mumbai (Maharashtra).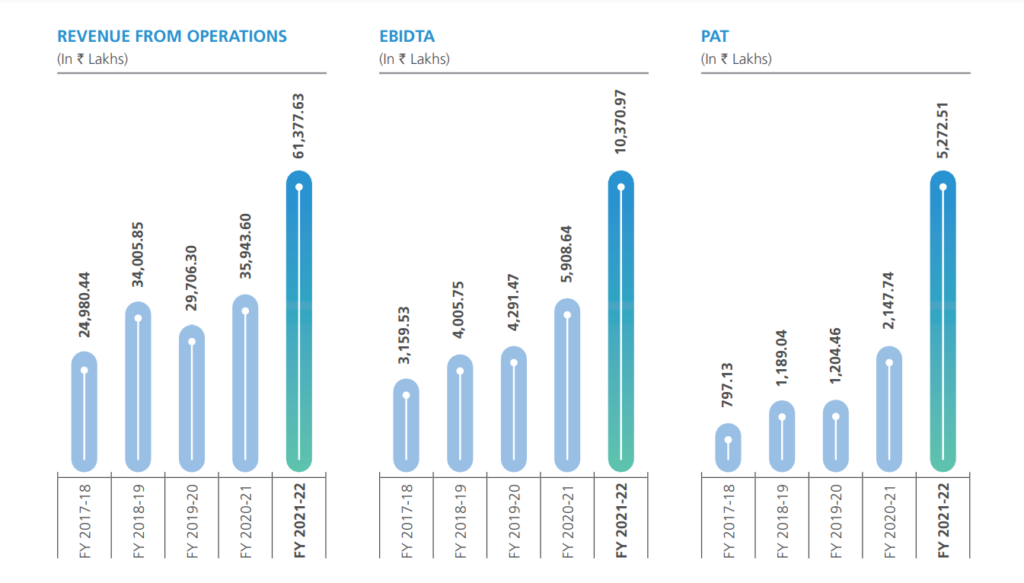 Yasho Industries Ltd markets, sells, and distributes a wide range of products to its diverse customers based in India and
abroad. Over the years, the Company has established its sales network both in domestic and international markets. Its products are exported to various countries i.e., South America, Europe, Australia, Africa, Asia, etc.
Revenue Model on the basis of Domestic and Export Sales:
• Domestic Sales (36%)
• Export Sales (64%)
Yasho Industries Ltd is engaged in the manufacturing of varied re-engineered chemicals since two decades. The company Product Mix of Chemicals
Aroma Range
Food Antioxidant
Rubber Chemicals
Lubricant Additives
Specialty Range Chemicals
Aroma Range Chemicals– The company manufactures various chemicals like fatty esters and Natural Essential/
aroma oils which cater to a gamut of Personal Care, Cosmetics & Toiletries, Flavors & Fragrances, and Pharmaceutical segments.
Food Antioxidant Range Chemicals– Company manufactures TBHQ Tertiary-butyl hydroquinone), BHA
(Butylated Hydroxy Anisole), AP (Ascorbyl Palmitate) and various complementary antioxidants which are used in
various food products containing oils & fats.
Rubber Chemicals– The Company manufactures accelerators and anti-oxidants for tyres, automotive parts, industrial use and latex articles.,. Your Company also caters to the leading processors of rubber in the Auto Ancillary, Tyre Industry, Construction, Industrial Machinery, and White Goods sector.
Lubricant Additives: The Company manufactures Lubricant Additives which include Aminic Antioxidants, Molybdenum-based Extreme Pressure & Antiwear Additives and Corrosion inhibitors which are required by the Petroleum and Synthetic Lubricants industries which improve the performance of lubricants by providing critical performance parameters. They have applications in hydraulic, turbine, engine and gear oils, metal working fluids and greases.
Speciality Range Chemicals– The Company manufactures various Specialty Chemicals used in different segments of the industry such as Electroplating chemicals, Intermediates for API/Bulk Drugs, UPR Resins/ Fibre Composites Resins, Thermoplastics Urethanes (Polyurethanes), Printing Inks & Agrochemicals, etc.
Yasho Industries Ltd Manufacturing
Yasho Industries Ltd operate three strategically located multi-purpose manufacturing facilities in Vapi, Gujarat. The facilities have a combined manufacturing capacity of 11,000 MTPA and are optimised to fulfil the quality and volume requirements of customers.
The company continue to invest in expanding capacities and accelerating production to meet the rising global demand. Recently, 42 acres of land have been acquired at Pakhajan Village, Dahej, Gujarat for the greenfield expansion of our manufacturing capabilities with Phase 1 planned to add 15,500 MTPA capacity.
The Company is focused on consistently upgrading the technology used in the manufacture of its products through its research and development ("R&D") efforts. The Company has a dedicated R&D center located at the manufacturing facilities.
The state-of-the-art laboratory uses modern quality control methods and sophisticated instrumentation such as AAS (Atomic Absorption Spectrophotometer), Digital Polarimeter, DSC (Differential Scanning Calorimetry), FTIR (Fourier-Transform Infrared Spectroscopy), GC (Gas Chromatography), HPLC (Highperformance liquid chromatography), Refractometer UV
Spectrophotometer. The R&D center is equipped with the latest technology.
The Company has 3 manufacturing units located in GIDC, Vapi, Gujarat, and has commenced construction of
one more manufacturing unit at the Pakhajan Village, Taluka Vagra, District Bharuch.
Mr. Parag Jhaveri – Managing Director and CEO
Mr. Parag Jhaveri has a Master of Science degree in Chemistry from Mumbai University. He has over three decades
of experience in the chemical industry.
He played a key role in ensuring the robust growth of the organisation with
oversight over the functions of sales, finance, R&D, and marketing along with founder promoter. Under his visionary leadership, the Company has built a model for a sustainable future.
Mr. Vinod Jhaveri – Chairman and Executive Director
Mr. Vinod Jhaveri is one of the founding promoters of the Company. He is a Commerce graduate from Gujarat
University. He remains the main guiding force behind the growth and business strategy of the Company. He currently
plays a crucial role for the overall management affairs of the Company.
He played a key role in ensuring the consistent growth of the Company and has helped build a robust framework for
excellence in implementation.