Mangalam Organics Limited is a pioneer in the field of pine chemistry. It is a leading manufacturer of terpene and rosin derivatives. The company operations are led by an
experienced management team, with over five decades of experience in the pine chemicals industry.
The company principal raw material to manufacture Camphor, is procured from across the globe: Brazil, Argentina, Chile, USA, Russia, Indonesia, Vietnam, China, Portugal,
and Spain, among other countries.
Domestic sale of Camphor and Synthetic Resins takes place through the network of 8 offices across India. The company products are also exported to Europe, USA, African, Middle Eastern and South East Asian countries.
Profile of Mangalam Organics Ltd
Mangalam Organics Limited (henceforth referred to as MOL or the Company) is a leading pine chemicals manufacturer in India. The Company produces Terpenes from Pine chemicals, from which a number of sub products like Camphor, Dipentene and Sodium Acetate are manufactured.
It also produces Synthetics Resins under the single segment of chemicals. It is engaged in the manufacturing and selling of Camphor and by-products and various Synthetic Resins in India and abroad.
The strength of its pine chemical products lies in the fact that they are extracted from natural resources and are devoid of the side effects of synthetic chemicals. The market performance of these products is not dependent on crude oil and the volatility of its prices.
The Company's products have applications in a number of sectors such as religion and worship, pharmaceuticals, flavour and fragrance, rubber & tyre chemicals, paints and varnishes, among others.
The Company caters to both domestic and the international market. In addition to having a wide reach and strong footprint in the domestic market, it is expanding its global operations. As its products have a variety of industrial applications, it has established
a strong B2B presence, despite facing competition from domestic and international players.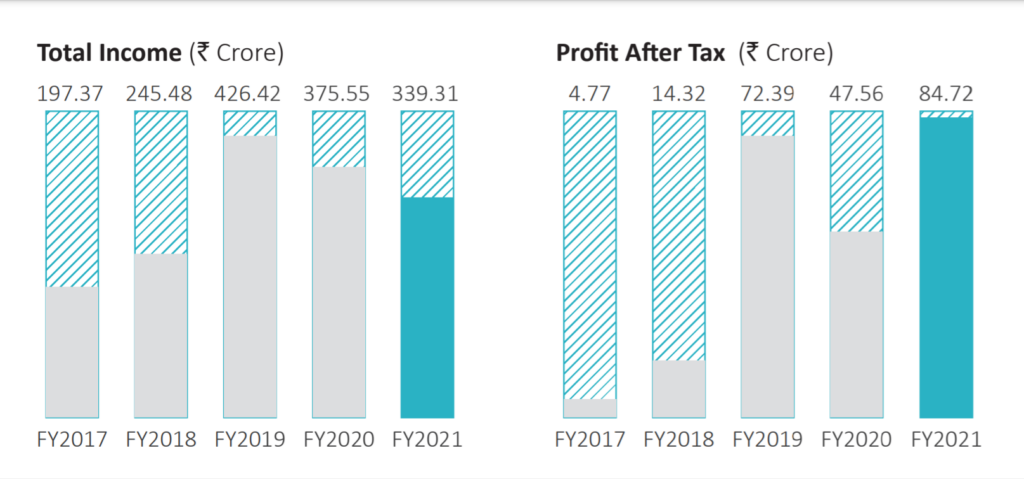 The Company has created a niche for itself in the pine chemicals industry as one of the major players with its customers spanning across Europe, Africa, USA and Middle East.
With its decades of domain experience and backed by an experienced management
team, MOL is creating its base in the Indian retail market with its branded offerings in camphor. The Company is tying up with a number of retail brands and e-commerce platforms to augment its B2C business.
The Company has a state-of-the-art manufacturing facility spread across about 25 acres (101,200 Sq. Meters) at Kumbhivali village in the Raigad district of Maharashtra.
The manufacturing site also has a logistic advantage as it is situated on the Mumbai-Pune
expressway for Pan-India road connectivity. Container terminal Jawaharlal Nehru Port (JNPT) is situated about 60 kms away from the plant.
The manufacturing operations are highly automated and run by a robust operation system that efficiently integrates the functions related to quality control, stores, packing, dispatch, maintenance and R&D. The Company regularly reviews the plant systems,
procedures and practices to enhance productivity, efficiency and safety. The manufacturing activities of the products confirm to statutory pollution control standards.
MOL manufactures a wide range of high demand products under this sub-segment. This is the key raw ingredient for producing camphor and related products. The Company is focusing on production efficiency and quality control so that it can produce international quality intermediate products and their derivatives for the fragrance and flavour industry.
The Company has been exploring new product development from terpenes and is further
exploring the retail opportunity to expand its market reach through diversification.
Camphor
Camphor is the primary product of the Company which contributes 80% of total sales in Terpenes. Due to its ability to impart a sense of complete purity to the religious devotees, it finds the widest application in religious use in the domestic market. This
is a naturally derived product that completely burns off with no residue. Camphor was earlier sold as a commodity.
However, as it presents a large retail opportunity, it enables the Company to forward integrate and diversify into the FMCG space by retailing the products through Modern Trade, General Trade and E-Commerce.
The Company continues to leverage the growing retail opportunity and is confident of continuing growth in the years ahead. It continues to grow capacities and grades offered from the same unit to capture a larger market share in the domestic and export markets. MOL has the following registered brands.
Mangalam Organics Products and Brands
Dipentene: Dipentene is a by-product in Camphor manufacturing and is used as a solvent in the paints industry. The Company offers various grades of this material. Dipentene is a ready substitute in formulations of cleaning and degreasing agents, as Limonene faces supply shortages. It is also witnessing demand growth in the export
market as a substitute for Limonene.
Sodium Acetate: Sodium Acetate is used as a dye intermediate by textile and dye
manufacturers. It also finds application in leather tanning industry and is exported to Europe.
SYNTHETIC RESINS: MOL manufactures three broad types of synthetic resins, with each of them having a large domestic and export market. The Company is confident of all the categories in this segment and is continuing its efforts to enhance margins and build higher volumes in each of them.
Terpene Phenolic Resin: Terpene Phenolic Resin finds application in the adhesive, tyre and rubber industries as a tackifier. The Company foresees an increase in volumes, revenue and profitability over the years ahead.
Alkyl Phenolic Resin: Alkyl Phenolic Resin finds application in Neoprene and Chloroprene rubber-based adhesives. The Company is working with consultants to improve its quality of products as per global standards and leverage the growing export opportunities.
Rosin Esters: Rosin Esters finds application in pressure sensitive adhesives. The Company is working with consultants to improve its quality of products as per global standards and leverage the growing export opportunities.