Digicontent Group consists of Digicontent Limited and its wholly owned subsidiary HT Digital Streams Limited.
The business operations of HT Digital Streams Limited (subsidiary) are dissemination of news, knowledge, information, entertainment and content of general interest in English, Hindi or any other language, globally through various digital and electronic media; and management of advertising time and space on its news websites namely hindustantimes.com, livemint.com and livehindustan.com.
Profile of Digicontent Limited
Digicontent Limited DCL has a robust and agile product portfolio, poised to capitalise on emerging opportunities. It, along with its 100% subsidiary, offers content sourcing services and is engaged in the dissemination of news, knowledge, information, entertainment and content of general interest through various digital and electronic media.
Revenue: ₹ 254 crore
EBITDA: ₹ 26 crore
Digicontent Ltd undertakes management of advertising time and space on news websites such as
hindustantimes.com,
livemint.com and
livehindustan.com.
Digicontent Limited also operates several other businesses in the entertainment & digital innovation space.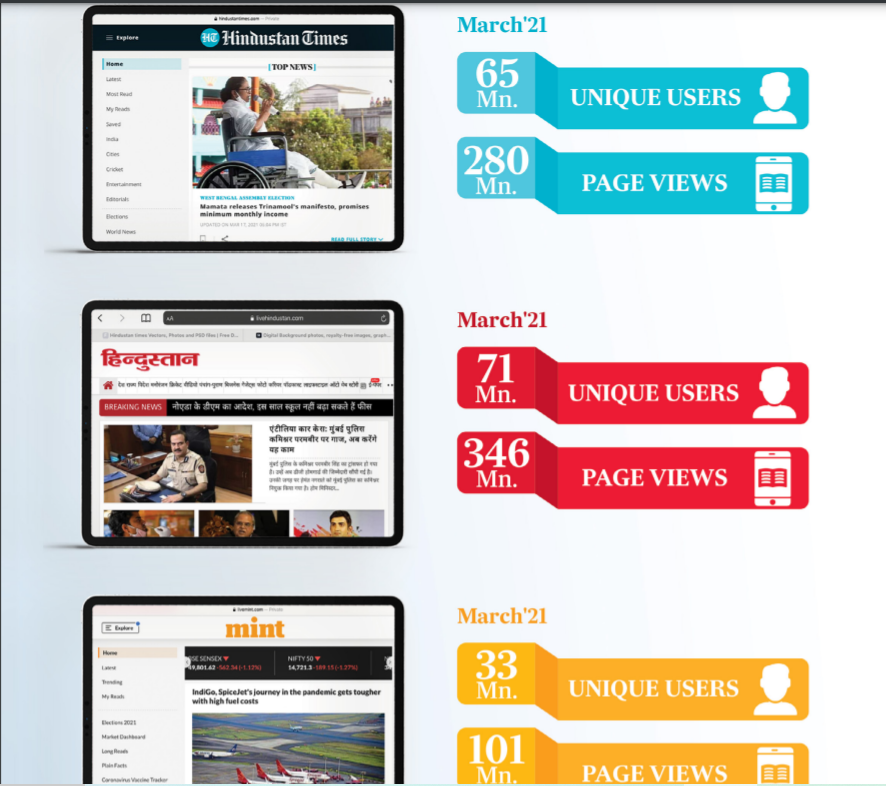 Product Portfolio of Digicontent Limited
The following are the Product portfolio of Digicontent Limited
Digital Content Business
Digicontent Limited produces, sources or has rights to high quality and large volume of multimedia literary content. It specializes in the development of original literary content
in the digital media sphere. The Company provides content sourcing services to news publishers, who use this content in newspaper editions, periodicals and supplements.
hindustantimes
hindustantimes.com has been catering to India's rapidly expanding digital news and information industry, establishing itself as a credible source for delivering unbiased news, devoid of sensationalism and voyeurism.
Ranked No. 2 English news website
40 million Monthly video views
In an age where fake news continue to penetrate every realm of society, hindustantimes.com has stood out as a trustworthy and reliable news source.

hindustantimes.com, one of the country's fastest-growing English news and information website, has seen exponential growth over the last year.
livehindustan
livehindustan.com is one of the leading Hindi language news and information websites in India. The product rides high on the back of a strong digital content team that churns out breaking and developing stories real time, catering to the immediate news consumption of the audience, with increasing focus on hyper-local content.
Ranked No. 2 Hindi news site
Smart interactive multimedia such as coronavirus tracker, win and loss maps during elections, monsoon tracker, live cricket scores during cricket matches, have been the key offerings that enhance user experience.
livemint
The online portal livemint.com's growth and rise has been aided by comprehensive business news coverage by the online editorial desk generating content real time effectively, boosted by its user-friendly interface, personalised service, and innovative mobile-first approach.
In September 2020, Mint launched its new brand positioning – 'Think Ahead. Think Growth.'. A digital-first marketing campaign – Growth Is On – was launched with the objective of recognising how individuals continued to grow through the pandemic through evolution and adaptation.
Ranked No. 2 Business news site
New content buckets were introduced on the Mint social media handles. The campaign concluded with the launch of personal growth labs program. Livemint, having gone behind the paywall last year, enjoys a strong user base for its subscription offering, which is in collaboration with Wall Street Journal.
desimartini.com
As one of the leading movie reviews and ratings website, desimartini.com encourages conversations around entertainment. It is a gateway for all movie fans, offering updates on movie storylines, celebrity casts and preview information about various movies.
It also posts exclusive celebrity photos and fosters conversation around movies through feedbacks, ratings, polls and discussions on the forum.
Fever Audio Tools (Fabplay)
Fever Audio Tools (FAT) enables aggregation and creation of audio and multi-screen videos. It uses audio feed to play music and promotional material in stores, malls, buildings, restaurants and eateries. It also strives to offer creative content developed in-house as well as niche content from celebrities for its mobile and digital users.
Fabplay (www.fabplay.in) is a premium on-premises audio streaming platform. It is a fully cloud-based commercial audio application that can be configured without additional
hardware or software requirements at stores.
It provides real-time control of store experience from a central console, where playlists can be customized for different store clusters, along with providing customized advertising management functions.
In December 2020, a new version of the Fabplay in-store application was launched and the new interface was positively received. In FY 2020-21, the product added over 1500 new stores.
HT Auto
HT Auto website covers reviews and test drives of various auto launches, in video and text formats. Within a few months of its release, the platform managed to build a strong social
media presence. The website offered a 360-degree view of Auto Expo 2020, covering recent news and related videos.
During the year, HT Auto carried out extensive reporting on the pandemic and lockdown-related issues impacting the automobile sector and consumer tastes across the world. With easing of lockdown restrictions, the editorial team began exhaustively reporting from the field and covered every major vehicle launch.
HT Auto also organized panel talks before and after the Union Budget 2021-22, live streamed on the website and all social media platforms. HT Auto continues to hold virtual forums & panel talks with industry leaders.
HT Tech
Digicontent Limited, through HT Tech, forayed into the niche tech digital journalism platform during the year. It aims to provide its users a differentiated experience and has been able to build a niche following. HT Tech's YouTube channel focuses on creating and hosting cutting-edge product insights, comparisons, and unboxing updates, which are widely shared on social media.
HT Bangla
Launched in November 2019, HT Bangla witnessed a significant uptick during the year, with a rapidly growing millennial audience. It has established its credentials in the highly competitive Bengali news market. The platform has established itself as a major player in the Bengali market within a year of its inception. With 71% repeat users, HT Bangla has developed a loyal follower base with maximum followers within the 15-34 years age group.
Health Shots
Health Shots is a unique health and wellness destination for millennial women. It offers tailor-made content for discerning, modern women through in-depth features, entertaining yet informative videos, and engaging podcasts. It is built on the pillars of expert-backed content for wellness need of Indian women, and aims to fill the gap between what women want and what they find on the internet.
Digicontent Limited (DCL) engages its readers and brands with impactful campaigns and content integrations. The portal also features intuitive tools in collaboration with industry leaders.
Subscription Business
Within a year of launch of subscription business stream, the Company saw healthy growth in subscribers on the heels of strong brand recall and differentiated content. The Company
also inked partnership with several banks, payment wallets, etc. to strengthen subscription segment.