Prestige Estates Projects Ltd is one of the largest and most acclaimed real estate developers in India. Having begun journey in southern India in 1986, the company has delivered 247 world-class projects spanning 134 mn sq. ft.
Sales₹ 7,094 Cr.
Operating profit₹ 1,688 Cr.
Net profit₹ 1,439 Cr.
Sales last year₹ 6,390 Cr.
EBIDT last year₹ 1,722 Cr.
Sales growth 3Years7.30 %
Also Read Houseware Companies in India
Profile of Prestige Estates Projects Ltd
Prestige Estates Projects Ltd was Founded in 1986, the Bengaluru headquartered Prestige is one of India's largest and most successful real estate developers. The Company has a pan-India presence and proven expertise across all the segments in real estate space ranging from residential to commercial, retail to hospitality and property management.
34+ years LEGACY
247 PROJECTS COMPLETED SPANNING 134 MN SQ. FT.
PROJECTS SPANNING 137 mn sq. ft. IN THE MAKING
5 BUSINESS SEGMENTS
PRESENCE IN 12 MAJOR INDIAN CITIES
The Company delivers projects which are a fine blend of luxury, comfort and futuristic designs. Since inception, Prestige has played a pivotal role in transforming the face of major Indian cities with its iconic landmarks. A customercentric organisation, it has consistently delivered state-ofthe-art projects with industry-leading service standards.
Total Assets₹ 32,824 Cr.
Reserves₹ 8,980 Cr.
Debt₹ 7,590 Cr.
Current assets₹ 21,300 Cr.
Current liabilities₹ 17,825 Cr.
Debt to equity0.81
Dividend yield0.32 %
Face value₹ 10.0
ROE 5Yr7.12 %
ROCE8.51 %
ROCE 3Yr10.9 %
Return on equity6.09 %
Prestige has the privilege of being the first and only developer in India to be accredited with CRISIL DA1 grading. It has been acknowledged by the Industry with 300+ accolades for quality, excellence and brand value, apart from being
ISO 9001 certified.
Corporate Identity Number of the Company (CIN): L07010KA1997PLC022322
Name of the Company – Prestige Estates Projects Limited
Registered office – Prestige Falcon Tower, No. 19, Brunton Road, Bangalore-560 025
Website of the Company – www.prestigeconstructions.com
Email id – investors@prestigeconstructions.com
As on March 31, 2020, the Company has completed 247 projects, with a cumulative 134 mn sq. ft. Prestige also has 45 ongoing projects (spanning 52.33 mn sq. ft.) and 38 upcoming projects (spanning 57.30 mn sq. ft.). Since inception and are now spreading the company wings to capture emerging demand across 12 top locations throughout India.
What is the turnover of prestige group?
Prestige Estates Projects Ltd has a turnover of ₹ 7,406 Crore in recent year.
Residential Projects
Prestige Estates Projects Ltd residential projects include townships, apartments, luxury villas, mansions, row houses, town homes and golf developments.
The company designed Bengaluru's first Disney-themed luxury township and also designed a property crafted around an 18-Hole Championship Golf Course. Spanning 12 cities, The company cater to both the mid-income and premium segments, delivering contemporary and comfortable living spaces.
Prestige Lakeside Habitat, Prestige Acropolis and Prestige Shantiniketan are some of the top residential properties created by the Group.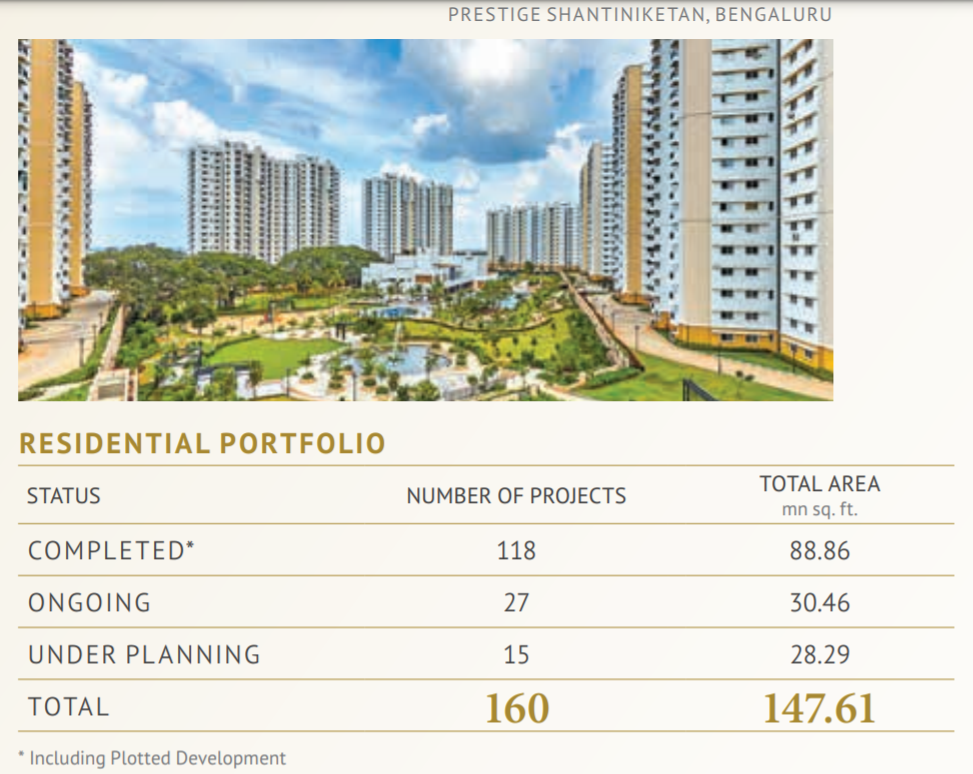 Prestige has cumulatively delivered 118 residential projects, spanning 89 mn sq. ft.
The residential segment contributed ₹ 58,865 million in revenues or 72.99% of total revenue.
The Company delivered 7000+ homes during the year and is expecting to deliver more residences in the coming years.
Commercial / Office Projects
Prestige Estates Projects Ltd develop modern and smart office spaces in prime localities of
India's metros. With a strong presence in the southern markets, the company is now expanding footprint to top locations in Mumbai, NCR and Pune.
The company clientele includes both multinational and national organisations who function across a range of sectors.
Retail Projects
With iconic Forum malls, Prestige Estates Projects Ltd has been creating favourite destinations for city goers to enjoy their time with friends and family. The malls host both national and international brands and have been historically reporting healthy trading volumes.
Forum Mall Koramangala, UB City, the prize-winning Forum Vijaya Mall, Forum Sujana Mall, Forum Fiza Mall are some of the 10 Forum malls created by Prestige that draw an
average annual footfall of over 75 million.
Forum malls are landmarks in major South Indian cities and popular social destinations.
The company shopping malls have demonstrated record footfalls and have high occupancy
levels. The company currently have 10 Forum malls operational with FY 2019-20 exit rentals at ₹3,356 million, and seven malls in the making.
List of Major Prestige Estates Projects
The Prestige Group today has become a name that is synonymous with innovation. The company has pioneered many landmark developments and introduced many firsts to South India:
Prestige Acropolis: A tribute to classical Greek architecture, one of the first Premium residential developments in Bangalore.
Prestige Ozone: One of the first gated communities in Bangalore.
The Forum mall: Pioneered the retail revolution in Bangalore. Globally-recognised and probably the first successful retail mall in the country which created new benchmarks in modern day retailing.
Forum Value Mall: South India's first real outlet mall featuring international and national brands.
The Collection, UB City: The Collection, UB City: South India's first luxury mall (Partnered initiative with Vijay Mallya – UB Group).
Prestige Golfshire: South India's first golf villa development set against the picturesque Nandi Hills. Spread across 275 acres, the property comes complete with ultra-luxurious mansions, a club house – Falcon Greens, a luxury spa – Quan, a private lake and an 18 hole, championship-sized golf course. With this project, the Prestige Group has also introduced the world-class, luxury, 5-star resort hotel – The Marriot International to Bangalore.
Prestige Shantiniketan: South India's first wholly integrated township development.
Prestige Lakeside Habitat: Largest residential development by the company till date, in terms of acreage and the total number of residences (spanning 102 acres & consisting of 3,428 apartments and 271 villas). Apart from being the biggest upcoming residential township development in the country today, this development introduces Disney-inspired residences to Bangalore.
Contact and Registered office address
REGISTERED OFFICE
Prestige Falcon Tower, No.19, Brunton Road,
Bengaluru – 560 025
Tel: +91 80 25591080
Fax: +91 80 2559 1945
E-mail: properties@vsnl.com

BRANCH OFFICES
CHENNAI
Prestige Polygon, 471, Anna Salai Nandanam,
Chennai – 600 035, Tamil Nadu
Ph: +91-44-42924000
HYDERABAD
Level 1, Merchant Towers, Banjara Hills, Road No.4,
Hyderabad – 500 034, Telangana
Ph: +91-40-23351440/41
KOCHI
801, 8th Floor, Prestige TMS Square,
NH – 66 Bypass, Padivattom,
Edapally, Kochi – 682024, Kerala
Ph: 0484 – 4025555, 4030000
PANJIM
Unit G8, Geras Imperium II, Patto Plaza,
Panjim – 403 001
Goa
Ph: +91-83-22970333
MANGALORE
Prestige Valley Crest,
Opposite to Bejai Museum Bus Stop, Bejai
Mangaluru – 575004
Tel: +91 824-4263939
MUMBAI
The Capital, B-Wing, 10th Floor, Unit 1001 C,
Bandra Kurla Complex, BKC-G Block,
Mumbai- 400051
Tel: 6366771791
DUBAI
UAE Marketing Office
Office No. 509, Level 5, Standard Chartered Tower,
Emaar Square, Down Town Burj Khalifa
Dubai, UAE
Tel: 0502123138 / 0581762255
E-mail: dubai@prestigeconstructions.com
Among the largest Real estate developer
Now with 205 landmark developments across the city, the company has extended its expertise to major cities across South India including Chennai, Hyderabad, Kochi, Mysore, Mangalore and Goa.
Giving each city an unparalleled experience with landmark malls on the lines of 'The Forum', large townships, tech parks, hotels, luxury villas, and SEZs. The company already has several successful completed and ongoing projects in Chennai to its credit, spanning the commercial and retail segments.
Prestige Cyber Towers, Prestige Polygon and Prestige Palladium are three completed commercial developments, which have received an overwhelming response. The Forum Vijaya Mall, Chennai's largest mall was unveiled in 2013.
The Prestige Group launched Chennai's first township project – a Rs. 1,000 crore development in partnership with the Rattha Group in 2012. They also launched Prestige Silver Springs – the first-of-its-kind luxury villas in the city in 2013.