Johari Digital is a global MedTech company with 40+ years of expertise in medical device manufacturing. The manufacturing facility complies with MDSAP, ISO 13485:2016, and FDA (21 CFR 820) standards and processes.
Johari Digital is one of the first MDSAP and US FDA certified GMP audited manufacturing company in India. It is first company to get US FDA clearance for their electro medicine device in 1986 and further continued to get more than 15 products FDA certified for professionals in physical therapy and medical aesthetic, sports medicine and neuro-rehab.
Johari Digital Company Profile
Johari Digital Healthcare Ltd designs, develops, engineers and produces electronic medical devices to be distributed worldwide.
Johari Digital Healthcare Ltd core services range from design to development, electronics, and mechanical engineering, prototyping, system integration, packaging, Home Healthcare Devices and supply chain. Johari also helps clients with regulatory and compliance support to reduce product's Time to Market.
Market Value: 500 cr.
Number of Employees: 200+
Headquarter: Jodhpur, Rajasthan, India
Company Website: www.joharidigital.com
Johari Digital Healthcare Ltd caters to its global clients from a 65,000 square foot, state-of-art medical device manufacturing facility in India, along with an R&D Center in Europe. Johari's manufacturing portfolio includes innovative life science products, diagnostic devices, and therapeutic devices.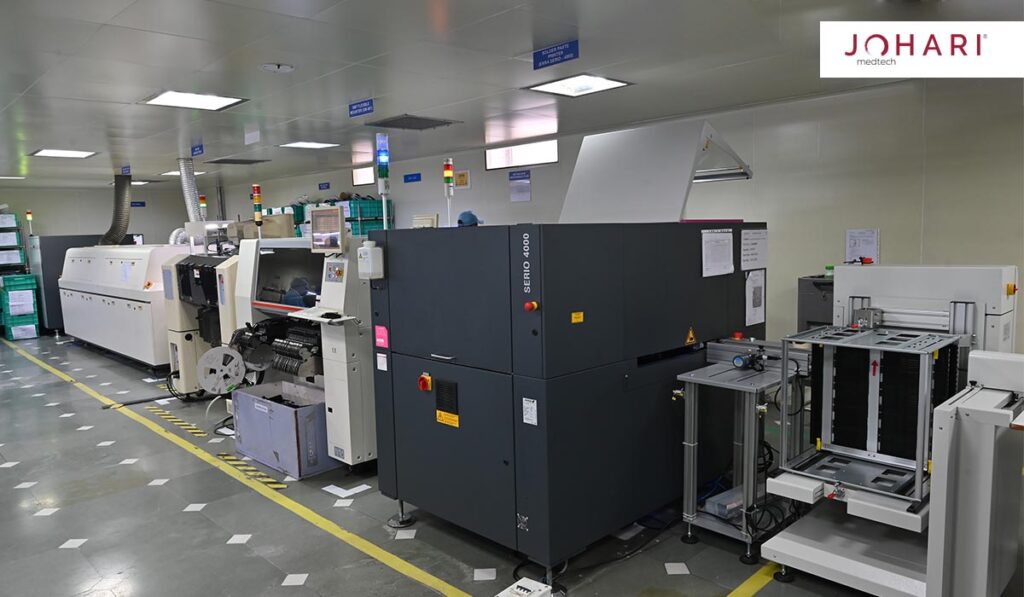 They provide manufacturing of complex to high-volume products for Global MedTech giants as well as innovative start-ups. Johari has a Ready-to-Market product portfolio of wellness and therapeutic devices for Private Label. We optimize cost and deliver innovative futuristic healthcare solutions.
The company has recently signed an MoU with IIT-Jodhpur to establish the 'Johari's Incubation and Innovation Centre'. With the State-of-Art Manufacturing setup, a dedicated DSIR recognized R & D and a distribution center, Johari Digital has become a preferred electronic medical device manufacturing company in India for many reputable brands from Life Science, Bio Science, Healthcare industry.
Key Services Offered
The company Key Services are
Full Turnkey Medical Device Manufacturing
Design and Engineering
Contract Manufacturing
Regulatory & Quality Assurance
Industry Segments
The Company Industry segment Include
Life Science
Diagnostics
Therapeutic Devices
Home Healthcare Devices
Company History
Mr. Satyendra Johari, Chairman, Founder, JDHL was driven by a strong will to establish a firm ground for advanced medical manufacturing in his native place to promote healthcare and development in the local community. The company started with hearing aid production in a 500 sq. ft garage. In 1978, Johari became one of the top three companies in India to produce hearing aids. Finally, in 1987 the operations moved to a larger 7200 sq ft manufacturing facility. In 1989 Johari became one of the pioneer players to receive US FDA 510k clearance for electrotherapy devices.
As the work and demand for Johari products/services grew, the facility shifted to a 45000 sq. ft manufacturing facility & succeeded in getting ISO 13485 GMP audit in 2005. In a bigger space production boosted and processes became more robust and agile in meeting deadlines, innovating, and grabbing global clients.
In 2019 Johari Medtech was honored with India SME 100 awards. Being a firm dedicated to healthcare device manufacturing Johari aims to become a significant contributor in the mission of making India self-sufficient in healthcare.
In 2021, observing a steady growing demand of global business in MedTech, Johari Digital expanded its facility, adding a sprawling 20,000 sq ft Design & Engineering center. With the expansion, Johari is well-positioned to handle increasing projects in multiple domains of healthcare including life science products, diagnostic devices, and therapeutic devices.
Awards & Recognitions
Here is the List of Awards & Recognitions from the company
Udhyog Ratna Award – Govt of Rajasthan 2018
Top 100 SME Award 2019
Axis SCM Finance Award
Best Anchor – Health & Pharma – 2019 – Dun & Bradsheet
Best MSE Award – SBBJ Rajasthan
Excellency Award – Times Group
Women Pride Award – ICSI
Best Women Entrepreneurship Award – Bharat Petroleum
Best Women Entrepreneurship Award – Entrepreneurship Development Cell, CGI, Jodhpur