Mphasis Ltd is an Information Technology solutions provider that applies next-generation technology to help enterprises transform businesses globally.
Sales: ₹ 13,332 Cr.
Operating profit: ₹ 2,348 Cr.
Net profit: ₹ 1,570 Cr.
Sales last year: ₹ 11,961 Cr.
EBIDT last year: ₹ 2,278 Cr.
Sales growth 3Years: 15.7 %
Mphasis has the ability to blend deep domain expertise with cutting-edge technology, which has helped cement its position with marquee clients and build momentum for the future. Its Front2BackTM and Zero Cost Transformation are proven transformation frameworks that allow it to play across the tech value chain.
Profile of Mphasis Ltd
Mphasis applies next-generation technology to help enterprises transform businesses globally. Customer centricity is foundational to Mphasis and is reflected in the Mphasis' Front2Back™ Transformation approach. Front2Back™ uses the exponential power of cloud and cognitive to provide hyper-personalized (C=X2C2TM=1) digital experience to clients and their end customers.
Mphasis' Service Transformation approach helps 'shrink the core' through the application of digital technologies across legacy environments within an enterprise, enabling businesses to stay ahead in a changing world. Mphasis' core reference architectures and tools, speed and innovation with domain expertise and specialization are key to building strong relationships with marquee clients.
Total Assets: ₹ 11,147 Cr.
Debt: ₹ 1,045 Cr.
Equity capital: ₹ 188 Cr.
Current assets: ₹ 5,705 Cr.
Current liabilities: ₹ 3,167 Cr.
Debt to equity: 0.15
Dividend yield: 2.36 %
Face value: ₹ 10.0
ROE 5Yr: 19.4 %
ROCE: 27.4 %
ROCE 3Yr: 26.3 %
Return on equity: 21.2 %
Mphasis Ltd was formed in June 2000 after the merger of Mphasis Corporation and BFL Software Limited. In June 2006, EDS purchased a controlling stake in this company. In August 2008, EDS was acquired by Hewlett-Packard (HP). On 4 April 2016, HP entered into a definitive agreement with private equity funds managed by Blackstone to sell the shares held by it in the Company.
In September 2016, Blackstone Group through its fund "Marble II PTE" completed the share purchase and the Company has become a Blackstone group of Company since then. Blackstone is one of the world's leading investment and advisory firms with over US$880 billion in assets under management. In April 2021, Blackstone committed up to $2.8 billion to acquire controlling stake in Mphasis, along with Abu Dhabi Investment Authority (ADIA) and UC Investments (Office of the Chief Investment Officer of The Regents, University of California) and other long-term investors.
The company Net revenue in FY22 was ₹ 119,614 million representing a growth of 23.0% over FY21.
Mphasis' unique tribes-led, competency-based go-to-market (GTM) and solutioning model positions it strongly in digital areas – the tribes are GTM specialists organized around high-demand tech themes that are instrumental in driving clients' next-generation tech agendas. Tribes are institutional and repeatable in their design.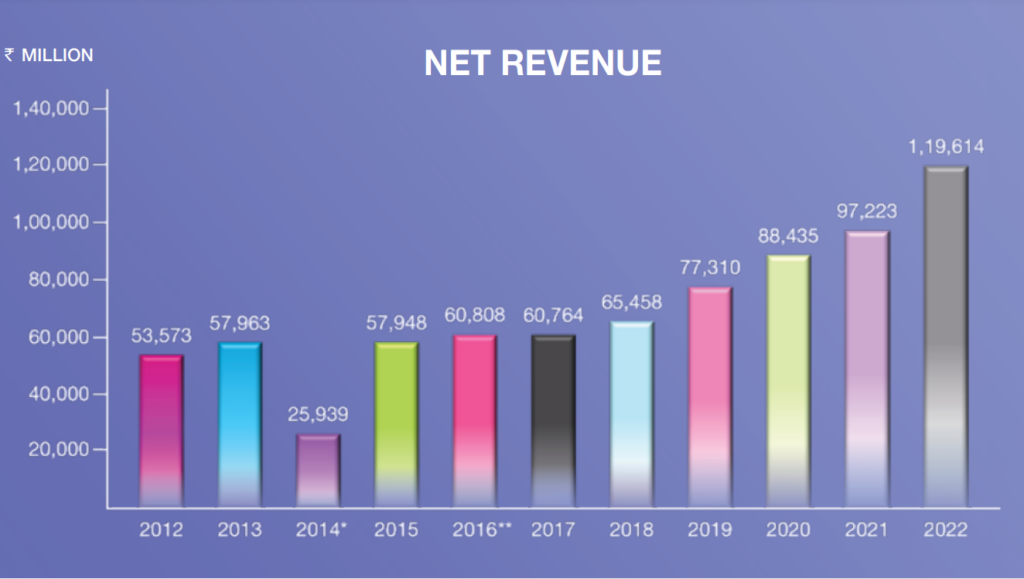 Mphasis continually creates new tribes or redesigns existing ones based on the what it sees as high-potential secular opportunities. Furthermore, Mphasis supports the tribes model with a smart surround- andreinforce strategy that characterizes Mphasis' innovation DNA – including client Chief Technology Officer (CTOs) embedded in key and promising accounts, the consulting-oriented Technology Advisory Group (TAG), programmatic innovation (harnessing the start-up ecosystem), focused research and Intellectual Property (IP), (innovation from the labs to the real world), and technology vision provided by the Mphasis Technology Council (MTC).
Mr. Davinder Singh Brar, Chairman
Mr. Davinder Singh Brar joined the Board of Mphasis in April 2004 and is the Chairman of the Board effective 11 December 2015. Mr. Brar graduated with a Bachelor of Engineering (Electrical) degree from Thapar Institute of Engineering and Technology, Patiala and has a Master's in Business Administration with top rank (Gold Medal) from the Faculty of Management Studies, University of Delhi.
Mr. Brar started his career in 1974 with The Associated Cement Companies Limited (ACC) and has been associated with the
Pharmaceutical Industry for over four decades. He spent a major part of this period (1977 – 2004) with Ranbaxy Laboratories Limited and became the CEO and Managing Director in 1999. Mr. Brar started his entrepreneurial journey in 2004 with GVK Biosciences (Now Aragen Life Sciences Private Limited) – a leading contract research organization (CRO) providing discovery and development services to global life sciences companies.
Mr. Brar holds Board positions in Maruti Suzuki India Limited, Wockhardt Limited, Punjab Innovation Mission, EPL Limited
(Chairman of the Board), Konnect Agro Private Limited, Mountain Trail Foods Private Limited and acts as a senior advisor to private equity and venture funds. He is currently the Chairman of Aragen Life Sciences Private Limited and Excelra Knowledge Solutions Pvt. Ltd. He is also a member of the Advisory Board of the USA-India Chamber of Commerce (USAIC).
Mr. Brar was a director of Reserve Bank of India (RBI) and a member of the inspection and audit sub-committee of the Central Board of Directors of RBI. He has also served as a member of the Board of National Institute of Pharmaceutical Education and Research (NIPER), Punjab and as a member of the Board of Governors of the Indian Institute of Management, Lucknow. He was associated with Confederation of Indian Industry (CII) where he Chaired CII's Indian MNC Council and with Federation of Indian Chambers of Commerce and Industry (FICCI) in the past.
Mr. Brar was a member of the Prime Minister's task force on pharmaceuticals and knowledge-based industries which drafted the blueprint for the growth and global expansion of Indian Pharmaceutical Industry. For his service and contribution to the pharmaceutical industry, Mr. Brar was honoured with the Dean's Medal from the Tufts University School of Medicine, U.S.A. in 2004. The Federation of Asian Biotech Associations (FABA) conferred on Mr. Brar the "FABA Special Award 2011" for his contribution to the biopharma sector.
Mphasis Limited
Mphasis ltd is organized around accounts, not by traditional vertical/horizontals. There is not the traditional matrix structure of vertical/ horizontals/geos that can weigh down decision-making. This means that Mphasis' GTM is aligned along the customer as the basic unit and resource allocation is done at a granular level of the customer. This creates improved agility and responsiveness.
The client-centric agile org design enables Mphasis to successfully focus on account depth reflected in an improving average revenue per client. The depth over breadth positioning also means Mphasis makes more considered choices regarding its new clients by shortlisting and targeting those clients that can scale. This is bearing fruit as can be seen in the scale-up of Top-5/10 clients over a sustained time period. The growth engine has got diversified through FY22 with clients outside the Top-10 also on a strong double-digit growth trajectory.
Mphasis ltd has four clients which contributed >US$100 million in annual revenue (FY22). Finally, innovation in delivering technology solutions is not possible without the requisite talent transformation. Mphasis has an effective talent transformation approach appropriate with the new gen positioning.
Talent Next
'Talent Next' offers an established, scalable extensive training program that organically trains, certifies and deploys employees in new gen areas. This aligns delivery capability with GTM/sales and current/future client priorities. Talent Next builds up skill muscle for transformation.
Talent Next nicely facilitates absorbing freshers/ less experienced employees into projects. It is quite versatile in meeting the training and upgradation needs of the diverse workforce of varying skills, backgrounds, and experience. Key building blocks that help drive Mphasis' growth and ensure its sustainability include creating and cultivating talent, executing large transformative programs, addressable market expansion (organic and inorganic), reimagining business models (e.g., migration to as-aservice provisioning models) and staying at the forefront of next gen tech using the Tribes and the surrounding ecosystem.