Refex Industries Limited was incorporated in 2002 on identifying the immense commercial potential of refrigerant gases market in India – breaking the hitherto existing duopoly in this controlled market.
Profile of Refex Industries Limited
Refex Industries Limited(RIL) is a specialist manufacturer and re-filler of Refrigerant gases in India, particularly, environmentally acceptable gases that are replacements for Chloro-fluoro-carbons (CFC's). These are used primarily as refrigerants, foam blowing agents and aerosol propellants.
Refex is successfully nipping away from its competition in the business of refilling Hydrofluorocarbons (HFCs) through its pan-India distribution network. Thereafter,
since 2015, after identifying an equally enormous opportunity in the cross-value chain services for power generation sector in India, we have only expanded into newer domains within the sector.
An immensely under-invested segment of providing valueadded services to the thermal power plants such as roundthe-clock coal yard management, fly ash disposal handling,
and coal trading, Refex has resolved to increase its footprint in this segment from its current scale to 10x in the next five years. It requires undeterred determination and microfocus.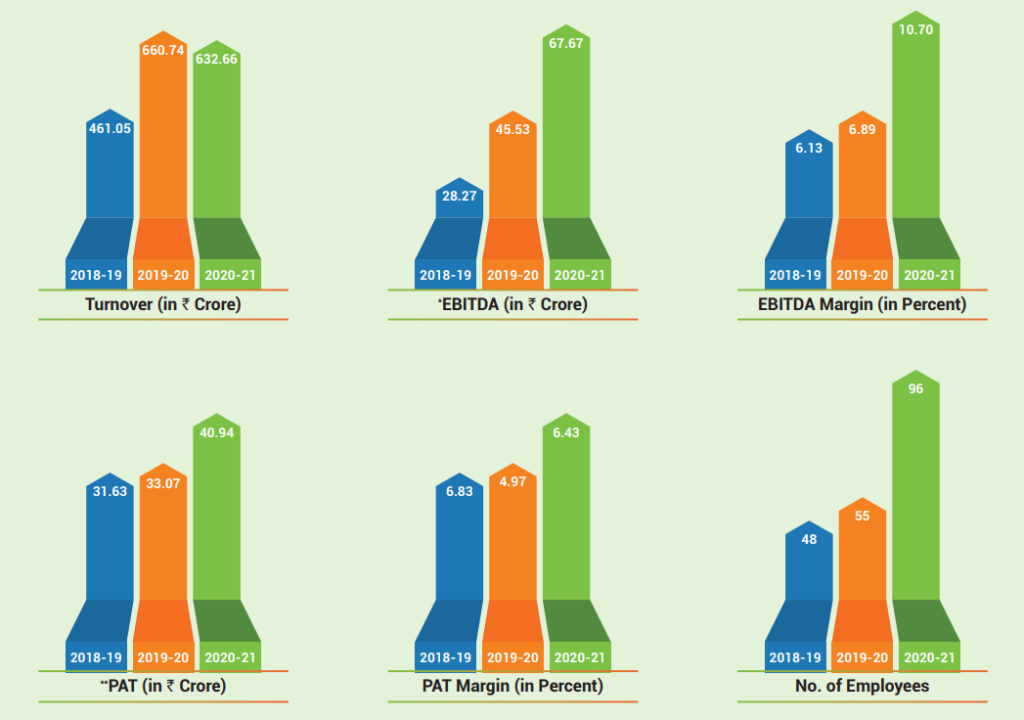 The Company believes in the significance of energy for any growing economy. The recent global natural disasters have strengthened Refex's resolve to slowly move into renewable
energy sources. This journey of being an energy producer has begun with a 5 MW solar power plant at Vituza village in Barmer, Rajasthan.
Refex's intention is to grow rapidly. The Company's leadership team, led by Anil Jain, is strong in its resolve to learn and understand nuances of the trade. The team aspires to internalise best practices to grow this segment and find radical solutions to expand the portfolio that can stand on its own against the intensive competition in the country in the renewable sector.
In addition to this, closely analysing our carbon footprints, the target for us during next fiscal would be to identify a roadmap with respect to the reduction of the same.
Refrigerant Gas Division
This division is slowly regaining its lost glory. In the next couple of years, this business will grow into a stronger self and aims to be within the top five in the country, in profitability, before 2025.
Operations & Management (O&M) Services Division
Currently, the company is providing Operations and Management (O&M) Services to the thermal sector. The company intend to expand the scope of services into other energy-producing sectors. Today, even though the company is a small player in this segment, the company aspire to capture a 5 Percent market share within the next five years.
Ash Disposal Division
This division has the most significant business prospects across the country. With over 50 Percent of the ash being generated in India not being disposed of efficiently, there is a massive potential to expand the services offerings to other thermal power producers. The company currently provide services to four thermal power plants, which are looking to expand at a rapid pace.
Shri Anil Jain Chairman & Managing Director
A driving force behind the expansion of Refex Industries Limited, Anil Jain has successfully mapped the growth path for the Company into various key infrastructural sectors such as coal & ash handling, solar power generation, refrigerant gases and allied value-added services in the thermal power generation value chain.
With over 23 years of experience in successfully heading various business operations,
he has deployed his sharp business acumen and robust virtuosity in various management functions to accelerate the progress of Refex Industries Limited. He is also actively involved with various trade bodies such as The Associated Chambers of Commerce and Industry in India (ASSOCHAM) and the National Solar Energy Federation of India (NSEFI).
In addition to this, Anil also has a social dimension, where he is fostering entrepreneurship at the community level through his Board membership of Jain International Trade Organisation (JITO) Apex council.