Syngene International Limited is an integrated research, development, and manufacturing organization providing services from early discovery and development to commercial manufacturing for small and large molecules.
Syngene International Limited has Six operational units (Four in Bangalore, one in Mangalore and one in Hyderabad). The company has ability to deliver world-class solutions is driven by highly qualified team, including over 4,700 scientists, and supported by state-of-the-art infrastructure and market-leading technology.
Profile of Syngene International Limited
Syngene is headquartered in Bangalore, India. The company has one research campus and two sites in Bangalore, one research campus in Hyderabad and one manufacturing campus in Mangalore. Syngene USA Inc., a US-based wholly-owned subsidiary of Syngene, supports US-based clients.
The company researchers work in multiple therapeutic areas to meet the needs of bio-pharmaceuticals clients. The company also serve the nutrition, animal health, consumer goods, and specialty chemicals sectors.
General Information about the Syngene International Limited Company
Corporate Identity Number: L85110KA1993PLC014937
Name of the Company: Syngene International Limited
Registered address: Biocon SEZ, Biocon Park, Bommasandra Industrial Area, Phase IV, Jigani Link Road, Bangalore – 560 099
Website: www.syngeneintl.com
Email-id: investor@syngeneintl.com
Financial year reported: 1st April, 2020 to 31st March, 2021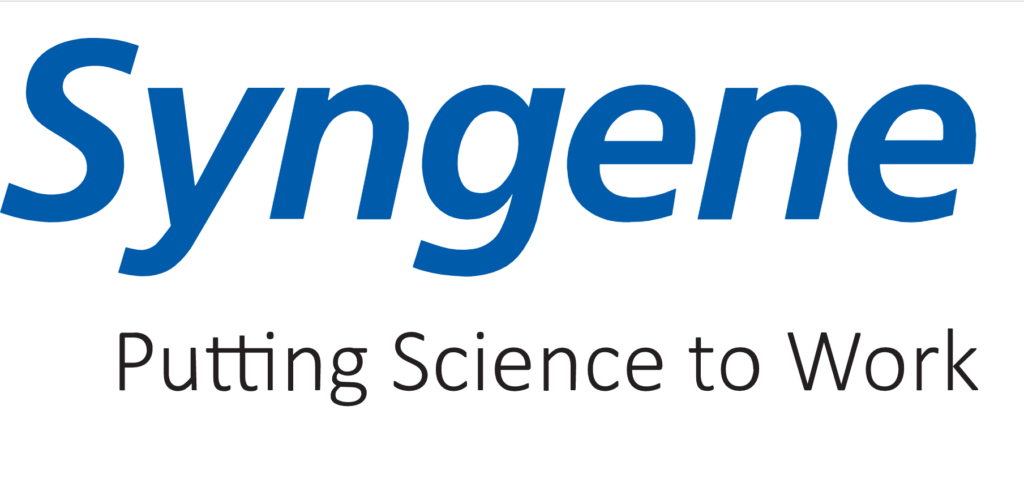 The company culture of scientific innovation is driven by the expertise of our highly qualified team of 5,000 employees and supported by state-of-the-art infrastructure and market- leading technology.
Syngene International Limited Business Division
Syngene International Limited Syngene has four divisions:
Discovery Services,
Development Services,
Manufacturing Services and the
Dedicated Centres.
Dedicated R&D Centre
Syngene International Limited has Dedicated R&D facilities for strategic clients providing exclusive access to research teams, infrastructure, and project management to support the client's R&D requirements.
Discovery Services
Engaged in early-stage research from target identification to delivery of drug candidates for further development. Capabilities includes Chemistry, Biology, Safety Assessment, and
Research Informatics for small molecules; recombinant DNA engineering, cell line development, Next Generation Sequencing, and protein sciences for large molecules.
Chemistry
Biology
Safety Assessment
Research Informatics
Development Services
Engaged in activities from pre-clinical to clinical trials, including drug substance and drug
product development, and associated services to demonstrate the safety, tolerability, and
efficacy of the selected drug candidate, cGMP compliant manufacturing of clinical supplies, and registration batches for small molecules.
Manufacturing Services
Engaged in the manufacturing of small and large molecules for commercial supplies through cGMP compliant facilities, a state-oftheart API manufacturing campus and a biologics manufacturing facility.
Syngene International Limited operates Dedicated R&D Centers for four clients:
Amgen Inc.,
Baxter Inc,
Bristol-Myers Squibb (BMS) and
Herbalife