TCNS Clothing co Limited design, manufacture, market and retail a diverse portfolio of women's branded apparel across multiple categories of product lines. With 4 segment defining brands The company have the widest distribution presence across category. The company have a track record of creating homegrown brands by leveraging The company comprehensive understanding of Indian women's needs and aspirations.
TCNS Clothing co Limited Profile
TCNS Clothing was set up in 1997 with the aim to empower Indian Contemporary Woman through her fashion choices. TCNS is among select few success stories in creating multiple scaled independent brands in Women's apparel segment. TCNS
has a portfolio of 4 segment defining brands which sets it poised for high-growth possibilities in the Women's apparel segment.
TCNS Clothing co Limited has emerged as the market leader in the women's ethnic and fusion wear category, because of deep insights into the target "Indian women customer", unmatched brand building capabilities, diversified and responsive supply chain, widest panIndia reach, established online and omni-channel capabilities, and Institutionalized product design capabilities and strong supply chain infrastructure.
A team of 50+ designers with an institutionalized design process encompassing understanding of evolving customer preferences, understanding of regional complexity, robust feedback process, data insights and a scientific approach to size and fits backed by pan-India anthropometric study, gives a competitive advantage to the company.
The company refreshes its inventory every two to three weeks with 5000+ designs throughout the year. The Company has evolved from being a pure play apparel company to a lifestyle company. Following its success in scaling up its brands in apparel segment, the Company is expanding its brand portfolio into other products that offer head-to-toe fashion solutions for women.
Also Read 6 Best Clothing Brands for Women
TCNS Clothing co Ltd Products and Brands
TCNS Clothing co Ltd product portfolio includes top-wear, bottom-wear, drapes, combination-sets, and accessories that cater to the Indian woman's wardrobe needs, including every-day wear, casual wear, work wear and occasion wear.
The company have grown The company brand portfolio to four brands over the years, each positioned to meet the specific needs of their relevant target consumers. With 50+ inhouse design team and 150+ suppliers across India, The company have a scalable, well-connected and diversified design to shelf network.
TCNS Clothing co Limited have also diversified The company portfolio beyond women's apparel to foot wear, accessories and cosmetics. The company are now evolving gradually from being an apparel-only brand to a lifestyle brand that provides customers with a comprehensive wardrobe solution.
To meet this objective, TCNS incubated and developed four brands under which its products are sold.
"W",
"Wishful",
"Aurelia" and
"Elleven"
'W' is tcns premium fusion wear brand that combines Indian and Western sensibilities, while emphasising unique design
and styling. The brand primarily caters to the work, casual, and light occasion wear needs of the modern Indian woman.
'Wishful' is premium occasion wear brand that specialises in elegant designs for women's evening wear and special
occasions.
'Elleven' is companies coordinates brand that promises to be the ultimate destination for bottoms and drapes selections.
'Aurelia' is company contemporary ethnic wear brand, aimed at a broader demographic seeking a combination of great design, fit, and quality.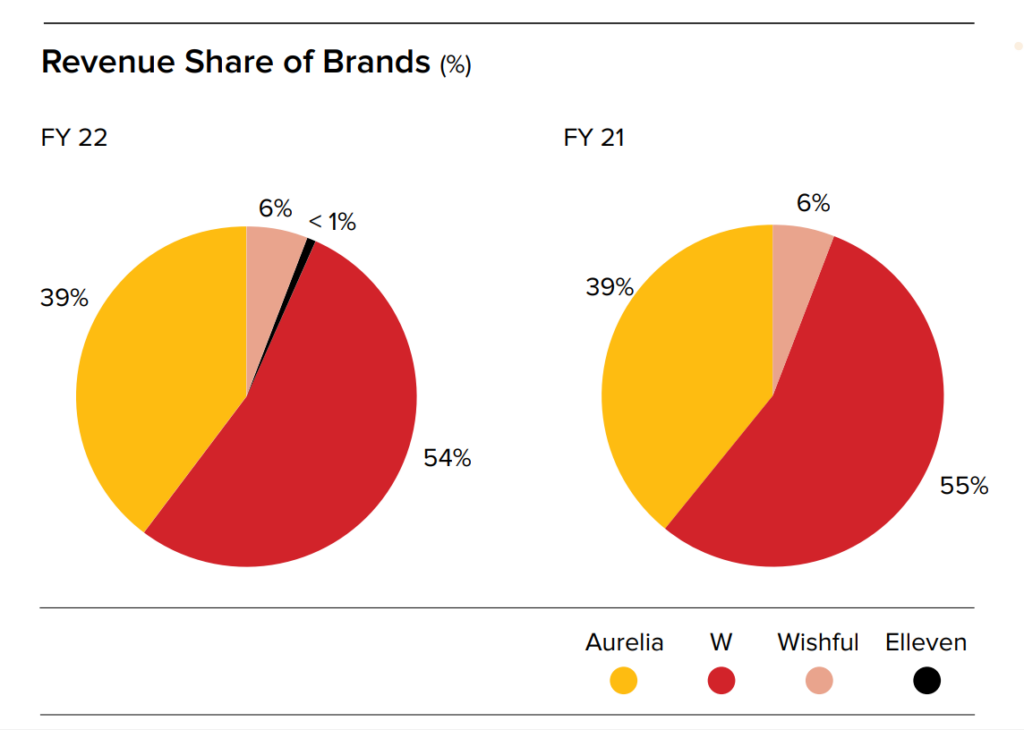 As an organisation The company have scaled up expansion with introduction of new categories like footwear, jewellery and
cosmetics. In addition to new product categories, The company also offer collections from Folk Song- an exclusive range which offers
Authentic, Soulful and Handcrafted products ;
Plus Sizes – an extension to their existing size chart;
Aurelia Girls – Trendy Indian wear for girls.
TCNS Clothing co able to efficiently distribute and sell products to target customers through EBOs and website, as well as associations with large format stores, multi-brand outlets, and online retailers. The multi-distribution channel and pan-Indian retail footprint is managed by frontend retail employees supported with technology and processes that The company have invested in developing over the years.
The company has established a strong presence across India and select International locations by leveraging a proven product and retail model. Every year, The company create over 5000 styles across product categories for consumers and sell at 4000+ points of sale across channels and countries.
Mr Onkar Singh Pasricha – Chairman and Executive Director
Mr Onkar Singh Pasricha holds a Bachelor's degree in Technology in Electrical Engineering from Indian Institute of Technology, Delhi. One of the Co-founders of TCNS Clothing Co. Limited, he has been on Board since December 3, 1997.
He has more than 40 years of experience in the apparel industry, including retail/trading from the early 1970s, manufacturing and exporting of apparel to international brands and setting up contract manufacturing operations in other countries to serve global markets. He has been also awarded the Entrepreneur of the year by Images North Indian Awards (FY 2019).
Mr Anant Kumar Daga – Managing Director
Mr Anant Kumar Daga holds a Bachelor's degree in Commerce from the University of Calcutta and a Post-Graduate Diploma in Management from Indian Institute of Management, Ahmedabad. He joined the Company as a Chief Executive Officer with effect from March 16, 2010, and has been on the Board since September 7, 2016.
Prior to joining Company, he has worked with Reebok, India and with ICICI Bank. He also got featured in the Economic Times' 40 under 40 list of India's hottest business leaders for 2017 and has been awarded the 'Brand Professional of the Year Award' at the CMAI Apex Awards 2017.