Westlife Development Limited owns and runs a chain of restaurants in Western and Southern India through
Hardcastle Restaurants Pvt. Ltd., its fully owned subsidiary. Through this subsidiary, the Company is a master franchisee
of McDonald's Corporation, USA.

Through its subsidiary, Westlife owned and operated 326 restaurants and 262 McCafes across the Southern and Western states of Goa, Tamil Nadu, Karnataka, Andhra Pradesh, Telangana, Gujarat, Maharashtra, Madhya Pradesh and Kerala by the close of FY 21-22.
Westlife Development Ltd Profile
Westlife Development Limited (WDL) is a leading company in the Indian QSR sector operating through Hardcastle Restaurants Private Limited (HRPL), a wholly-owned subsidiary. The Company aims to establish its expanding chain of QSR as the consumer's most favored eating-out destination.
Listed on the Bombay Stock Exchange (BSE: 505533) Westlife Development Limited's market capitalisation stood at about ₹7.5 bn as on March 31, 2022. The Company's revenues comprised sales by Company-operated restaurants. In FY 21-22, the Company recorded a revenue increase of 60% to ₹15,764.90 Mn compared to ₹ 9,860.31 Mn in FY 20-21
The Company employed a workforce of ~10,000, serving millions of customers a year. More than the volume, the Company set a service benchmark, turning consumers to McDonald's every time they felt the need to eat or drink and spend time with their families. Over the years, McDonald's extended its service from
Dinein to Drive-thru,
On-the-Go and McDelivery (online ordering through the app and website),
widening its omni-channel convenience and accessibility
In all its brand campaigns, the Company has leveraged the McDonald's brand image of affordability, accessibility, quality, visibility and dependability. The Company carried out brand campaigns to establish McDonald's as the ultimate food-tech
destination. The Company has also associated with celebrities for brand promotions of their McSpicy fried chicken with Rashmika Mandanna and BTS meals (inspired by the famous BTS Band).
Westlife Development Limited is a public limited company having its registered office at Mumbai. WDL focuses on putting up and operating Quick Service Restaurants (QSR) in India through its wholly owned subsidiary Hardcastle Restaurants Private Limited. Hardcastle Restaurants Private Limited ('HRPL') was incorporated on August 7, 1995. HRPL is engaged in operating McDonalds' chain of restaurants in the West and South Regions of India. WDL and its subsidiary are together referred to as "the Group".
Hardcastle Restaurants Private Limited (HRPL)
Hardcastle Restaurants Private Limited (HRPL), through its QSR chains, caters to the informal dining industry which is characterised by a growing demand for offering a hygienic and diverse menu within a small ticket size.
McDonald's restaurants are operated by HRPL in the Western and Southern parts of India. McDonald's has retained its position as the ninth-best global brand in 2021. Its tagline 'I'm lovin'it has built a strong recall associated with quality and quick service, accessibility and affordability. McDonald's had 40,344 restaurants in over 100 countries as of March 31, 2022.
The Company intends to establish market leadership through network expansion in tier-1 and tier-2 cities, increasing
the drive-thru portfolio and continuing modernization of stores. 25 new restaurants were added in FY 21-22 taking the total to 326 restaurants across 47 cities in western and southern India as of March 31, 2022. Out of 326 restaurants, 64 are in the drive-thru format, 262 have McCafes and 118 are Experience Of The Future (EOTF) restaurants.
HRPL operates more than 300 McDonald's restaurants (as of September 2019) across 42 cities in the states of Maharashtra, Karnataka, Telangana, Gujarat, Tamil Nadu, Kerala, Chhattisgarh, Andhra Pradesh, Goa and parts of Madhya Pradesh, and provides direct employment close to 10,000 employees.
Westlife Development Ltd Products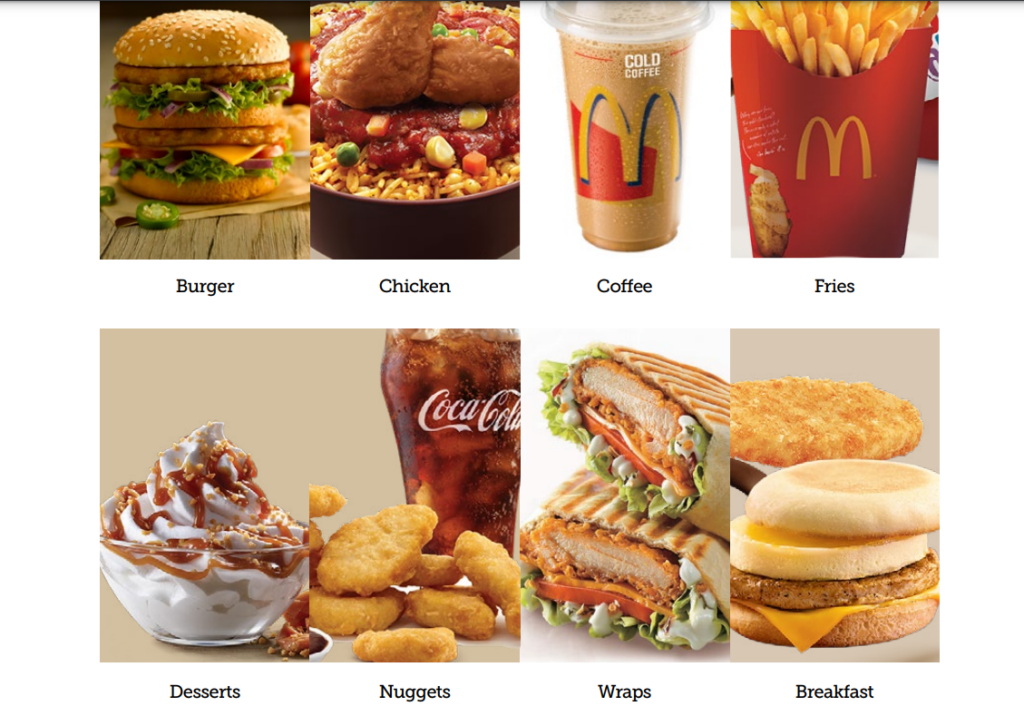 McDonald's operates through various formats including standalone restaurants, drive-thru's, mall food courts, McDelivery and dessert kiosks. It also has three thriving brand extensions – McDelivery, McCafe and McBreakfast.