The total organised Indian Food and Beverage Industry [F&B industry] is expected to be ~Rs. 4,00,000 Crores market as on 2019 and projected to grow by 2.5x to ~Rs. 10,00,000 Crores by 2025 (CAGR of 16%) – leveraging India's favourable demographic (1.4 Billion strong population, rising income levels and higher urbanisation).
The F&B segment constitutes ~30% of household spending and is expected to sustain the wallet share, going forward.
Food and Beverage Industry
India's food and beverage industry consumption in 2019 is estimated at ~Rs. 30 Lakh Crores. The 'in-the-kitchen' segment, comprising staples, spices and condiments, dairy and others, accounts for ~70% of the food and beverage basket, or ~Rs. 21 Lakh Crores.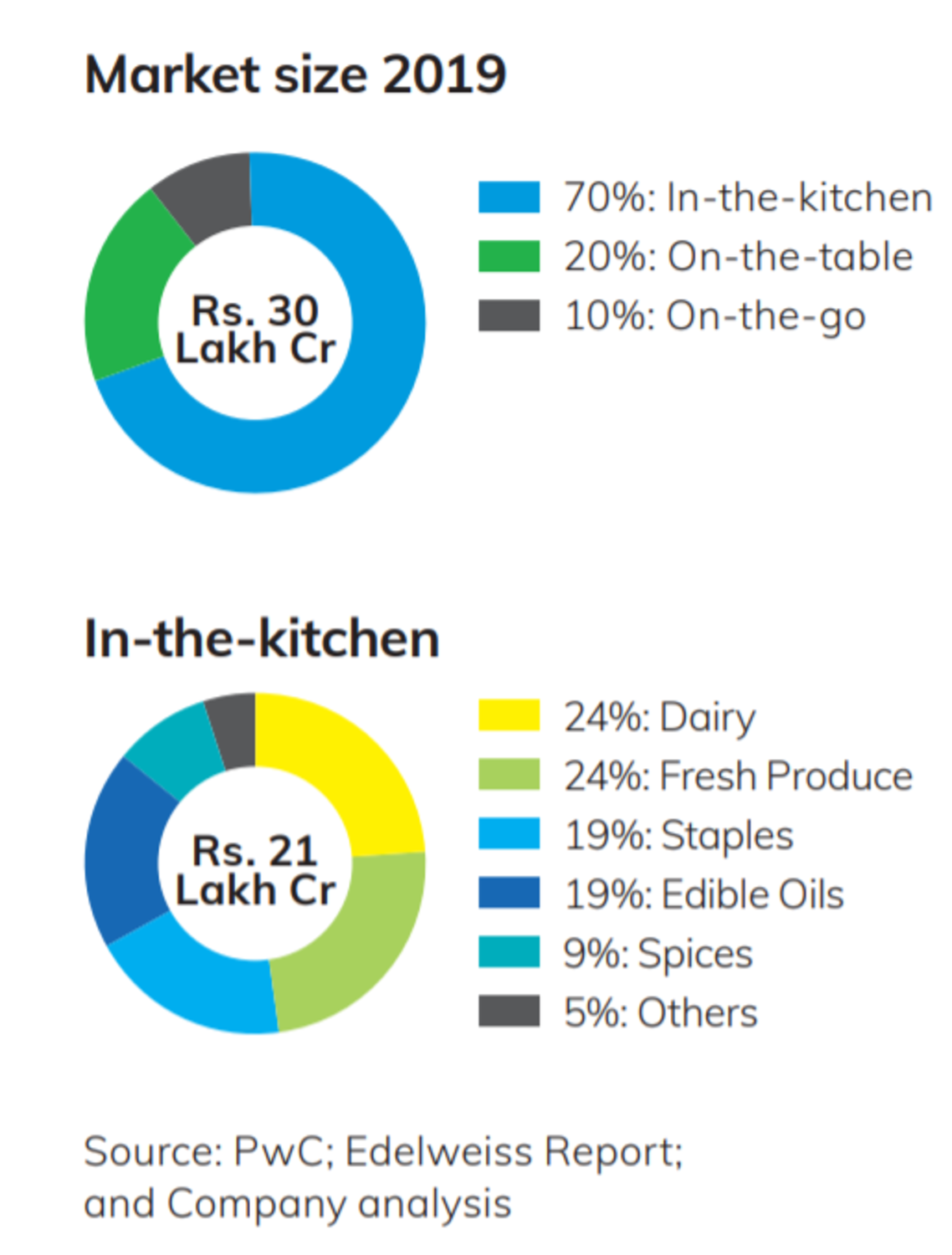 However, the share of organised players in this segment is less than 10% and remains largely untapped. The other segments, 'on-the-table' (comprising spreads, sauces and others) and 'on-the-go' (comprising snacks, ready-to-eat options and others) have traditionally seen larger play by organised players, but their offerings are skewed towards indulgent snacking products.
The industry is also witnessing a shift in consumer preferences, with demand for healthier, better quality and more affordable food and drink options growing across all the three segments.
Also Read Food Services Industry in India 2022
Beverage Industry in India
Tea Sector
The Indian tea market is estimated to be ~Rs. 26,000 Crores, with unbranded being 30-35% of the overall market (by value). Tea is the favourite Indian beverage and we continue to see growth across all tiers through upgradation from loose to economy branded tea and movement up the chain to premium and super premium teas.
Black tea is the predominant sub-category, with high customer preference for the taste of boiled milk tea.
Green tea is estimated to be ~3% of the branded category and is growing at 12.5%. Health & wellness continues to be a strong trend and consumers are also looking at functional benefits from their cup of chai (such as Ayurveda Tea and Tulsi Tea).
There is a re-emergence of tea cafés in urban centres in the last few years, which is helping reinvent the tea culture, provide a comfortable venue compared to tea stalls and serve as an alternative to coffee chains. Tea cafés like Chaayos, Chaipoint and our own Tata Cha are becoming prominent.
There is an increasing potential base of consumers, who see tea as fashionable and are getting familiar with different varieties of tea.
Also Read TATA Coffee Ltd | Brands and Products
Coffee Industry in India
The branded retail coffee market in India is estimated at ~Rs. 2,750 Crores in 2019. Instant coffee is the largest sub-segment and is ~80-85% of the category and growing
as consumers look at convenience. Industry also witnessing the emergence of artisanal and gourmet premium coffees – estimated to be ~5% of the organised market.
In terms of at-home consumption, the sector see different consumer behaviours in the South and Rest of India segments. In the Rest of India, coffee is an aspirational product and there is preference for instant coffee, especially during winters. On the other hand, in the South, we see regular consumption of both instant and Roasted & Ground (filter coffee).
Also Read Best Coffee Brands in India
Water Industry in India
Water is the second largest beverage sub-category after Tea in India (globally it is the largest sub-category in the Beverages market). The current size of the packaged water market in India is ~Rs. 17,000 Crores, growing at a CAGR of 12%. Fruit-based beverages is a ~Rs. 8,250 Crores category, growing at a CAGR of 10%.
Foods Industry in India
The organised Indian Staples industry is ~Rs. 88,000 Crores in 2019. It is largely unorganised, with the share of branded players at less than 10%.
Salt Industry in India
Within the Staples category, the Indian Salt market is estimated to be ~Rs. 7,000 Crores with unorganised players forming ~12% of the category by volume (a stark difference to the rest of the category).
The growth drivers for branded play remains the increasing awareness of better product quality, visible purity and iodine content.
Pulses Sector
India is the largest producer, consumer and importer of pulses. The total Pulses and Derivatives industry is estimated to be ~Rs. 1,50,000 Crores in FY 2018-19 with only 1% of the segment being branded.
The low penetration is primarily led by a host of factors including low perceived value addition by packaged players (leading to consumers unwilling to pay price premium)
and low consumer concern regarding adulteration in unbranded.
Spices Industry in India
India is the world's largest producer, consumer and exporter of spices and accounts for almost half of the global spice trade. The total Spices industry is worth ~Rs. 60,000 Crores, with the branded Spices industry, estimated to be ~Rs. 18,000 Crores in FY 2018-19, is highly fragmented with the presence of many regional players.
The branded segment is growing at a CAGR of ~15%. Straight/Pure Spices form ~80% of the segment (with a high-competitive intensity from unorganised players), while blended spices are mainly branded with consumers choosing to be brand loyal.
However, there is an increasing demand for branded products, with consumers looking at improved quality products in straight/pure spices (with better quality of raw materials used) and increasing adoption of blended spices in the kitchen (higher convenience and consistency of taste).
Snacks/Ready‑to‑Cook Industry
Snacks/Ready-to-Cook is an Rs. 40,000 Crores segment with a high share of branded play (Ready-to-Cook is all-branded in comparison to Snacks). The growth is being driven by more players entering the segment and offering consumer different taste choices including healthier food and convenience (such as Tata Sampann Chilla Mix).