Indian Oil is India's flagship Maharatna national oil company with business interests straddling the entire hydrocarbon value
chain – from refining, pipeline transportation & marketing, to exploration & production of crude oil & gas, petrochemicals,
gas marketing, alternative energy sources and globalisation of downstream operations.
Revenue: ₹ 772,799 Cr
Dividend Yield: 12.2 %
ROCE: 15.6 %
ROE: 20.4 %
Face Value: ₹ 10.0
Promoter holding: 51.5 %
Debt to equity: 1.26
As a Brand with one of the largest customer interface in India, IndianOil reaches precious petroleum fuels to every nook and corner of the country through its network of over 56,000 plus customer touch-points, surmounting the challenges of tough terrain, climate and accessibility.
Profile of Indian Oil Corporation Ltd
A leading, diversified and integrated energy major with presence across all the streams of oil, gas, petrochemicals and alternative energy sources, IndianOil is driven by its vision and grounded by its values. One of India's most socially responsive brands, IndianOil, has successfully combined its corporate social responsibility agenda with its business offerings.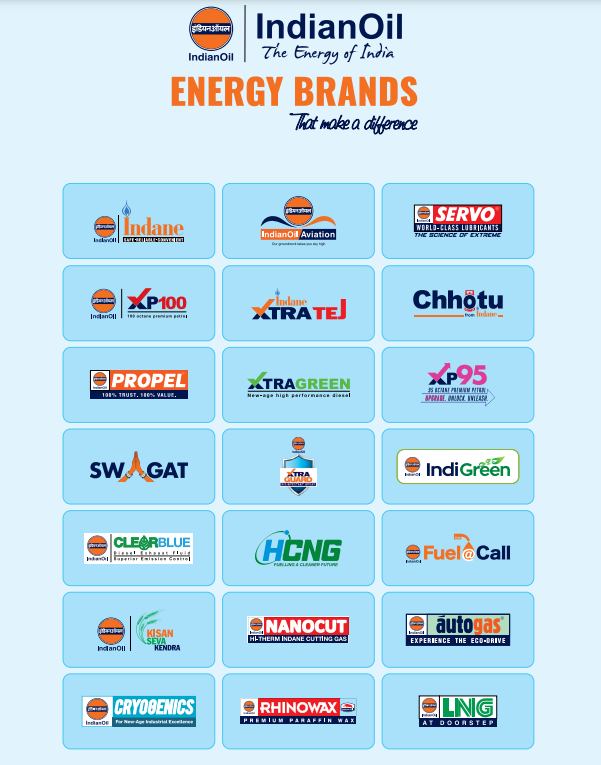 The Company is a public limited company incorporated and domiciled in India. Its shares are listed on Bombay Stock
Exchange and National Stock Exchange in India. The registered office of the Company is located at Indian Oil Bhavan, G-9, Ali Yavar Jung Marg, Bandra (East), Mumbai.
120 Terminals and depots
126 Aviation fuel station
34,559 Retail outlets (including KSKs)
101 LPG bottling plants/terminals
12,813 LPG distributors
1,488 CNG stations in India
10 Lube blending plants in India
6,993 Consumer pumps
10,723 LPG bottling capacity (TMTPA)
2,179 EV charging stations (including 34 Battery Swapping Stations)
Refining Division
With a share of approximately 28% of India's refining capacity, IndianOil has been fuelling the Government of India's vision of achieving self-reliance in oil refining and marketing. The company have nine refineries strategically placed across the country, catering to the growing energy requirements of the country.
Petrochemicals
As the second biggest player in India's petrochemicals market, IndianOil is working towards siezing the high growth
opportunities that this market presents. The company full range of petrochemical products under the brand 'PROPEL', serve everyday needs of customers.
Pipelines
Managing one of the world's largest petroleum pipeline networks, IndianOil ensures safe, cost-effective, energy-efficient and environment-friendly transportation of crude oil and petroleum products.
Natural Gas
IndianOil is the second biggest player in the RLNG market in India and is strenghtening its position across the natural gas value chain by scaling up LNG sourcing, strengthening import terminals, pipelines and city gas distribution networks and providing 'LNG at the doorstep' service to customers.
Exploration and Production
IndianOil has been undertaking exploration and production activities both within and outside the country in collaboration with consortium partners to enhance upstream integration.
Marketing
IndianOil addresses the energy needs of millions of people daily through its vast network of fuel stations, bulk storage terminals, inland depots, aviation fuel stations, LPG bottling plants and lube blending plants. For decades, the Company is living up to the commitment of uninterrupted supply of petroleum products to every part of the country.
The marketing network is bolstered by 80.55 MMTPA of Group Refining Capacity and more than 15,000 KM of cross-country pipelines.
Shri Shrikant Madhav Vaidya, Chairman
Dr S. S. V. Ramakumar, Director (Research & Development)
Shri Ranjan Kumar Mohapatra, Director (Human Resources)
Shri Sandeep Kumar Gupta, Director (Finance)
Shri V. Satish Kumar, Director (Marketing) w.e.f. 28.10.2021
Shri D. S. Nanaware, Director (Pipelines) w.e.f. 28.12.2021
Ms Sukla Mistry, Director (Refineries) w.e.f. 07.02.2022
Shri Sujoy Choudhury, Director (Planning & Business Development) w.e.f. 23.02.2022
Shri G. K. Satish, Director (Planning & Business Development) upto 31.08.2021
Moreover, IndianOil's R&D Centre at Faridabad, one of Asia's finest in downstream petroleum R&D, offers a competitive advantage to the Corporation through world-class technology and process solutions and innovative products. IndianOil R&D has also been instrumental in pioneering path-breaking research to leverage the potential of Hydrogen and other cleaner fuels for the sustainable progress of the nation.
Indian oil corporation subsidiaries
List of Indian oil corporation subsidiaries (Subsidiaries Companies)
Chennai Petroleum Corporation Limited India
IndianOil (Mauritius) Limited Mauritius
Lanka IOC PLC Sri Lanka
IOC Middle East FZE UAE
IOC Sweden AB Sweden
IOCL (USA) Inc. USA
IndOil Global B.V. Netherlands
IOCL Singapore Pte Limited Singapore
List of Associates Companies
Petronet LNG Limited India
AVI-OIL India Private Limited India
Petronet India Limited @ India
Petronet VK Limited India
List of Joint Ventures
Indian Oiltanking Limited India
Lubrizol India Private Limited India
Indian Oil Petronas Private Limited India
Green Gas Limited India
IndianOil Skytanking Private Limited India
Suntera Nigeria 205 Limited Nigeria
Delhi Aviation Fuel Facility (Private) Limited India
Indian Synthetic Rubber Private Limited India
NPCIL IndianOil Nuclear Energy Corporation Limited India
GSPL India Transco Limited India
GSPL India Gasnet Limited India
IndianOil Adani Gas Private Limited India
Mumbai Aviation Fuel Farm Facility Private Limited India
Kochi Salem Pipelines Private Limited India
IndianOil LNG Private Limited India
Petronet CI LTD @@ India
IndianOil Ruchi Bio Fuels LLP # India
Hindustan Urvarak and Rasayan Limited India
Ratnagiri Refinery & Petrochemicals Limited India
Indradhanush Gas Grid Limited India
IHB Limited India