Founded in 1968, Lupin had its humble roots in one man's dream of creating a better world for everyone. Desh Bandhu Gupta or "DBG" as he was fondly known as, believed in the idea of simple living and high thinking and aspired to put India on the global pharmaceutical map. With the rich heritage the company has built over the past 53 years, Lupin is today one of the leading pharmaceutical companies in India. The company global footprint spans over a hundred countries and we have world-class operations with a powerful culture of innovation and unyielding integrity.
Lupin Ltd Profile
Lupin Limited incorporated in 1983, is an innovation led Transnational Pharmaceutical Company producing, developing and marketing a wide range of branded and generic formulations, biotechnology products and active pharmaceutical ingredients (APIs) globally.
The Company has significant presence in the Cardiovascular, Diabetology, Asthama, Pediatrics, Central Nervous System, Gastro-Intestinal, Anti-Infectives and Nonsteroidal Anti Inflammatory Drug therapy segments and is a global leader in the Anti-TB and Cephalosporins segments.
The Company along with its subsidiaries has manufacturing locations spread across India, USA, Mexico and Brazil with trading and other incidental and related activities extending to the global markets. The Company is a public limited company
incorporated and domiciled in India. The address of its registered office is Kalpataru Inspire, 3rd floor, Western Express Highway, Santacruz (East), Mumbai 400055.
The name 'Lupin' was inspired by the flower of the same name, which is known to thrive despite infertile soil and is capable of nurturing change. These qualities form the foundation of the company's ethos as we passionately strive to provide accessible and affordable healthcare solutions to patients across the globe.
Headquartered in Mumbai, India, The company position as a fully integrated pharmaceutical company is built on the backbone of cutting-edge research, world-class manufacturing facilities and a truly global supply chain. The company is a truly multinational pharmaceutical company focused on a meaningful and diverse product portfolio, comprising Generics, Biosimilars, and Specialty Products.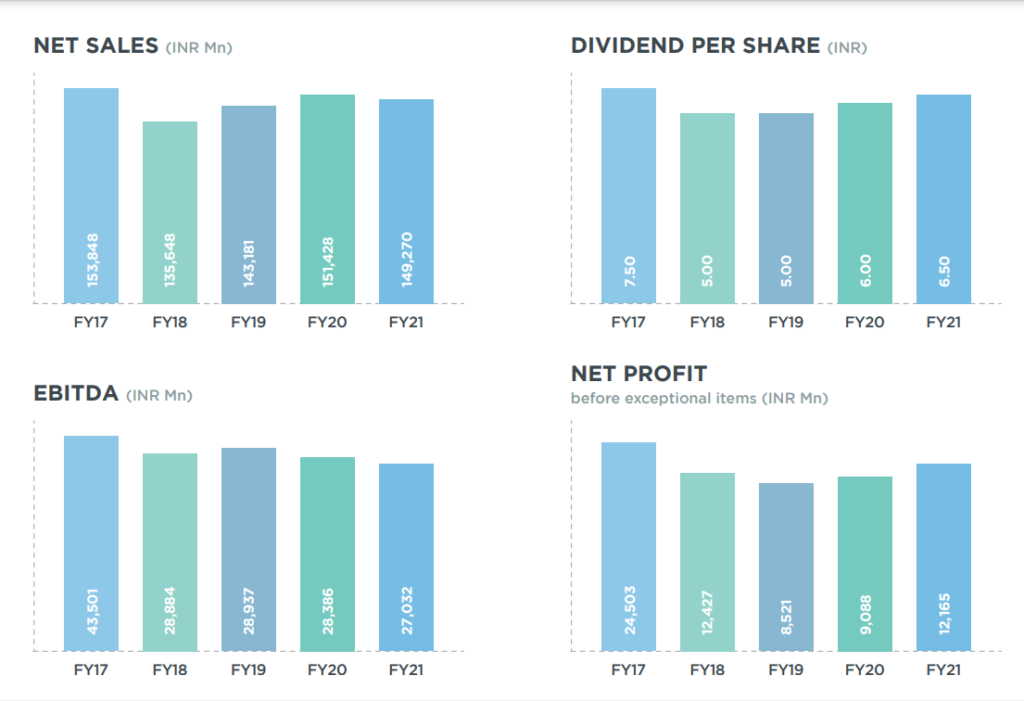 Lupin manufactures and markets an extensive variety of branded and generic formulations, Active Pharmaceutical
Ingredients (APIs), biotechnology products as well as Over-the-Counter (OTC) medicines across multiple dosage forms and therapeutic categories.
In addition, we are acknowledged as one of the largest manufacturers of anti- Tuberculosis drugs in the world and are proud of our global leadership position in areas such as Anti- TB and Cephalosporins.
With over 15 state-of-the-art manufacturing facilities spread across India, the United States, Brazil and Mexico and a workforce of over 20,000 personnel committed to enhancing the quality of our patients' lives, we are working towards expanding access to newer and innovative healthcare solutions at scale.
Lupin Limited History
1968 – Lupin commences business
1972 – Lupin Laboratories Pvt. Ltd. is incorporated
1979 – First Formulation Plant and R&D Center at Aurangabad is commissioned
1981 – Production of Ethambutol API starts
1987 – The Cephalexin plant at Mandideep and 7 ADCA plants at Ankleshwar go on stream
1988 – Lupin Human Welfare and Research Foundation (LHWRF) is founded by Desh Bandhu Gupta
1989 – Joint Venture in Thailand is established USFDA approvals for Ankleshwar and Mandideep plants received
1991 – Initiates production of Injectable Cephalosporins (API and Finished Product) at Mandideep
1992 – Fermentation Plant at Lupin Chemicals Ltd. Tarapur, Maharashtra established, Commissions Sterile Plant for Injectable Cephalosporins (API) at Mandideep
1993 – IPO of Lupin Laboratories Ltd. and Lupin Chemicals Ltd.
1997 – USFDA approval for Cefaclor at Mandideep, 7 ACCA at Ankleshwar and Rifampicin at Tarapur
1998 – UK MCA approval for the Injectable Cephalosporin Finished Product Plant at Mandideep
1999 – UK MCA approval for the Injectable Cephalosporin API plant at Mandideep
2000 – USFDA approval for Injectable Cefotaxime (API and Finished Product) at Mandideep
2001: State-Of-The-Art R&D center, Lupin Research Park at Pune commissioned Supply of Cephalosporin Finished Product to
Alliance Partners in the US commences Lupin Laboratories Ltd. is amalgamated with Lupin Chemicals Ltd., and retitled Lupin Ltd.
2002: Exports to Advanced Markets cross INR 1000 Million Patent filings cross 100 First 5 ANDAs filed New Anti-TB Facility commissioned at Aurangabad Rablet® rated by ORG-Marg as the second best launch in India in FY 2002-03
2003: WHO approval for finished product facility at Aurangabad SAP ERP implemented across the company to unify all business functions and processes USFDA approval for the Oral Cephalosporin Plant at Mandideep Lupin Pharmaceuticals Inc. USA, formed for commercialization activities in the US
2004: Commences US Branded Business with the launch of Suprax®
2005: Generics Business launched in the US with first 4 Products USFDA approval for New Lovastatin Plant at Tarapur
USFDA approval for Goa finished product facility Maiden Employees Stock Option Plan launched
2006: UK MHRA and WHO approval for Goa finished product facility Maiden bonus shares issued in the ratio of 1:1
Maiden Issue of Foreign Currency Convertible Bonds aggregating USD 100 Million
2007: Acquired Kyowa Pharmaceutical Industry Company Ltd., a leading Generics Company in Japan Vadodara based Rubamin Laboratories Ltd. acquired Starts commercial production at the new finished product facility at Jammu
2008: Biotech Facility in Pune set up Acquired Hormosan Pharma Gmbh in Germany Majority stake in Generic Health Pty Ltd., Australia acquired, Acquired majority stake in Pharma Dynamics, South Africa
2009: Acquired the US Rights for Antara® Majority stake in Multicare Pharmaceuticals Philippines Inc. acquired India Region Formulations (IRF) business crosses INR 1,000 Cr.
2011 Commercial Production at the New Oral Solid Dosage Facility at Pithampur commences Acquires I'Rom Pharmaceuticals in Japan India Formulations business inks its first in-license deal with Huminsulin®
2012 Enters the Nifty 50 Index
2013 Tonact® became the first Lupin brand to cross INR 100 Cr.
2014 Joint Venture Agreement with Yoshindo Inc. in Japan to launch biosimilars Acquires Laboratorios Grin, Mexico, Specialty Ophthalmic Company and with this enters the Latin American Market Acquires Nanomi B.V. to enter the Complex
Injectables Space
2015 Center of Excellence for Inhalation Research in Coral Springs Florida inaugurated, Acquires Specialty Product Portfolio of Temmler Pharma GmbH & Co. in Germany, Acquires Medquimica Industria Farmaceutica S.A. in Brazil Completes the acquisition of Pharma Dynamics in South Africa
2016 India Formulations business crosses INR 3,000 Cr. Bolsters the US Brands Portfolio with Methergine® Oral Tablets
Acquires Branded Product Portfolio from Shionogi & Co. Ltd. in Japan, Completes acquisition of US based GAVIS Pharmaceuticals LLC and Novel Laboratories Inc. (GAVIS)
2017: Commissions new plant at Tottori, Japan Forays into the OTC Segment with pan-India launch of Softovac®
Inaugurates a new plant at Sikkim The number of sales representatives in India Formulations business crosses the 5,000 mark
2018: Acquires Symbiomix Therapeutics, LLC in New Jersey for launch of Solosec® Commissions Injectables Facility at Nagpur Files New Drug Application for Etanercept, Biosimilar in Japan Signs deal with AbbVie for exclusive rights to develop and commercialize Lupin's MALT1 inhibitors (oncology)
2019 Inks partnership with Boehringer Ingelheim to develop and commercialize Lupin's MEK inhibitors (oncology), Orphan Drug NaMuscla® for treatment of non-dystrophic Myotonia launched in Europe
2020 Receives European Marketing Authorization for Nepexto, Biosimilar Etanercept Receives International Sustainability Rating System (ISRS) Certification for 4 sites
2021 India Formulations business crosses INR 5,000 Cr.
United States Business
US is largest market for Lupin and other generic peers driven by its scale, preference for reimbursement schemes that favor substitution towards generic pharmaceuticals.
3rd by prescriptions
53 products rank #1 in market share
27% Average market share
Lupin products touch 100 million patient lives in the US each year
India Business
India enjoys a key position in the global pharmaceutical market, supplying 20% of global generics. Lupin has built a formidable presence in India since its debut in 1968 when it started supplying Iron and Folic acid tablets to the
government. Starting with Anti-TB therapy, the company India business has consolidated its leadership in chronic therapies such as Cardiology, Antidiabetics and Respiratory; while strengthening its position in the Central Nervous System (CNS), Gastrointestinal (GI) and Orthopedics space.
6th rank in Indian pharmaceutical market
11 brands feature in the Top 300
The India business continues to be the second largest business for Lupin, contributing 35% to our top-line, primarily driven by a strong field force of 7,000+ that reaches a majority of doctors across India. Lupin Has 11 Brands In IPM's Top 300 Brands
• Gluconorm – G
• Huminsulin
• Budamate
• Gibtulio
• Cidmus
• Ondero
• Tonact
• Ivabrad
• Rablet D
• Ajaduo
• Ondero Met
Active Pharmaceutical Ingredients (APIs)
The API business at Lupin comprises both captive consumption as well as external sales, spread across 62 countries. This segment contributed 9% to the company's revenue in FY21 and accounted for INR 13,823 million in sales, up 6.3% YoY.
The company supplemented a strong in-line product portfolio with a development pipeline of new products across a variety of therapy areas. In FY21, the company were proud to emerge as industry leaders for our key APIs, each of them exceeding revenues of INR 1.5 billion.
Also Read Pharmaceutical Industry in India 2022 | Pharma Sector