Tata Global Beverages was renamed as Tata Consumer Products, following the merger of the Consumer Products business of Tata Chemicals with itself. Home to iconic brands, such as
Tata Tea,
Tetley,
Eight O' Clock,
Himalayan,
Tata Salt and
Tata Sampann,
The Company portfolio of products represents interests spanning food and beverage. Tata Consumer Products Ltd JV Tata Starbucks owns and operates cafés in India. The company also has a JV with PepsiCo in india, NourishCo*, which markets non-carbonated ready-to-drink beverages that focus on health and enhanced wellness.
Branded business workforce – Total: ~2,200
27.8% Of women in the workforce
Tata Chemicals was merged with Tata Global Beverages Limited, and the new combined entity was renamed as Tata Consumer to reflect the larger portfolio of the Company and its vision to expand into multiple categories beyond just Food & Beverage (F&B).
Post the transaction, Tata Consumer is among the Top 5 listed FMCG players basis revenues in F&B and among the Top 10 basis F&B revenues in India.
Tata Consumer Products Ltd
The company (formerly known as Tata Global Beverages Limited) and its subsidiaries (together referred to as 'the Group') and the Group's associates and joint ventures are engaged in the trading, production and distribution of Consumer products viz., mainly Tea, Coffee, Water collectively termed as branded beverage business, and Salt, Pulses, Spices etc collectively termed as branded foods business.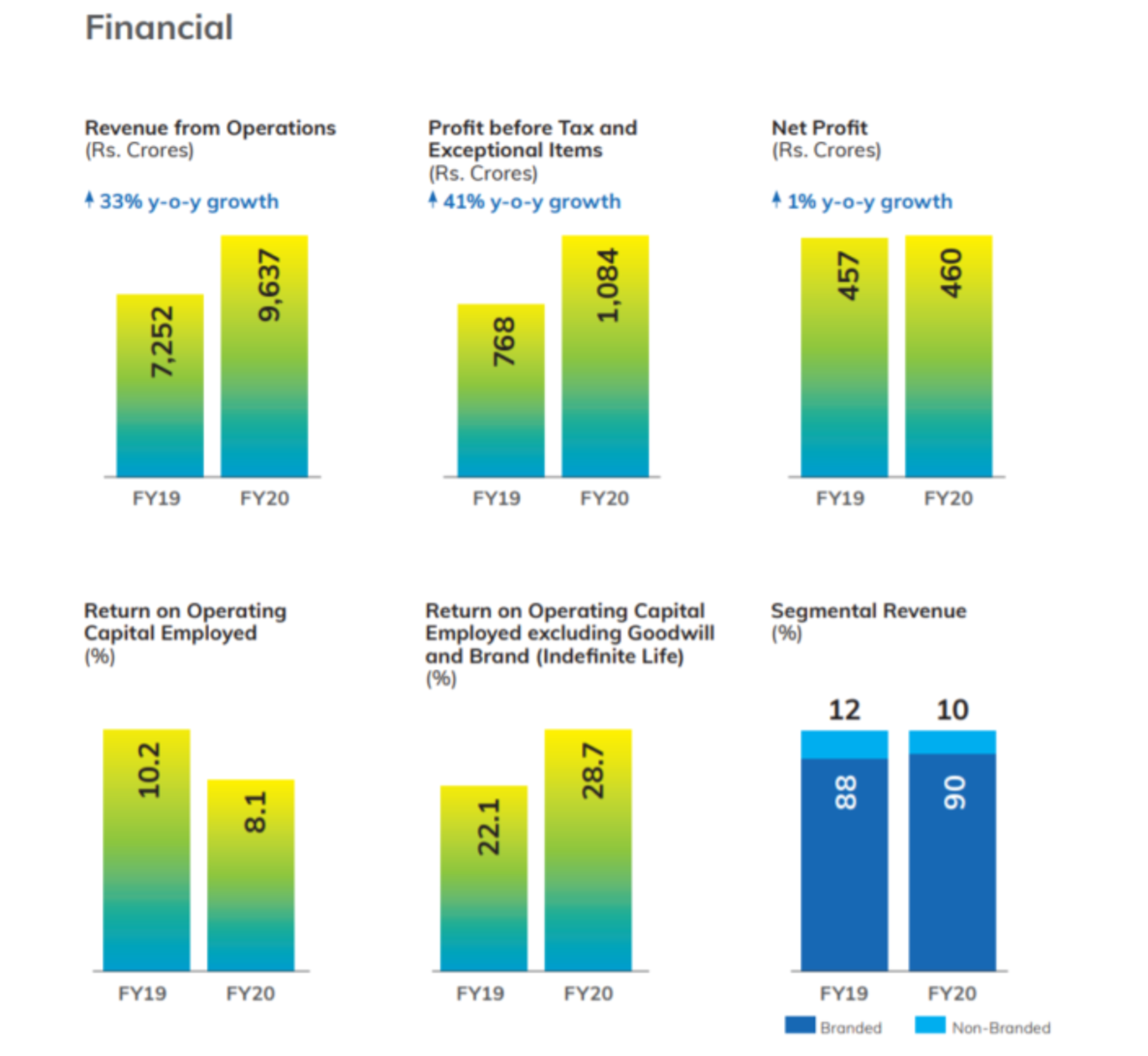 The Group has branded beverage business mainly in India, Europe, US, Canada and
Australia, and foods business in India. The non-branded plantation business is in India and tea and coffee extraction businesses are in India, Vietnam and the US.
The Company is a public limited company incorporated and domiciled in India and has its registered office at Kolkata, West Bengal, India. The Company has its primary listings on the Bombay Stock Exchange and National Stock Exchange in India.
The company is a fast-growing F&B company –with the second largest presence in Tea globally, a leadership position in the Salt category in India and a growing portfolio of other products (India – Pulses, Liquid Beverages, Coffee, Spices and Ready-to-Eat; International – Coffee).
Also Read List of Companies owned by TATA Group 2022
Products List and Their Brands
The following are list of Brands and the Product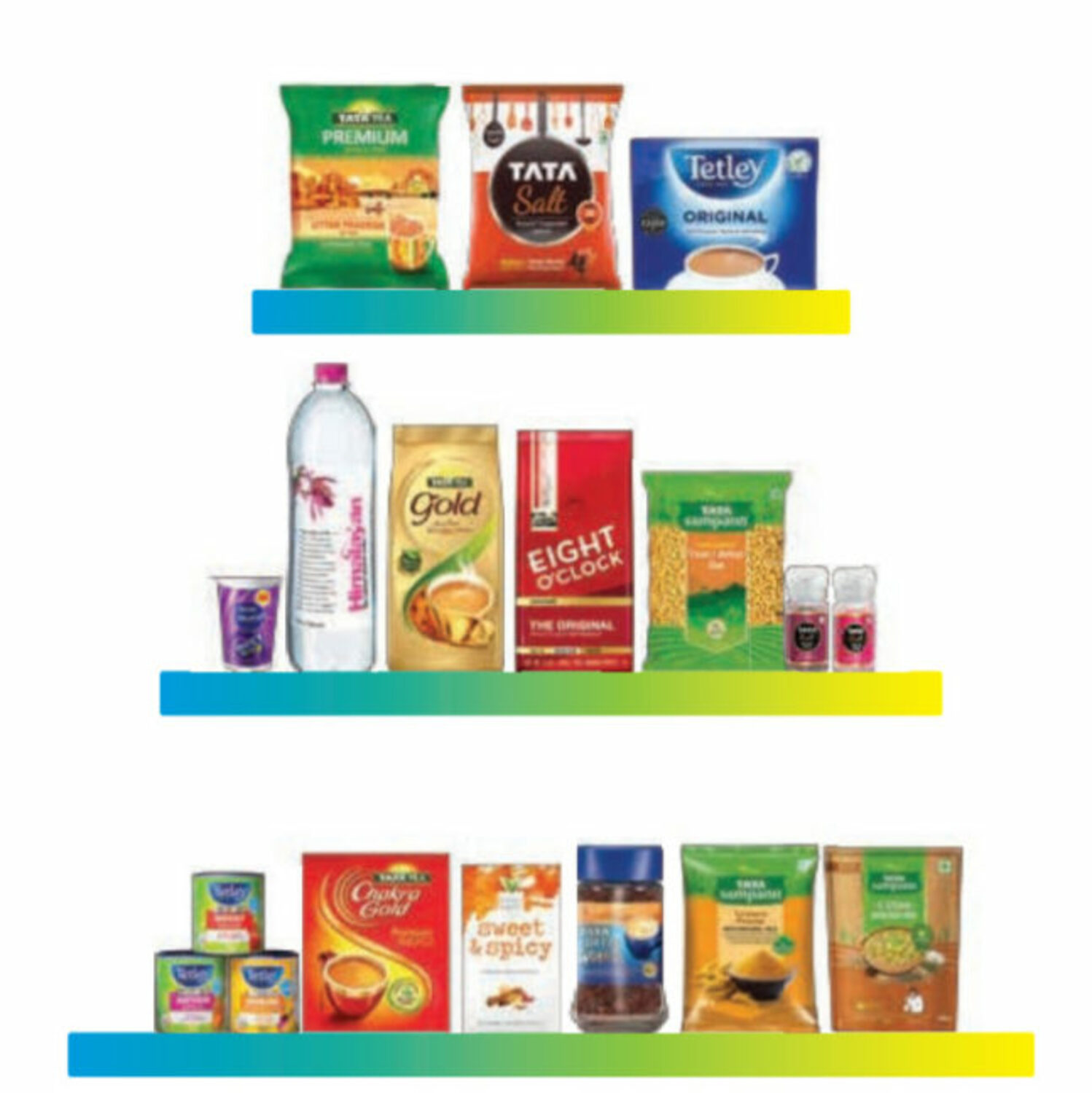 1 in the category by volume in India and
#2 by value
2 most trusted brand in hot beverages in India
1 in 3 Indian households consume a Tata Tea brand
Tata Salt
India's first packaged iodised salt
1 most trusted food brand and undisputed market leader in India
161 million Indian households served
Tetley
45 million servings consumed every day in 40 countries
180 years of heritage
1 in Canada and #3 in the UK
Eight O'Clock Coffee
Eight O' Clock Coffee celebrated its 160th anniversary in 2019, a remarkable milestone in the brand's journey to deliver great tasting brews to Americans. Originally conceptualised by the Great Atlantic and Pacific (A&P) Tea Company, it was one of the signature products when their first store opened in New York City.
4 Roast & Ground coffee brand in USA
160 years of innovation
America's original gourmet and whole bean coffee
TeaPigs
Maintained #1 super premium brand position in the UK with 67% market share
Secured B-corp certification which confirms that the brand considers people, environment and profit equally when making business decisions.
Himalayan
1 natural mineral water brand in India
Captive aquifer at the foothills of the Himalayas
Tata Sampann
Only national brand in pulses
Blended spices specially crafted by celebrated chef Sanjeev Kapoor
Trusted for staples and packaged foods
Tata Gluco Plus
The Brand has Continued expansion with new plants set up in Odisha, West Bengal and Delhi NCR; a new Lychee flavor was also launched.
Board of Directors
MR. N. CHANDRASEKARAN Chairman
MR. SUNIL D'SOUZA Managing Director & CEO
MR. L. KRISHNAKUMAR Executive Director & Group CFO
MR. SUNIL D'SOUZA Managing Director & CEO
SUNIL D'SOUZA began his career at Hindustan Unilever Ltd. in 1993. With over 26 years of rich experience, he has strong domain knowledge of the consumer products business with distinct focus on strategy, growth and execution. He is an engineering graduate from the University of Madras and holds a post-graduate diploma in management from the Indian Institute of Management, Calcutta.
In his previous role, he served as Managing Director of Whirlpool India Ltd. for over four years. Prior to this, he spent almost 15 years at PepsiCo, where he held several leadership roles. During his stint at PepsiCo, he handled all commercial aspects of the company's food and beverage portfolio and successfully led the business in a large cluster of Asian countries.
MR. L. KRISHNAKUMAR Executive Director & Group CFO
Mr. KrishnaKumar started his career with A. F. Ferguson and Co. and subsequently worked with Larsen and Toubro Ltd. He joined the Tata group in 2000 in the Hotels business and thereafter took over as the erstwhile Tata Tea's Head of Finance in 2004.
Currently, he is the Executive Director and Group CFO. He leads the Global Finance, Strategy and M&A, Investor Relations, Global Legal and Internal Audit functions. He is a Director on the Boards of Tata Starbucks Ltd., NourishCo Beverages Ltd. and several of the Company's overseas subsidiaries.
SUBSIDIARY AND ASSOCIATE COMPANIES Of Tata Consumer Products Limited
The following are the Subsidiary and Associate Companies of Tata Consumer Products Limited
Subsidiaries
The Company has totally 49 subsidiaries. The following are the subsidiary of Tata Consumer Products Limited
Tata Consumer Products UK Group Limited (Formerly
Tata Global Beverages Group Limited)
Tata Global Beverages Holdings Limted
Tata Global Beverages Services Limited
Tata Consumer Products GB Limited (Formerly Tata
Global Beverages GB Limited)
Tata Global Beverages Overseas Holdings Limited
Tata Global Beverages Overseas Limited
Lyons Tetley Limited
Tata Consumer Products US Holding Inc (Formerly
Tata Global Beverages U.S. Holdings, Inc.)
Tata Water LLC
Tetley USA Inc
Empirical Group LLC
Tata Global Beverages Canada Inc
Tata Consumer Products Australia Pty Ltd( Formerly
Tata Global Beverages Australia Pty Limited)
Earth Rules Pty Ltd.
Stansand Limited
Stansand(Brokers) Limited
Stansand(Africa) Limited
Stansand(Central Africa) Limited
Tata Global Beverages Polska Sp.z.o.o
Drassington Limited, UK
Good Earth Corporation
Good Earth Teas Inc.
Teapigs Limited.
Teapigs US LLC.
Tata Global Beverages Czech Republic a.s, (ceased
w.e.f January 13, 2020)
Tata Global Beverages Investments Limited
Campestres Holdings Limited
Kahutara Holdings Limited
Suntyco Holding Limited
Onomento Co Limited
Coffee Trade LLC (under liquidation)
Tata Coffee Limited
Tata Coffee Vietnam Company Limited
Consolidated Coffee Inc.
Eight 'O Clock Coffee Company
Eight 'O Clock Holdings Inc
Tata Tea Extractions Inc
Tata Consumer Products Capital Limited (Formerly
Tata Global Beverages Capital Limited)
Tata Tea Holdings Private Limited
Associates
The company has three Associates. The following are the associates Company of Tata Consumer Products
Amalgamated Plantations Pvt Limited
Kanan Devan Hills Plantations Company Private Limited
TRIL Constructions Limited
Joint Ventures
The company has Two Joint Ventures. The following are the Joint Ventures of Tata Consumer Products
NourishCo Beverages Limited
Tata Starbucks Private Limited