Trident Ltd, a part of US$ 1 billion Trident Group is headquartered in Ludhiana, Punjab. Established in the year 1990, the Company has evolved as a global textile player under the visionary leadership of its founder chairman Mr. Rajinder Gupta, a first generation entrepreneur.
Trident Limited is a leading manufacturer of Yarn, Bath Linen, Bed Linen, Wheat
Straw-based Paper, Chemicals and Captive Power.
The Company has state-of-the-art manufacturing facilities in Barnala (Punjab) and Budni (Madhya Pradesh). In the year 2016, Trident forayed into bed linen by commissioning a facility in Budni. The Company has a strong clientele in about 100 countries across the globe.
Profile of Trident Ltd
Trident Limited is the flagship company of the US$ 1 billion Indian business conglomerate
and global player, Trident Group, headquartered in Ludhiana. Beginning humbly in the year 1990, Trident has evolved over the years into one of the world's largest integrated home textile manufacturer under the visionary leadership of its founder and Group Chairman Mr Rajinder Gupta.
LARGEST Manufacturer of terry towels in the world
13,535 Employees as on March 31, 2020
ABOUT 100 COUNTRIES Global presence
HOME TEXTILES – 33 COUNTRIES
YARN – 36 COUNTRIES
PAPER – 54 COUNTRIES
The Company is engaged in the business of manufacturing wide variety of yarn, bed & bath linen, paper, chemicals and captive power. Trident's state-of-the-art manufacturing facilities
are located in Barnala (Punjab) and Budni (Madhya Pradesh).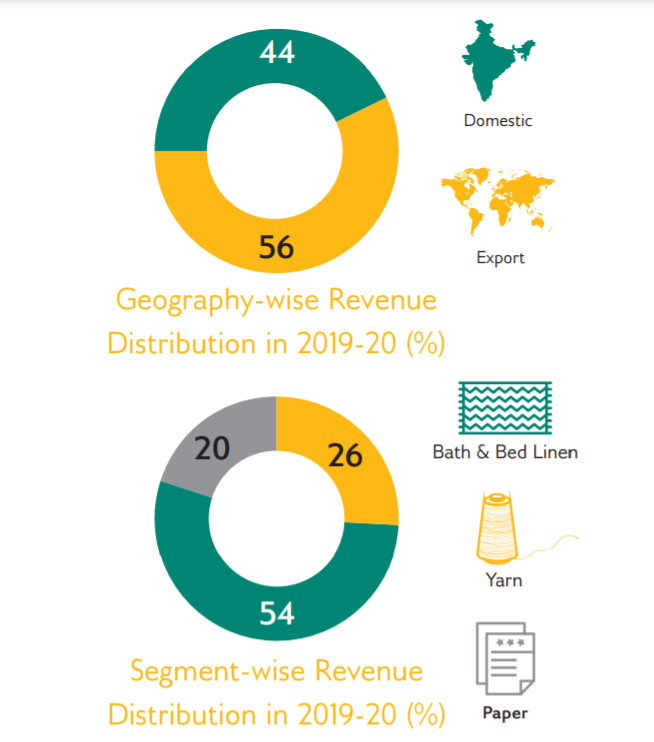 Trident Limited built sustainable relationships with global retailers & fashion houses across
USA, UK, Italy, France, Japan and Australia amongst other countries. The Company possesses one of the largest product portfolios of high-quality yarns, sophisticated bath and bed linen and eco-friendly paper with presence across the globe.
The Company is one of the largest exporters of home textile products with significant market share. Excellent in quality, coupled with differentiated growth strategies have led to a strong clientele across the global textile arena, leading to creation of a sustainable business model.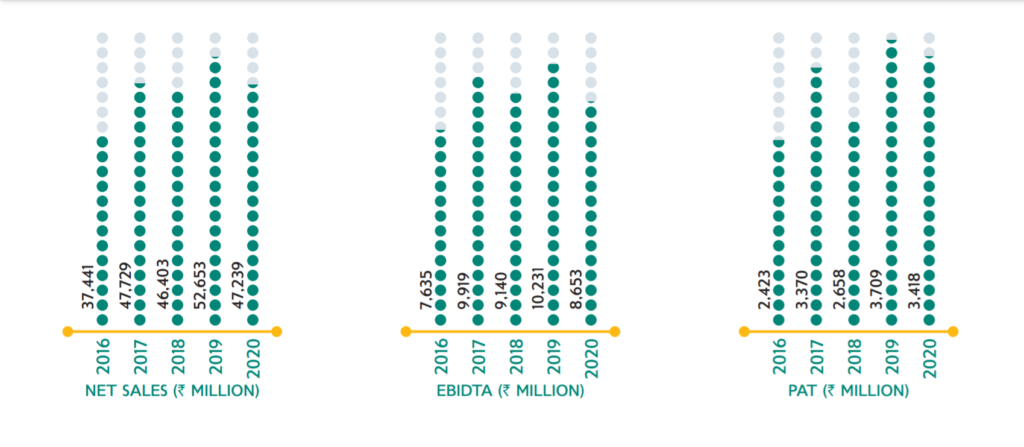 Trident limited has Online presence With omni-channel capabilities, the Company has expanded its reach across e-commerce platforms. With a presence on all major e-commerce platforms, Trident is aiming at an increase in the revenue contribution from the digital platforms.
Products and Brands of Trident Ltd
List of three key products of the company are
Textile (which inter alia includes Bath Linen, Bed Linen and Yarn)
Paper (Branded Copier, Writing and printing maplitho paper, Bible and offset print paper, Bond paper, Stiffener paper, Cartridge paper, Index paper, Watermark paper, Drawing paper, Digital printing paper, Carry Bag paper, Trident Royale (Wedding Card Paper), Sublimation Paper, Virgin Unbleached Kraft Paper)
Chemical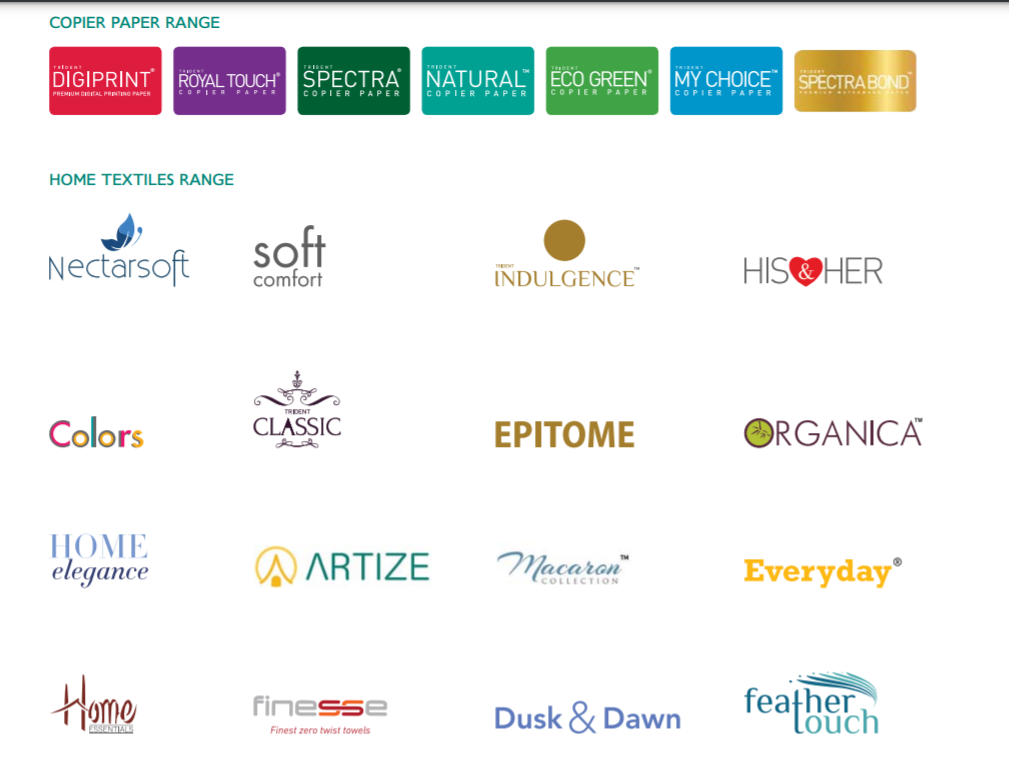 Textiles Segment
Revenue for segment stood at Rs 37776.0 million in FY20 compared to Rs 42228.9 million in FY19.
Cotton Yarn
Since its inception, Trident has dedicated itself to making superior cotton yarns that have set industry benchmarks higher for innovation. The Company possesses the largest spinning installation at a single campus in India. It is a prominent manufacturer of premium quality yarn with a versatile range of products to offer such as cotton, compact, blended and mélange yarn among others.
The manufacturing unit is equipped with latest technology such as Blowroom from Trutzchler, Ring Frame from Zinsser and Murata, Compact attachments of Suessen, Testing technologies like UT 5 etc.
Product portfolio of Cotton Yarn
100% Cotton Combed yarn
100% Cotton Combed yarn
Open-End yarn
Core-Spun yarn
Blended yarn
Zero Twist yarn
Air Rich yarn
Slub yarn
Certified Cotton yarn
Melange yarn
Home Textiles
Trident prides itself upon being one of the largest vertically integrated companies in the home textile industry across the globe. The segment's revenue is driven by two business divisions–
Trident has partnered with some of global-best technology companies to strike a rare mix of quality with cost-efficiency in its products. The Company has manufacturing units in Budni
(Madhya Pradesh) and Barnala (Punjab). With fully integrated processes, the Company has a powerful grip over the production value chain.
Bath Linen
Trident stands tall as the largest player in terry towel capacity. It is one of the leading suppliers of bath linen in the US market. State-of-the-art production facilities include spinning, wide-width air jet & jacquard weaving, soft flow dyeing, and fully automated
cutting and sewing for bath linen.
It has manufacturing units at Barnala, Punjab and Budni, Madhya Pradesh. This division
is operating at an average capacity utilisation of around 48%. Keeping quality and efficiency at its core, Trident is focused on innovations that would bring out the best-in-class quality to suit the global standards.
Product portfolio of Bath Linen
Bath Linen
Luxury
Organic
Spa & Hotel
Beach
Designer
Jacquard
Dobby Texture
Bath Mats
Checkered
Waffle
Infants & Kids
Bath Rug
Bed Linen
Another shining jewel in Trident's crown is the Bed Linen segment. A wide product portfolio and unmatched design capabilities make it a complete bedding solution provider. This division is operating at an average capacity utilisation of around 60%.
Product portfolio of Bed Linen
Solid/ Printed Sheets
Top-up Sheets
Duvets
Comforters
Fitted Sheets
Pillow Cases
Quilts
Decorative Pillows
Coverlets
Dohars.
Paper Segment
Paper & Chemicals Segment Revenue for the period stood at Rs 9225.4 million in FY20 compared to Rs 9970.2 million in FY19. Trident is the world's largest manufacturer of wheat straw based paper. A trusted supplier of superior quality paper, Trident has made its presence felt as a leading paper manufacturing company in the domestic as well as international markets, especially for multi-colour high speed printing and publishing
and high quality branded copier paper.
With a great concern for the environment, Trident utilises the latest technology and world-class machinery in the production process to minimise wastes. The Company uses wheat straw, an eco-friendly raw material, which is the residue left after harvesting wheat. This facilitates easy procurement at attractive pricing since Punjab is the highest wheat producing state in the country.
Chemical and Power segment
Trident is one of the largest commercial and battery grade sulphuric acid manufacturer in North India. It caters to the diverse battery requirements and finds usage in the production
of zinc sulphate, alum, detergent and dye and fertilizers.
The Company is focused on providing superior quality products with more consistency, a bigger scale, and an improved efficiency. The company sulphuric acid is manufactured by burning of elemental sulphur using the double contact double absorption technology.
The company absorption plant at Dhaula has been especially crafted for the unique process, wherein limit the emissions to a bare minimum level. To keep up with the rising consumption and demands.
The multi-fuel AFBC boilers are equipped with auto-mated DCS operations and intelligent load management systems. The plant is fed through agro-wastes (rice husk), ETP
sludge, methane (from ETP), and pet as well as imported coke. Trident's energy efficient model sustains its Punjab facilities entirely through the output of this plant.