Exide Industries Limited is the largest storage battery company in India, offering the widest range of products to the automotive and industrial sectors. As a leading battery manufacturer, the brand continue to power leadership with innovative products, meeting diverse requirements of an evolving market.
Profile of Exide Industries Ltd
Exide Industries Ltd has been one of India's most reliable brands for more than seven decades, enjoying an unrivalled reputation and recall among users of automobile batteries
and other storage batteries.
A leader in packaged-power technology, Exide today is India's largest storage battery company with the widest range of both conventional flooded batteries as well as the latest in VRLA or valveregulated lead-acid batteries.
Net Turnover: ₹ 10,041 Crore
Headquarters : Kolkata, West Bengal
60+ Countries present
55,000+ Dealers network (Direct & Indirect)
5,202 Employees
1,700+ Exide Care Outlets
The Company constant emphasis on innovation, extensive geographic footprint, strong relationship with marquee clients and continuous technology upgrades with global business partners have made us a distinct frontrunner in lead-acid storage batteries for both automotive and industrial applications.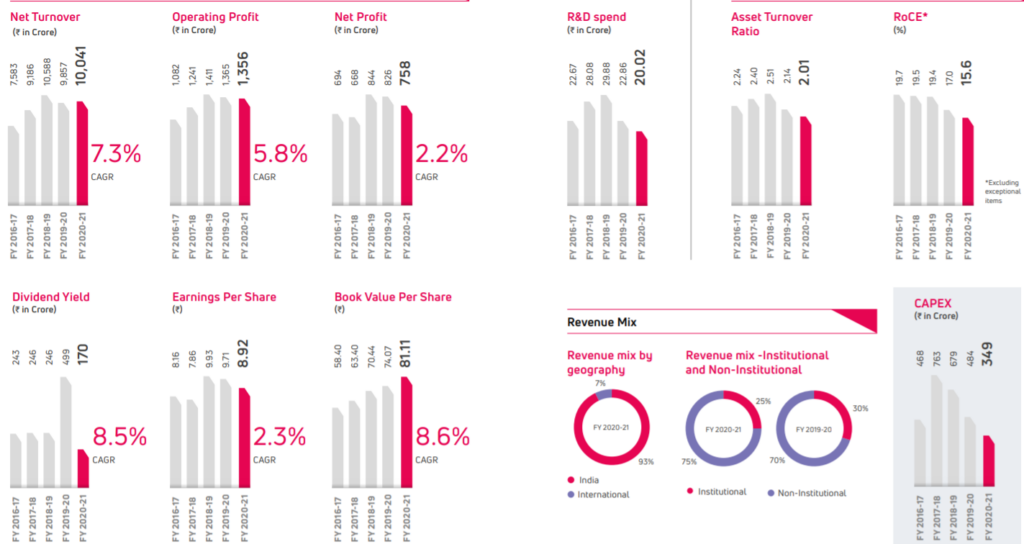 Exide Industries Ltd has a revenue mix is 93% from India and 7% of Revenue from International. Exide Industries Ltd presence across the country with a strong network of 55,000+ direct and indirect dealers. The sales team covers 5 zones and 24 regions, to efficiently meet customer demands in the shortest possible time.
About competitor Company Amara Raja Batteries limited.
Exide Industries Ltd Manufacturing
Exide Industries designs, manufactures, markets and sells the widest range of lead-acid storage batteries in the world to cover the broadest spectrum of applications. Very few
companies in the world can match Exide's range and scale of manufacturing operations at its ten factories across the country.
Exide's manufacturing facilities have the world's latest and most advanced machinery. The Company is constantly upgrading and acquiring technology to meet the ever-increasing demands of its customers.
In addition to having the latest in-house R&D Centre recognized by the Government of India's Department of Scientific & Industrial Research (DSIR), Exide also acquires new technology through technical collaboration agreements with leading international battery manufacturers.
List of Manufacturing plants
With ten manufacturing plants across India, equipped with stateof-the-art technology, Exide Industries Limited has the capacity to produce 57 million units of Automobile batteries and over 5 billion Ampere-Hours of Industrial Power.
Shamnagar, West Bengal
Haldia, West Bengal
Bawal, Haryana
Chinchwad (Pune), Maharashtra
Taloja, Maharashtra
Ahmednagar, Maharashtra
Hosur, Tamil Nadu
Roorkee, Uttarakhand
Haridwar, Uttarakhand
Prantij, Gujarat
Out of the ten factories, seven factories are dedicated to manufacturing batteries, the other two for UPS or uninterruptible power supply systems for homes and one for battery charging. Using the latest technology, the company manufacture batteries for the automotive, power, telecom, infrastructure projects and computer industries, as well as the railways, mining and defence sectors.
Divisions of Exide Industries
Exide Batmobile, the first-of-its-kind doorstep service in battery industry, was first launched in the year 2000 and has since evolved and scaled up to enhance customer experiences.
The company supplies battery to three division
Exide Batmobile service is available for all battery related issues faced by passenger car customers and is being extended to customers of Inverter Batteries and Home UPS
(HUPS) by August 2021.
In organized OEM segment, its overall market share 3/4W is ~60% while 2W it is
~65%. In the organized replacement market side, its market share in 2Ws is at ~50% while for 4W it is about 58%.
Automotive Divisions
While Original Equipment (OE) sales faced a significant slow-down in line with the lower industry demand, Company managed to maintain its high share across almost all leading vehicle manufacturers. Several new models have been launched in the market with only Exide batteries— the New Maruti Suzuki Swift-ISG, Nissan Magnite (Petrol) and Tata Motors Safari.
Four-wheeler
Three- wheeler
Commercial Vehicle
Inverter Batteries
E-rickshaw Batteries
HUPS
Others
Exports
Industrial Division
The UPS business, the largest business vertical of the Industrial division, reported a slight growth over last year, mainly from the trade segment. OE business suffered a minor de-growth primarily due to a lack of government/ private project orders.
However, this de-growth was compensated by the higher Work-From-Home (WFH) demand. With continuous product and process upgradation, duly backed by a strong sales and service network across India, the UPS business has become the growth engine of the Industrial division
Telecom
UPS
Energy Storage
Solar
Traction
Railways
Mines
Exports
Exide Industries Ltd has ~26% Share in net turnover from industrial division
Submarine Batteries
The company manufacture high-end submarine batteries, conforming to the most stringent technical specifications and quality control standards. These are very high-capacity (around 20,200 Ah) specialised batteries, designed specifically for submarines.
Exide Industries Ltd is one of the few battery manufacturers capable of producing submarine batteries for Russian Kilo/636/ Romeo/Foxtrot class, German 209 class, French Scorpene class and indigenous nuclear submarines.
Brands of Exide Industries Ltd
4-Wheeler
Exide Epiq
Exide Matrix
Exide Mileage
Exide Eezy
Exide Gold
Exide Cabby
Exide Xpress
Exide Jai Kisan
Exide Eko – for 3-wheeler.
2-Wheeler
E-Rickshaw
Exide E-Ride Tubular Plus
Exide E-Ride Plus
Home UPS
Exide Magic
Exide Star
Exide GQP
Exide HKVA
Inverter Battery
Exide Invatubular
Exide Invamaster
Exide Invaplus Tubular
Exide Instabrite
Exide Invaking
Exide Tubemaster
Exide Genplus – for Genset
Railways
VRLA batteries for train lighting and airconditioning Stationary applications
Flooded batteries for electric and diesel locomotives
Industrial UPS (IUPS)
Exide IUPS range
SMF Small VRLA (Exide PowerSafe Plus Range)
SMF Medium VRLA (Exide PowerSafe Plus and NXT Range)
Tubular gel VRLA (Exide PowerSafe XHD range)
Flooded tubular (EL/ EL+ range)
Chloride IUPS range
SMF VRLA (Chloride SafePower CS7-12)
Telecom
Advanced AGM VRLA batteries
Tubular Gel VRLA batteries
Solar
Tubular Gel VRLA Batteries (Solatron)
Flooded Tubular (Solatubular/Solar Blitz)
Solar Power Generating Systems
Solar Hybrid Inverters
Solar PV Modules
Solar Charge
Controllers
Power and Infrastructure Projects
Exide tubular standby batteries (HDP andNDP)
Exide TBS tubular batteries
Exide Plante Futuristic
Exide gel tubular batteries
Exide 2V range of VRLA batteries
GroE products
Mines
Smartlite – LED
Exide Oldham GT Miners Cap Lamps
Traction
Exide HSP and
GenX range of traction batteries and accessories
Exide Industries Ltd Subsidiaries
The Following are the list of Exide Industries Ltd Subsidiaries
Exide Life Insurance Company Limited (ELI) and Chloride Metals Limited (CML) are material subsidiaries of Exide as prescribed under the provisions of SEBI Listing Regulations. ELI has assets under management or AUM of over ₹18,381 crore as of March 31, 2021. The total premium collected by ELI during the year ended March 31, 2021 was ₹3,325 crore.
Chloride Metals Limited (CML) is a secondary smelting & refining unit, a 100 per cent subsidiary company of Exide Industries Limited. It was promoted by Exide strategically
as a part of backward integration to meet the lead and lead alloys demand of Exide.
CML is operating with two units located in Karnataka and Pune, while the third new greenfield secondary smelting and refining unit in Haldia in West Bengal, with a capacity of 110,000 MT is expected to start its commercial production in the first quarter of the
current financial year 2021-22.
Exide Leclanche Energy Private Limited (known as Nexcharge brand), a subsidiary of Exide, had its beginning in 2018 as a Joint Venture between Exide Industries Limited and one of the leading Lithium-ion or li-ion battery manufacturers based in Switzerland, Leclanché SA, to build lithium-ion batteries and provide energy storage systems for India's electric vehicle market and grid-based applications.
Nexcharge – Towards sustainable energy
Nexcharge envisions to fast-track the world's transformation towards sustainable energy solutions by developing solutions to increase the amount of renewable energy to reduce India's dependence on fossils fuels.
The Company aims to become a leading supplier of
(i) E-transport solutions, which will power the electrification of the transport in the form of efficient and reliable energy storage solutions and
(ii) Diverse segments of industry and utility markets with state-of-art products and end-toend solutions made available through li-ion batteries of different chemistries such as NMC, LFP, LTO etc.
To fulfil its mission, Nexcharge has built India's largest factory with fully automated lithium-ion battery pack and modules (pouch/ prismatic/ cylindrical) assembly lines
and Cell testing labs, at Prantij, Sabarkanta, Gujarat.
Nexcharge is also supported by state-of-the-art inhouse R&D. with a well-resourced teams of engineers enthusiastic in designing these battery packs to their customer requirements and offer high-quality products at competitive pricing.